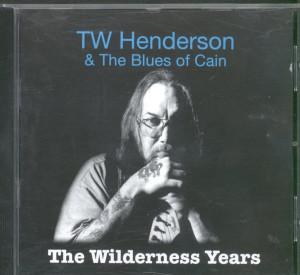 Jeff Skolnik wrote this review for Folk Tales.
The brand new Bluetrack Records label, based in Oxford, U.K., purports to have as its goal the preservation of the works of lesser-known blues artists. They chose, for their first outing, to present the journey from the depths made by TW Henderson, one of the forgotten Texas blues men of the Sixties.
Tobias Wood Henderson, originally from Louisiana, was raised in Texas on the music of T-Bone Walker and Lightnin' Hopkins and rose up through the Texas clubs to a recording contract in 1969 on the same label as Jonny Copeland. Just like so many others, however, the musician's fast life got the best of him. After only one album, Stone Blues, for Mercury (long out of print), TW faded from the scene, trailing a heroin addiction and a broken marriage. Unlike way too many others, this time the story didn't end there. TW, after nearly 30 years working the Texas oil fields in obscurity, moved to Galway, Ireland. His self-proclaimed mission was "to bring his blues back to its European and Celtic roots."
My first impression of The Wilderness Years was of pure confident Texas blues, with everything played as big as that state: big guitar, big piano, big rhythm section, big voice. All 11 tunes are TW-penned, and are clearly semi-autobiographical; each song exudes the stone-solid lived-in feel of truth. This is no small part due to the power of TW's band, The Blues of Cain, whose members include Sam Kelly on drums, Dave Clarke on bass, and Peter Zivkovic on keyboards.
This recording is beautifully engineered and recorded, with the emphasis placed on clarity. Its subtext is TW's (and our own) journey out of the dark places. Each song contributes: as you listen, the visualization of TW's quest for redemption (or at least understanding) becomes increasingly insistent. This is one of those recordings that must be listened to as whole; each tune contributes a bit of the story.
The band leads off with an incredibly sad and moving "Song for My Father," in which TW relates the last conversation he ever had with his dad. This is followed with the stand-out "Black and White," a powerful slow blues built on the anger an African-American man must have felt at being counted as 2/3 of a citizen in the Texas census. In the third tune "Shooter (Billy's Just a Kid)" he brings to life a real-world nightmare: a "9mm kid" growing up a killer, who "keeps on getting meaner, keeps on getting cuter." TW asks us just how we should deal with such individuals. He tells us where Billy is headed, but without offering a solution.
From here, the songs become increasingly personal. In "Don't Deny Me Baby" TW flat out takes the blame for his failed marriage. The next cut "In-City Blues" examines one of the main reasons why: the young musician's lifestyle. He points out to any aspiring musician the potential costs of following the dream to play professionally, from the impossibility of permanent relationships and low pay to the many enticing dangers of a life on the road. Yet the fade-out acknowledges the pull that such an existence has on so many people, himself included: "You'll never learn, you'll never change…"
The story builds all the way to the final cut, the stunning "Howl Into The Midnight," an explanation – or is it an apology? – for the way his life as a solitary traveller has worked out. He makes it clear that this was in fact his choice, and that he has indeed accepted the consequences. My lasting impression is of a substantial, fully-realized return to the fold of a complex man. Older, sadder, and perhaps wiser, TW Henderson sings and plays from the heart. The entire recording has a powerful cinematic feel, and left me with a strong sense of his life and times. I cannot listen to this CD without seeing TW walking along a dusty Texas highway, Strat over his shoulder, leaning into the ever-present wind.
Bluetrack Records is to be commended for bringing us this excellent first effort. Without their dedication to the preservation of the blues, TW Henderson's powerful voice may never have been otherwise heard.
(Blue Track Records, 1998)