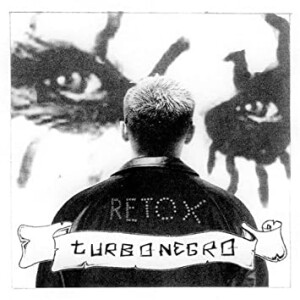 Craig Clarke wrote this review.
Ever since the release of its widely acclaimed Apocalypse Dudes (the album closest in their discography to a masterpiece), fans of Norwegian death metal band Turbonegro have been clamoring for a suitable followup. But the intervening decade had only resulted in a breakup, a subsequent reunion and two albums of subpar material, so there was only disappointment.
Now, though, it appears that Turbonegro is back to its old tricks, and Retox is the result. From the opening track, "We're Gonna Drop the Atom Bomb," the old influences are there. The seasoned listener will detect traces throughout the album of various metal bands from the 1970s and '80s, from classic Judas Priest and Iron Maiden to the relatively modern stylings of Faith No More.
Though the songs by Happy-Tom and Euroboy form the basis of the experience, it is Hank von Helvete's vocals that truly carry the day, deftly riding the line between parody and tribute. Tongue firmly in cheek, Turbonegro crafts solid hard rock songs with a combination of wit and sincerity.
But fans should never fear: Turbonegro is above all a heavy metal band, and their songs' topics reflect a very male-focused mentality that, surprisingly, resonates genuineness. Covering subjects from the perils of aging ("Hell Toupee") to the benefits of being overweight ("Everybody Loves a Chubby Dude"), the men ofTurbonegro are definitely coming to terms with their insecurities.
Oh, who am I kidding? With songs like "Stroke the Shaft" (with the warning "the head's off-limits") and "I Wanna Come" ("I wanna come, to the party at your house. I wanna come, but I can't get off [the bus]), the fellows of Turbonegro are really still just teenagers at heart (and elsewhere) and are just out to have a good time.
And I have to admit that there's a real sense of freedom in just letting go, popping this CD in the car (alone, of course — no one but another Turbonegro fan would understand), and screaming about assisted masturbation on the way to work. Retox's final track is an eight-minute epic that asks the musical question "What Is Rock?", and I have to admit that the answer for me is, "This album is." Nobody is producing music like Turbonegro, and though that's probably a good thing, I for one am glad that they are.
(Cooking Vinyl, 2007)