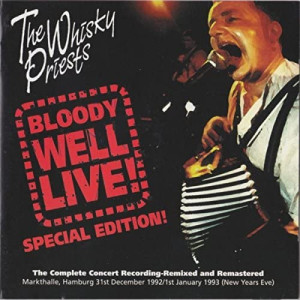 The Whisky Priests were formed in 1985 by twins Gary and Glenn Miller. Since then they have released a multitude of records and toured extensively in both the UK and in the rest of Europe.
Think Positive is their latest studio effort, released in 1998. It shows a band who knows how to keep the flame of their live performances burning when going into the studio. It also shows a band who play real songs, with a clear melody line and meaningful lyrics.
The Priests are on a continuing time line that binds together the Dubliners, the Pogues and themselves. They are more punk folk than folk rock, and it is highly successful.
The focus point of the Priests is vocalist Gary Miller. He belongs to the Shane McGowan school of non-singers, often just shouting out the lyrics. The limits of his vocal powers become very clear on the slower songs, like "My Ship," a soft song about going for more than you can manage, and "Wherever You Go," a beautiful love song with a lovely instrumental interlude. But it is easy to forgive him because Gary Miller is a great songsmith, with a remarkable sense for catchy tunes and sharp lyrics. As a song poet, there are few in the world today to match him. So what if his voice is an acquired taste, so is Bob Dylan's …
Nevertheless Miller has the sense to surround himself with good musicians, who are also able to add spot-on vocal harmonies. There is no shoddy playing on this record. Everything is there, in tune and in place, well-timed and well-played.
At their best, the Whisky Priests are nothing less than brilliant. The opening track, "A Better Man Than You," is a forceful song performed in full power with an abusive lyric directed at a former lover. "The Man Who Sold His Town" ends in a long simple instrumental coda that builds up from just a whistle and a snare drum to the full band. If cars actually existed in the old days, "Car Boot Sale" could have been an Irish folk song. A tune that sounds traditional, two very traditional instrumental breaks and a hilarious lyric makes this my favourite track on the album. The chorus ends "Some folks' rubbish is other folks' gold at the car boot sale."
Gary Miller has written all but three of the thirteen songs on the album. The last but one is the only instrumental. "Positive Steps" is a charming accordion waltz written by his brother Glenn. And the closing song is the old sea shanty "Leave Her Johnny, Leave Her" performed in a slow and subdued manner with Gary Miller sharing the lead vocals with his band mates.
I really like Think Positive. Once you get used to Miller's voice, it has all you might expect from a good album. And you can tell that this is a band full of confidence.
Bloody Well Live is a double live album recorded New Year's Eve 1992 in Germany. It has previously been released as a single album, but to celebrate the Priests' 15th anniversary it has been remixed and remastered and augmented to include the full concert. Apart from the twins, this is a completely different line-up of the band. But the Millers have such a strong influence on this band that you would not have known unless you had looked at the sleeve notes.
The Whiskey Priests live are very loud and boisterous. Subtlety is a word that does not exist in their dictionary. Gary Miller shouts himself through the songs, and the band backs him up in a befitting manner. But it never gets out of hand. There is a thin line between "loud and boisterous" and "down right noisy," but the Priests always stay on the musical side of that line.
Apart from the Gary Miller songs, they execute a few traditional like the Irish "Dol-Li-La," later to become the title track of a CD-EP by the group; a solo à capella version of "General Taylor," also recorded by groups like Fairport Convention, Steeleye Span and Great Big Sea; and a rousing "Bonnie Gateshead Lass," also in the repertoire of Bob Fox and Stu Luckley.
There are also some songs by Northern songwriters in the traditional vein. They do a nice version of Tommy Armstrong's "The Row Between Cages" and turn Ed Pickford's "Farewell Johnny Miner" into something almost like a march. Most of the other tracks are Gary Miller-compositions. My favourite is "The Durham Light Infantry," a song about the First World War, performed here at a furious speed worthy of the Pogues.
As a whole, the album is a lot of fun. But it should be played very loud, and I strongly recommend chewing it off bit by bit, unless you are already familiar with the group's work. It must be a marvellous souvenir for fans and people who have seen them live, but it works for others as well, believe me.
All in all these two albums have almost turned me into a fan and I feel like I have to explore this band further. They are certainly worth it.
(Iron Man Records, 1998)
(Whippet Records, 2000; first released 1993)