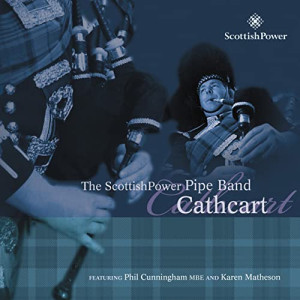 There exist in the piping world today two kinds of Scottish pipe bands: those that play by the rules of repertoire and those that have an adventurous streak. This review highlights one very ambitious pipe band open to contemporary sound and another that dips its feet in the water to check the depth of possibility.
Cathcart, the second album from the Scottish Power Pipe Band, firmly straddles the adventurous end of the piping spectrum. They try unusual tunes, sometimes playing their own compositions using different accompaniment and guest musicians and singers. This puts them among the type of band that handles both ends of the piping repertoire, the familiar and the unusual. Cathcart, produced by Phil Cunningham, shows how adventurous the pipe band format in the right hands can be. They play Irish, Scots, Breton, and Asturian tunes, and also act as backing for guest singer Karen Matheson (yes, that Karen Matheson) and add keyboards, drums, guitars and bass into the mix. This allows for funky rhythms, Afro percussion and often jazz-inflected licks to creep through the masked pipe songs.
In addition, you can easily put them alongside seminal Breton bands like Bagad Kemper whose sense of adventure is well known. A drum kit backs them on the jig sets, in which they mix Irish and Scottish tunes freely. Small pipes lead a set of tunes also, and Matheson sings a Gaelic psalm version of 'Amazing Grace'. Catchcart is that kind of album — full of surprises and unexpected twists. If you think pipe bands can't rock, then listen to this. You can find them at the Greentrax Web site.
Meanwhile, down in New Zealand, The Manawatu Scottish Society pipe band issued a CD entitled The Calling in 2003. Greentrax picked it up for European distribution last year and issued it domestically. Having membership based in a Scottish society, the emphasis is on keeping heritage alive in a new place as well as playing music handed down from generation to generation. This is the sound of a more traditional pipe band, although the repertoire does spread to new tunes by composers such as Gordon Duncan and Canadian piper Michael Gray. The material is predominantly Scots with some Irish tunes. It also strays into using an Appertain sacred harp hymn 'What wondrous love is this' and Carter Burwell's theme to the movie 'Rob Roy'. One of New Zealand's leading pipers, Stewart McKenzie, plays two solos including a shuttle pipes medley.
The sound is predominantly pipes and drums, although Duncan Davidson plays bouzouki on three tracks and Paul Turner adds whistle for one set. The traditional march, strathspey and reel combination on 'John McDonald of Glencoe' shows the distinctive switch of mood and tempo in this configuration while 'Bulgarian Bandit' is an extended six minute epic set full of twists and varying tempos. The band plays with a proud urgency and passion, and The Manawatu Scottish Society pipe band is one of New Zealand's best pipe bands; but don't take my word, the proof is here.
These are good examples of the winds of change blowing through the piping world and how bands are adapting to them. Some go into the realms of experimentation with a full knowledge of the possibilities therein, while others tread carefully in their initial moves towards incorporating a wider sphere of influences to their music.
(Greentrax, 2004)
(Greentrax, 2004)