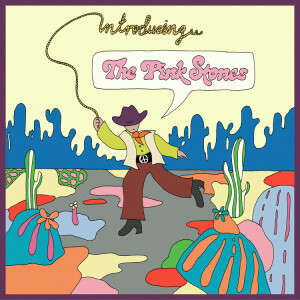 This debut record from Athens, Georgia's The Pink Stones is a lot of fun. Especially if you love music from the cosmic country movement of the late '60s and early '70s. Pink Stones frontman Hunter Pinkston grew up siding with his dad (a former Southern Rock drummer) against his mom in their rock vs. country music battle at home in Albany, Georgia. When he started playing in local bands he gravitated toward punk, until one day he discovered the music of Gram Parsons and realized that he might like country music after all.
At first thinking of himself as a singer songwriter, Pinkston put together a backing band from fellow musicians majoring in music biz at U of Georgia, but shortly realized that they were really a band making music together, rather than a singer backed by some rando musicians. Good choice, because this crew – Will Anderson on keys, Logan Brammer on guitars, Adam Wayton on bass guitar, Jack Colclough on drums plus the slightly older John Neff (a founding member of Drive-By Truckers) on pedal steel – plays as a real unit. You really have to on music that sounds simple but has a lot of moving parts.
The aforementioned Mr. Parsons famously labeled as "Cosmic American" the music he created first with The Byrds, then the Flying Burrito Brothers and finally eponymously (with Emmylou Harris in tow). If you're wondering at this remove just what that was, wonder no longer, just listen to The Pink Stones. The opener "Blueberry Dream" is contemporary indie rock meets stoner country. The whole thing is quite goofily entertaining until Neff's pedal steel solo when, pardon me, shit gets real. They turn up the psychedelic treatment on Pinkston's warbly vocals in the brief coda after that solo, just in case you didn't get the message. Next up, "Put Me On" is "Wild Horses"-era Stones meet the Burritos, with a hefty side of Tom Petty. The dreamy, folky ballad "Shiny Bone" sets Pinkston's lyrics of romantic obssession in a dizzingly circular poetic structure. And batting clean-up is the flat-out country rock of "Barroom Blues," the drums and electric guitar right out front, another hot pedal steel solo, and Anderson playing honky-tonk piano on the verses, switching to a sighing Hammond organ on the choruses.
The rest is more of the same, with the best of the bunch being the self-deprecating stoner love song "Love Me Hardly."
But it's all pretty darn good – the New Riders shuffle of "Miss Wind Turbine," the Stones meet Neil on the beach of "Sweat Me Out," the psychedelic honky-tonk of "Let's Sit Down," and the through-the-looking glass vibe of the closer "Dream So Sweet."
So if you're looking for some Americana that has a bit more of an irreverent, cosmic vibe to it than the usual fare, Introducing… The Pink Stones would be a great place to start.
(Normaltown Records, 2021)