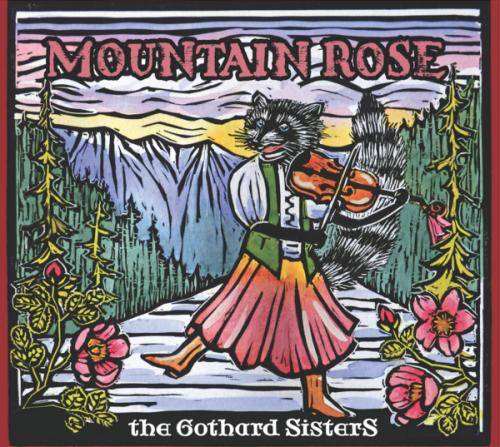 The Gothard Sisters (Greta, Willow and Solana Gothard) are three young sisters from the U.S. Pacific Northwest. They started out as a classical violin trio. Their first album Christmas was released in 2006 with them playing Christmas songs as a trio. Some years later they turned to Celtic music and added more instruments. Mountain Rose is their third album as a Celtic trio, released two years after their previous album Compass. As on the last one they mix instrumental tunes with songs, the difference being that on the new one they have written many of the songs themselves, whereas on the last ones the tunes were written by the trio but the songs were traditional or by other people. Another difference is that on the new one they play everything themselves. And they play a lot of instruments, violins of course, but also guitar, mandolins, bass, dulcimer, autoharp, harmonica, whistles and percussion, and of course all three of them sing.
The sisters describe themselves as a Celtic group and it is hard to disagree, particularly given that the definition of Celtic is quite broad. But there are a lot of other influences as well. Mountain Rose exhibits traces of bluegrass fiddling, African drum beats and of course their classical training, as well as passages that remind me of the "spaced out" music you could hear in the late 1960s.
The Gothard sisters open the album with Andy M Stewart's "Queen of Argyll" filled with instrumental interludes and harmony singing. A strong opener, one of the best songs on the album, a track that does what it is supposed to do, make you interested in listening to the rest.
Of the other songs not written by the group I like "All Through the Night," a traditional Welsh lullaby, the best. A soft slow song well suited to the girls. I am not that impressed by their reading of "Auld Lang Syne" though. They rush through it, and at the end you understand why; they turn it into a fast, furious reel. And that part is superb. Probably a great number to finish one of the girls' 120 concerts a year, but as a song it does not work on record. Their version of Kate Rusby's "I Courted a Sailor" is much better, though not reaching the heights of the original.
In my mind the best of their own songs is "Grace O'Malley" co-written by Greta, Willow and Solana. When I first listened to the record, without checking the booklet, I had it down as an Irish traditional, which is high praise coming from me. The other two original songs are both written by Greta, and show great promise for the future.
Then there are the instrumentals, often used as showcases for the girls' instrumental power. "The Bandit" turns from a slow tune to a duel between fiddles and percussion, "Cat in the Bush" is very Scottish in its fiddling, both the slow and the quick parts, "Mountain Rose Waltz" is just plain beautiful and "Chaos in La Casa" has some interesting rhythmic patterns in the middle part. All these tunes were written by Willow. They also throw in a traditional tune, "St Anne's Reel," played in a very traditional manner, with some heavy bluegrass influences.
All in all a good album by three very talented sisters. I would love to see them live, where they also add Irish dancing.
(The Gothard Sisters, 2015)
The Gothard Sisters  tweet as @gothardsisters. Lars Nilsson reviewed their sixth album Story Girl.