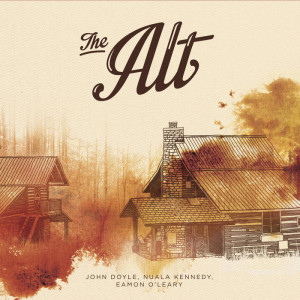 Irish music comes in many forms, from the loud and boisterous to the soft and soothing, from the long slow ballads to the fast furious instrumentals. The Alt is a trio focusing on songs, only three of the eleven tracks are instrumental sets, and traditional material. No pipes, no fiddle, but plenty of guitar, bouzouki, that special wooden Irish flute and vocal harmonies. Their sound is much closer to the style set by groups like Sweeney's Men, Planxty and Patrick Street, than the Dubliner-side of Irish folk.
The self-titled The Alt is the first album from The Alt, but they are no newcomers to the scene. They have all recorded with other people and one of them, guitar/bouzouki/madola player John Doyle, has been musical director for Joan Baez on one of her tours. The other members are Nuala Kennede on flute and whistles and Eamon O'Leary on guitar and bouzouki.
They all sing and I think the vocals are one of their strong points. They take turns delivering the songs, with the others joining in to supply harmonies. They even give us some a capella, like the intro on the opening track "Lovely Nancy" and the closing "The Letter Song", one of my favourite tracks on the album.
The instrumental work is much what you have come to expect from Irish groups. The guitars and the bouzoukis are kept as backing instruments, plucking along, never banging out the chords, with Kennedy's flute and whistle takes the solos and leads on the instrumentals.
I especially like their choice of material. I have listened to and played a lot of Irish songs, but they have managed to find eight tunes I have not come across before, but a few that I probably will try to learn. Apart from the two already mentioned I am very found of "The Eighteenth of June", an English song about the Battle of Waterloo. Not a song to celebrate the victory, but to lament the loss of thousands of lives.
I think The Alt has produced a fine debut album. It will not go down in history as one of the greats nor shake the folk music world, but if you want something nice, well-played and sung to listen to or for finding new songs, it will do nicely. You can listen to two tracks performed live on YouTube, the song "What Put the Blood" and one instrumental set. There are also samples on The Alt's website.
(Under the Arch 2014)