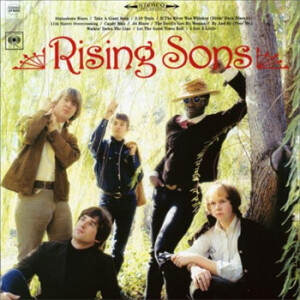 Rising Sons' Rising Sons: featuring Taj Mahal & Ry Cooder (recorded 1966, issued Sony, 1992)
Taj Mahal's Taj Mahal (Sony 1967, re-issued 2000)
Taj Mahal's The Natch'l Blues (Sony 1968, re-issued 2000)
Taj Mahal's Giant Step/De Old Folks At Home (Sony 1969, re-issued 2000)
Taj Mahal's Happy To Be Just Like I Am (Columbia 1971, re-issued Mobile Fidelity 1991)
Taj Mahal's Recycling the Blues & Other Related Stuff (Columbia 1972, re-issued Mobile Fidelity 1991)
Taj Mahal's The Real Thing (Sony 1972, re-issued 2000)
Taj Mahal's Mo' Roots (Sony 1974, re-issued 2000)
Taj Mahal's Evolution: the Most Recent (Warners 1975, re-issued Rhino/Handmade 2000)
Taj Mahal's Music Fuh Ya' (Warner 1976, re-issued Rhino/Handmade 2000)
Taj Mahal's Satisfied 'n' Tickled Too (Columbia, 1976)
Taj Mahal's Taj (Gramavision, 1987)
Taj Mahal's Mule Bone (Gramavision, 1991)
Taj Mahal's Live & Direct (Delta, 1991)
Taj Mahal's Like Never Before (Private Music, 1991)
Taj Mahal's Dancing the Blues (Private Music, 1993)
Taj Mahal & Vishwa Mohan Bhatt's Mumtaz Mahal (Water Lily Acoustics, 1995)
Taj Mahal's An Evening of Acoustic Music (Independent, 1996)
Taj Mahal's Phantom Blues (Private Music, 1996)
Taj Mahal's Live at Ronnie Scott's (Drg, 1996)
Taj Mahal's Señor Blues (Private Music, 1997)
Taj Mahal's In Progress & In Motion 1965-1998 (Sony, 1998)
Taj Mahal's Sacred Island [aka Hula Blues] (Private Music, 1998)
Taj Mahal's Blue Light Boogie (Hannibal, 1999)
Taj Mahal & Toumani Diabate's Kulanjan (Hannibal, 1999)
Taj Mahal's Sing A Happy Song: the Warner Recordings (Rhino Handmade, 2000)
Taj Mahal's Shoutin' In Key (Hannibal, 2000)
Taj Mahal's Hanapepe Dream (Tradition & Moderne, 2002)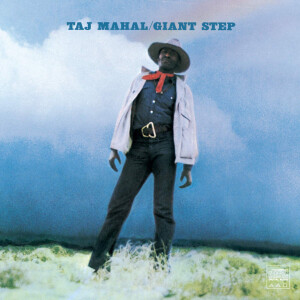 Whew! Just listing his albums requires effort! Anybody named after one of the most beautiful buildings in the world has to be special! Born Henry Saint Clair Fredericks in 1942, Taj Mahal has produced an impressive body of work and has maintained a reputation of one of the music world's "all 'round good guys," even amongst his ex-wives!
While studying animal husbandry at the University of Massachusetts young Henry began to be interested in folklore and ethnomusicology. These terms make an essentially exciting study sound dry and dull, but Henry found the excitement there and began to play the blues at folk clubs around Boston. Moving to the West Coast, and now calling himself Taj Mahal, he found himself playing in an integrated blues-rock band with Ry Cooder, Gary Marker, Jesse Kincaid and Ed Cassidy (later to move on to Spirit, and leave room for Kevin Kelley). The Rising Sons were legendary. But their music was watered down when Terry Melcher produced their first album and tried to turn them into a pop success. Although recorded in 1966, the Rising Sons album was not to see the light of day until 1992 when Taj added vocals to complete some of the tracks. After a 30 year wait the album was revelatory, and somewhat disappointing. Cooder's bottleneck guitar would have been unheard of, the jazz influences of Marker mixed with Kincaid's pop songs and Taj's blues growl…well…it's no wonder Columbia didn't know what to do with them! They were sure no Paul Revere & the Raiders.
The next year Columbia Records would issue the first Taj Mahal album. Simply called Taj Mahal, it simpified things by presenting what is essentially a blues record. Jesse Ed Davis played guitar, Cooder made an appearance, some of the songs from the Rising Sons were revisited, and Mr. Fredericks became Mr. Mahal for good! This sound was maintained for the second album, The Natch'l Blues, another solid collection of blues tunes. In 1968 Taj mixed things up a bit by releasing a double album with two titles. Giant Step/De Ole Folks At Home was basically two different approaches in one package: one an acoustic blues album and the other another attempt at pop music. Giant Step was in fact "Take A Giant Step," which had been covered by the Monkees! Taj's version is not like that at all.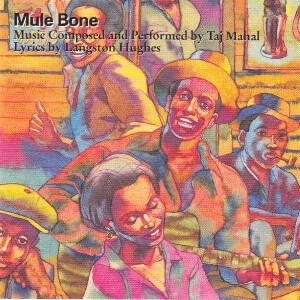 The Real Thing followed in 1971, a live double album that showcased an experimental Taj, playing with a band of horn players. The bass guitar was replaced by tubas! And the sound they achieved was extraordinary. That same year Taj released a studio version of the same experiment; Happy To Be Just Like I Am continues to be this reviewer's favorite Mahal record. The songs are joyful, and the sound is thrilling, as Taj mixes a touch of Caribbean rhythms with his blues! He would continue to do this in different ways for years to come.
Recycling the Blues and Ooh So Good 'n' Blues continued the tradition of blending different rhythms with Taj's blues-based approach. He would introduce a variety of musicians — including the Pointer Sisters, who made their first appearance on Recycling the Blues. Or he would simply play solo on dobro, banjo, kalimba, or even conch. You haven't heard anything til you've listened to a conch solo! On 1974's Mo' Roots he introduced the International Rhythm Band, a loose group of musicians who would accompany him for many years in one form or another. Then 1976's Satisfied 'n' Tickled Too marked the end of his years with Columbia with a ragtag collection of outtakes. Even Taj's leftovers are interesting and entertaining.
Taj celebrated 1975 with a strong and powerful collection of "West Indian blues" now on the Warner label. He recorded three albums on Warner: Evolution, Music Fuh Ya' and the soundtrack to a film called Brothers. The Warner years are marked by an ebullient energy and a brightness of sound. The three albums were re-issued [with the addition of unreleased contemporaneous material] in a limited edition double-disc package by Rhino-Handmade that deserves to be heard.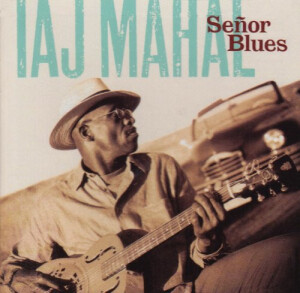 The next few years found Taj without a major label deal. A couple of recordings appeared on small independent companies, some recorded direct-to-disc, but are almost impossible to find. Taj never stopped playing though. A drummer friend of mine backed him up at the Edmonton Folk Festival, and again at a gig in Montreal during these years, and she has nothing but praise for his tireless commitment to music. The two albums from the eighties were released on the Gramavision label. Perhaps the most interesting is Mule Bone, Taj's musical settings of a play by Zora Neale Hurston and Langston Hughes. It's a fantastic combination of history, poetry and music. Private Music enabled Taj Mahal to go public once again!
Now Taj was looking for a different sound, while maintaining his own identity. He added a real rock influence. Dancing the Blues, Phantom Blues and Señor Blues form a trilogy of this rock'n'blues music. Music you could dance to, but not the kind played in uptown dance clubs. No, this was more the kind of thing you might hear in juke joints and night-clubs in New Orleans. Taj's smokey vocals, his ringing Dobro, (or National) and a rockin' band makes this set a triple threat. Señor Blues even won Taj his first Grammy Award!
There are several "best of" albums available, but the one I recommend is 1998's In Progress & In Motion, which covers his career from 1965-1998. Three discs long with not a weak cut, this is the collection to get if you don't know where to start! Of course you'll also need representation from the Private Music years, and you'll want to hear the newer stuff too. Blue Light Boogie (1999) is an anthology of tunes from this era, many of which were recorded for tribute albums and other compilations.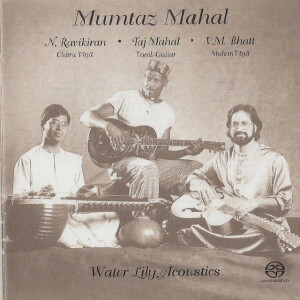 Taj Mahal spent the '90s living in Hawaii, and there he was influenced by the sounds of slack key guitarists, and the sweet steel, too. He made two marvelous albums with a group he calls the Hula Blues Band. These recordings were first available from a small German label called Tradition & Moderne, but in 1998 Sacred Island received broader release from Private Music. Both Sacred Island and Hanapepe Dream are easy rolling delights, perfect for lazing around on those hot summer days; each one features originals, blues, and covers with great picking, smoldering saxes and Taj's vocals. Taj's other attempts at World Music include a duet recording with Toumani Diabate (Kulanjan, 1999) and Mumtaz Mahal, recorded in 1995 with Indian slide player Vishwa Mohan Bhatt.
The live albums are a mixed bag. From the tuba experiments of The Real Thing, to the Intergalatical Soul Messenger recordings of the direct-to-disc era; from the bonus cuts of the Rhino/Handmade release to the independent Evening of Acoustic Music, Taj always plays his best in front of an audience. In 2000 he won his second Grammy for Shoutin' In Key, an album that kicked off Taj's new millenium while at the same time summing up his first golden era.
Where will the road take him next? No one but Henry Saint Clair Fredericks knows. Wherever he goes, whatever new direction he takes one can be certain that there will be blues there, and that ringing brass guitar, and those gruff yet tuneful vocals that are his trademark. And, mark my words, there'll be a beat to make you dance, for sure!
[Update: Sundazed Records put out a different version of the Rising Sons' album in 2001, in their words "a dozen long-lost Rising Sons tracks and dressed them up in a pair of pristine, previously unpublished full color photos to present the Rising Sons' self-titled debut LP as it might have looked and'sounded had it appeared in 1966!" It does not appear to be available at this time.]