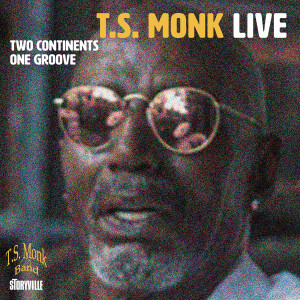 After spending the '70s and '80s making soul and R&B music with various groups, drummer T.S. "Toot" Monk returned to his jazz roots in the early '90s, and he's been playing with one sextet and another pretty much continuously since then. This, surprisingly, is his first live release, and it's a doozy. The seven songs here were taken from two performances at two similar jazz rooms in the mid teens, three during a festival at Ginny's Supper Club in Harlem on May 7, 2014, the other four at Marians Jazzroom in Bern, Switzerland on April 24, 2016. Thus the title Live: Two Continents – One Groove
T.S. Monk's full name is Thelonius Sphere Monk III, so yeah, he's "Monk's" son, and he played in his famous pianist father's trio and toured with his dad until the elder Monk's retirement in 1975. (Thelonius name-checked his son on his delightful "Little Rootie-Tootie.") He's been a leading figure in modern jazz since the '90s, as a drummer and percussionist, bandleader, composer and producer. For these dates he played with an ensemble made up of a mix of younger and established talent, and the key word there is talent. This sextet is amazing, with Monk leading from the kit, and Willie Williams, a longtime collaborator with T.S. Monk, on tenor sax; multi-instrumentalist Patience Higgins, who has played with a long list of acts from the Duke Ellington Orchestra to Yoko Ono, on alto; young Josh Evans on trumpet; the classically trained leader of her own quartet Helen Sung on piano; and notable upright and electric bassist Kenny Davis. The tunes they tackle are a mix of classics and some by sextet members including Monk, Sung and Evans.
Vying for my favorite jazz performance of the first half of 2022 is this smoking version of Randy Weston's "Chessmen's Delight," at the third track. I love Weston's composition, and the whole ensemble gives this classic hard bop a good airing. Before we get there, though, we get a grand intro to the sextet on T.S. Monk's "Sierre," a smooth but swinging post-bop number named for his daughter. It's got an interesting structure in which the band kicks into double-time for the intro to each soloist's section, then settles back into the regular groove for the balance of the solo. Helen Sung, who has sterling voicing and technique, leads the solos, but a lot of the joy of this piece is the way Monk goes to town behind the head that's laid down by the three horns.
I thoroughly enjoyed Sung's 2021 recording Quartet+ and her playing here, with its clean technique and driving rhythmic sense, is stellar throughout. But then, so is everybody's! Sung is out front leading the rhythm section on her jaunty, very Monk-inspired "Brother T" with its swinging boulevard melody featuring the three-horn section. Josh Evans contributes a piece as well, his lovely ballad "Ernie Washington," which also has been recorded by Christian McBride's group of which he's been a member. His lyrical playing and Sung's classical-inspired piano solo take the lead, but when this band's tenor-alto-trumpet front line plays, especially on this track, it sure calls back Cannonball Adderley's quintet at its peak.
Bassist Kenny Davis is a key to this sextet, too. His playing is a major force throughout, and he and T.S. are solid anchors on the speedy trip through Miles Davis's "Seven Steps To Heaven." He also is key on the deeply funky groove (in a seven-beat rhythm) that drives Jymie Merritt's "Nommo," a composition that earned Merritt a nomination for Best Jazz Composer in DownBeat magazine's Critics Poll back in the '60s. Leader Monk really kicks it on this one, and Evans turns in some licks inspired, appropriately, by Freddie Hubbard.
The album wraps on a high note with another Randy Weston piece, "Little Niles," named for his son. This one's kind of a hybrid that combines both ends of this band's prowess, a deep funky groove from the rhythm section with a muscular bop melody laid on top by the front line. Sung soars, channeling Duke a bit with nifty descending runs of – well, I want to say 4ths but I'm out of my depth a bit there, but it's a great solo. And Monk finally allows himself an impressive solo, which really shows off his practiced but intuitive sense of all kinds of percussion sounds as he plays all over the kit but remains in touch with the song.
Two Continents One Groove has superb sound reproduction for a live disc. But that would be for nought without great performances, and this band delivers. With its well chosen covers and strong member compositions, it's a perfect blend of foundational and forward looking. Best of all, it's great fun, with all kinds of swing and funk. Highly recommended.
(Storyville, 2022)