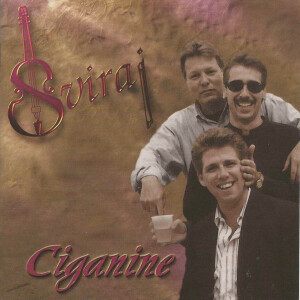 This review was written by Naomi DeBruyn.
Sviraj (pronounced Svee-rye — with the "r" rolled; and meaning "Play on!") is a trio of three childhood friends from Pennsylvania, who have been playing their music for twelve years. Their music has roots in Serbia, Croatia, Macedonia, Bosnia, Dalmatia, Romania, and the Roma. Sviraj also thrives in the tamburitza music of North America's Balkan communities. The group plays music from both traditions as, according to the accompanying notes, both traditions nurtured them.
Sviraj consists of R.E. "Raczar" Lopatic (violin, dumbek, prim, vocals), Danilo Yanich (bugarija, accordion, guitar, vocals), and Lenny Tepsich (bass, cello, vocals). The trio is rich in both heritage and talent, a combination which makes this group well worth listening to. Raczar was classically trained and is one of the best tamburitza fiddlers in North America. Danilo was a former music director for the Tomov Folk Dance Ensemble of New York. Lenny has been featured at Balkan music and dance camps, as well as international folk festivals. Also featured on this disc are the Tamburitza Hall of Fame legend, Vlad Popovich (cello, brac), and Danilo's brother Tosh Yanich (vocals).
For those of you unfamiliar with the bugarija (bu-GAR-iya), it is used as the rhythm instrument of the tamburitza orchestra, being the shape and size of a large dreadnought guitar, functioning as a cross between the rhythm guitar and the snare drum. Danilo plays two versions of this instrument, a three-tone open D and a four-tone open G. The brac is a melody instrument of the tamburitza orchestra. It is shaped like a half-size guitar, and has five strings but only four notes. The top string is a G, and is doubled.
This CD has 17 tracks, filled with a music containing so much passion it is impossible not to let it work its magic upon you. The lyrics are in both their original tongue and in English, allowing for a complete understanding of the song. The handful of instrumental tracks are delightful in many ways, some with the simplicity, others with their complex arrangements.
"Sviraj Ciganine" which is the title track, translates to "Play, Gypsy." It is a deeply moving song, even without the accompanying translation. The liner notes describe this song best. "Accompanied by a soulful gypsy violin and a glass of wine, a young man mourns a broken love affair." You can feel his pain and desires within the music, and your heart goes out to this poor young man.
Also included on this disc is the "national anthem" of the Roma (Gypsy) people, "Djelem, Djelem." This is sung in the Rom language, and although brief, it stirs the blood. According to the liner notes there are many versions of the lyrics. This song was included and sung in honour of the Rom people and to acknowledge their contribution to the music.
Guest vocalist Tosh Yanich joins his brother Danilo for "Alde Jano." It is a song about lovers who sell their home and livestock in order to free themselves from their obligations, so that they may dance the kolo, a traditional circle dance. "Come along Jano, let us sell the horse…/ Come along Jano, let us dance the kolo…"
The group has three recordings on both CD and cassette. If the other two are anything like Ciganine, then they are well worth tracking down. If you love music which contains passion, fire, and serious heart, then you will enjoy Sviraj. From Serbia to Greece, with a great many stops in between, there is something for everyone, from love songs, to waltzes, to dirges.
Sviraj generously donated a track to Omnium's 1999 benefit compilation Balkans without Borders. So far this has contributed over $10,000 to the Doctors Without Borders program. Definitely a worthy cause.
(Omnium Recordings, 2000)