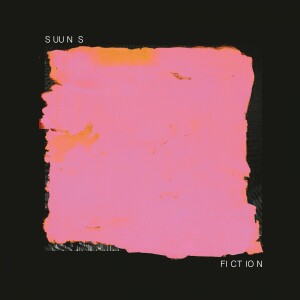 Suuns is a Montreal-based band whose music is an intriguing blend of guitar-keyboard post-rock music and experimental electronic elements. And when Ben Shemie, Liam O'Neill and Joseph Yarmush team up with their longtime friend Radwan Ghazi Moumneh (who performs as Jerusalem In My Heart), it gets even more interesting. The two acts did a full-length release together in 2015 that blindsided me with how much I liked it. I didn't review that album at the time, but the amazing "Gazelles In Flight" was one of my favorite things of 2015 – it reminded me so much of Morton Subotnick's Sidewinder album, with elements of Revolver-era Beatles and the Old City of Jerusalem's tinny muezzin chants thrown in for incongruous good measure.
What Suuns do is make mostly live recordings of extremely indie post-rock with guitars, drums, and analog synths, then go in the studio and do weird electronic things to it – loops and beats and other things I don't have the vocabulary for. They're working on some new music for 2021, but in the meantime with touring on hold, they have gone through the vaults and dusted off some old tracks and done some things with them that make them more reflective of where they are now and where they're going.
One of those is "Breathe," which I assume is a leftover track from 2015's self-titled Suuns and Jerusalem in My Heart. Radwan Ghazi Moumneh absolutely rocks out on the Lebanese buzuq, which has been processed with some sort of delayed reverb and set it to a martial beat on the snare drum.
And speaking of droning, there's a lot of that, created from rather caustic noise, on the mournful "Death," featuring Amber Webber of Black Mountain on indistinct vocals.
The lead single is "Pray," which is as close to Portland-style indie rock as I've heard from Suuns in my admittedly limited experience. As always, they're going more for evoking and portraying feelings here, with hazy vocals ("Oh no, oh no, pray for me, pray for us") that play out behind walls of various noise – guitar, keys, feedback, percussion. The addition of images of burning books in the accompanying video heightens the feeling of anxiety that the track evokes.
The EP closes with a remake of one of Frank Zappa's most classic tracks, and one that's more relevant than ever, "Trouble Every Day," which was inspired by the 1965 Watts Uprising. As performed by Zappa on the Mothers of Inventions' first album Freak Out! it was a proto-rap song, I suspect inspired partly by Frank's love of doo-wop. It sounds a lot like what we've seen happening since the BLM demonstrations began in June:
Wednesday I watched the riot, I seen the cops out on the street
Watched 'em throwin' rocks and stuff and chokin' in the heat
Listened to reports about the whisky passin' 'round
Seen the smoke and fire and the market burnin' down
Watched while everybody on his street would take a turn
To stomp and smash and bash and crash and slash and bust and burn
Suuns have done their thing with it, sticking with the lyrics, backed by their usual grungey droning, but their electronic trickery, clipping and compressing the words, sets it squarely in our attention-deficit social media era.
I don't have much to say about the more electronic-oriented tracks "Look" and "Fiction," which just jangle my nerves in various ways. I'm sure they'd be interesting in a live setting. But there's a lot to like on this Suuns EP.
[Joyful Noise, 2020]