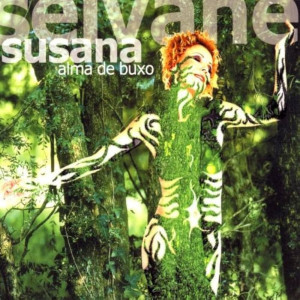 I should point out from the start that I'm not exactly an expert when it comes to Galician traditional bagpipe music. My previous encounters with it basically amount to seeing the wonderful Carlos Nuñez strutting his stuff on stage with Sharon Shannon and the Woodchoppers, and a musician and storyteller called Will Coleman unleashing his gaita galego (Galician pipes) during the wild shenanigans that precede and follow rugby matches involving Cornwall. Odd, perhaps, but true…
However, whenever I question more enlightened souls about who I should be listening to, the name of Susana Seivane is always the first to crop up, so I leapt at the chance to review this CD. Seivane is the daughter of a bagpipe maker and granddaughter of one of the most influential and highly regarded remaining "old" pipers still alive, so she has an impeccable musical pedigree. The booklet notes pay frequent tribute to the musicians who have transmitted the music to succeeding generations, and to the recent achievements of women in Celtic music around the world. Clearly this is a performer who understands her past, embraces her role in the present and faces the future with justifiable confidence.
Those booklet notes also serve to guide the novice through the differing types of tunes and dances indigenous to Galicia. "Polcas" and "rumbas" may be self-explanatory, but I'm delighted to now be able to identify the tunes that first attracted me to this music as "muiñeiras," dance melodies with the same irresistible qualities of a Breton "fest noz" or a Cornish "noze looan," but (unsurprisingly) decidedly different to either.
Seivane plays bagpipes in a variety of keys, and is backed up by a tremendous group of musicians on bouzouki, violin, accordions, banjo, drums, bass, guitar, and well, a whole host of things! Every single arrangement is exemplary and the production is of the incredibly high quality that's become synonymous with anything on the Green Linnet label (though it should be noted that this CD is actually licensed from Boa Records of Spain).
In addition to her abilities as a piper, Seivane demonstrates a ferocious skill with a traditional drum and is a very fine singer. Indeed, "Muiñeira de Alen" is performed by her all-female singing group Sete Saias, https://www.facebook.com/banda7saias/ with no more than minimal hand percussion by way of accompaniment. The harmonies are absolutely gorgeous! Another "unusual" track is "Chao-Curuxeras" which is performed not by Susana, but Xose Manuel Seivane (the aforementioned grandfather), live at a family gathering with drum accompaniment. It's immediately followed by the same tunes performed by Susana and her band in a contemporary setting. "Rumba Para Susi" features Seivane's pipes accompanied by an "Agrpacion" (brass orchestra), while "Ti E Mais Eu" is a duet between the pipes and Roberto Grandal's piano described as "the musical result of two hearts beating in unison." It's a blissfully effective piece of work with some wonderfully expressive tones emanating from the pipe chanter.
Elsewhere, that gloriously unfettered dance music predominates. It's the sort of music that, though difficult to describe accurately as an outsider, you can't actually imagine anyone not enjoying unless they were suffering from severe depression. This music is, in a word, joyous. I've already mentioned Sharon Shannon, and Susana Seivane reminds me of her (hey, same initials – spooky…). That's got nothing to do with repertoire, but everything to do with being a young woman born into a tradition and having the talent, vision and vitality to carry it forward in unexpected, exciting and popular directions.
Actually, when you stop to think about it, there are a whole host of similar musicians out there. Norway's Annbjorg Lien, Cape Breton's Natalie MacMaster and Irish American Eileen Ivers are all comparable, and all performers whose music has captivated me over the years. Right now, it's the music of Galicia that's grabbed my attention and Alma De Buxo has taken up semi-permanent residence in my CD player for the foreseeable future!
(Green Linnet, 2002)