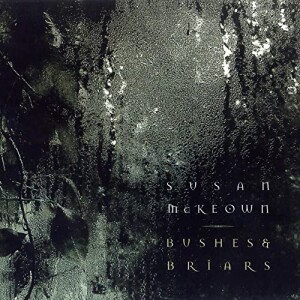 Meredith Tarr wrote this review.
Susan McKeown has the pedigree to produce an album of traditional Irish songs. Reared in Dublin, the daughter of a musical mother, her own musical path took her briefly toward opera, veering off through jazz, blues and rock before returning to her Irish roots. Her first album of traditional music, Bushes & Briars, is an excellent showcase of not only her stunning voice, but the range of Irish music she has discovered. It is also an intriguing fusion of Celtic and other musical traditions.
With her band The Chanting House, McKeown has become known for blending Celtic styles with urban jazz and rock. On this album – her first solo effort – she gives her own take on songs she has learned from those involved in the long tradition of Irish singing. In Ireland, singers learn their songs from those who have sung them before. So it is that in the liner notes, McKeown credits from whose singing she has learned each song: the title track, which kicks off the album, comes from the singing of one Isla Cameron; another, the powerful immigration song "Craigie Hill" is from the singing of Scotland's legendary Dick Gaughan (who got it from Paddy Tunney), and so on.
The songs themselves cover a range of topics. There is unrequited love ("A Mhaire Bhruinneall," an addictively percussive song gleaned from the work of Clannad), and the ancient theme of lovers disguising themselves to be with their intended ("In London So Fair," in which a girl disguises herself as a sailor boy to be with her beloved when he goes to sea, and "Banks of Claudy," in which the lover comes back and disguises himself to test the fidelity of the woman he left behind, and which has as its backing vocals an old French song about basically the same thing). We have forbidden love ("Driving the Calves" and "The Mountain Streams Where The Moorcocks Crow"), and love lost ("Bonny Boy"). There are also two powerful songs of leaving, "Craigie Hill" and "Donal Og." The album closes with its most affecting song, "After Aughrim," a ballad depicting the aftermath of the disastrous battle in 1691 in which William of Orange's armies decimated the Irish forces in a continued attempt to break the Irish spirit. One can hear the centuries of loss in McKeown's singing here, and the result is a very emotional ending to the collection.
The arrangements of the songs are not of the basic Irish pub variety. Glancing at the credits, one does note the expected fiddle, whistles, bodhran, accordion, and uillean pipes (played here by a host of big names in traditional Irish music including Johnny Cunningham, Seamus Egan, and Jerry O'Sullivan). However, there is also tabla, tambura, mandolin, bassoon, clarinet, and hurdy-gurdy (played by other well-known names such as Samjir Chatterjee and Andy Irvine), and keyboards played by Jamshied Sharifi, who also co-produced the album. He has made a name for himself with his work on movie soundtracks such as Muppets From Space, and with his own acclaimed New Age/World Music albums, also on Alula Records.
You may already be familiar with one of the songs here: the haunting lullaby "H-o Abha-inn" ("Little One") showed up in an Audi commercial late last year, indicating that someone out there in the advertising field has good taste. The hushed vocal arrangement is backed by dark, muted percussion and some wonderful pipe work.
The album's only misstep is the a cappella "Bonny Boy," from the singing of the English traditional singer Annie Briggs, which is not so much sung as shouted. It is the only track I habitually skip over, to get to the offbeat arrangement of "The Mountain Streams Where The Moorcocks Crow," which is backed by distinctly Indian drones and tabla percussion, along with a keening whistle.
This album showcases the range of McKeown's voice, as she ably conveys the emotions of the songs, whether she is singing in English or Gaelic. At the same time, the distinctly contemporary arrangements breathe new life into the traditional material. On the surface, I wouldn't have expected a fusion of Indian and Irish instrumentation to work, for example, but here they come together beautifully. If you are a "traditional music" purist who refuses to sully their ballads with instrumentation that is not from the old sod, then perhaps this one is not for you; but I would encourage you to open your ears and give it a try. This is precisely the sort of work that might just change your mind.
A sequel album of sorts is due in the summer of this year. Now would be a good time to familiarize yourself with Bushes & Briars, since you will undoubtedly be left wanting more.
(Alula Records, 1998)