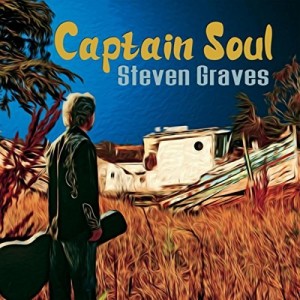 I've listened to the first several CDs from Steven Graves, and enjoyed them. His musical direction was clearly a work in progress – it moved and tightened up, becoming a little more defined with each release.
With his seventh release, Captain Soul, Graves has taken a quantum leap forward into the world of orchestration. It's a very good idea, and it solidifies some of the areas in his earlier presentation that needed just a little more production than he was giving them. His songs have grown with each album, and with this release, he's given them a commensurate gloss and heft.
The sessions for the new CD features a list of 21 players joining Graves for the 11-song playlist. The players are well and carefully chosen; from the supporting vocalists adding a choir-like feel that's often reminiscent of the best of Seventies southern rock to some blistering solos (the guitar work on "Take You For A Ride" is a standout), each song has been given meticulous attention to the placement of the roster of players. The production duties for Captain Soul were split among David Jeremy Higdon, Dayan Kai and Graves himself, and all three get a thumbs up.
There's some really solid crunchy work to chew on here. The opening track, "Light Turns To Day", puts the listener on notice: it offers up a driving beat, punchy emphatic organ work, and that southern rock cadre of backup singers mesh around a lyric on a theme explored earlier in Graves' work, the search for enlightenment. Taking off from there, the CD offers touches of a range of influences and styles (including a startling and fun little homage to David Bowie at the end of "Man From A Different Planet").
There's something for everyone on Captain Soul. I'm looking forward to Graves' next release, and hoping he continues to grow in complexity.
Captain Soul is available here.
(Independent/One Essense Music, 2017)