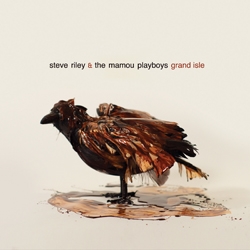 Grand Isle, the 11th album by Steve Riley and the Mamou Playboys, continues to push southern Louisiana's Cajun and Creole music in new directions while remaining solidly rooted in tradition. This gritty album was born on the heels of yet another disaster on the Gulf Coast, 2010's massive oil spill, which hit the Louisiana Coast while the people, the economy and the land were still recovering from 2005's hurricanes. The cover photo of an oil-covered crow tells the story.
Produced by CC Adcock, himself a Louisiana musical treasure, Grand Isle is brimming with surprises, including a variety of synthesizers, vintage 1930s recording gear, ska beats and grungey wall-of-sound recordings. Oh, and an Edith Piaf song reimagined as dreamy swamp pop.
Lyrically, this is an intense, distressed album, even approaching anger at times. On "C'es l'heure pour changer (This is the time for change)" Riley sings "Look around you / and tell me what you see / the world is not like it was / I fear for the life of my baby."
David Greeley, the fiddler and co-founder of the Playboys with Riley, penned the following words (translated from Cajun French) in "C'est trop (Too much)":
This isn't the first time they've made us precious promises
This isn't the first time they've stolen, then abandoned us
Now it's all ruined, it's no use to cry
This time is enough, and it's too late to forgive.
But you'd never know it by the music alone, which for the most part consists of rocking two-steps. This is happy dance music, with sometimes somber words. The Cajuns have learned over the past 300 years to dance through their sorrow. It's a point that Riley addresses in the bilingual opening track, "Danser sans comprendre (Dancing without understanding)." "What's at stake? / What'll it take? / C'est pas assez (it's not enough) / Danser sans comprendre."
That opening track alone is worth the price of the CD. On the surface it's a simple Cajun two-step, but when the insanely catchy choruses begin, a gang of backing singers and a wall of analog synths and chiming guitars and thundering tom-toms kick it into high gear. Just try to sit still when this is playing.
And then right on its heels there's the even more deeply weird "Chatterbox," written by the colorful New Orleans character Robert "Quintron" Rolston. It's a pumping and grinding funky country zydeco full of scratchy vocals and swirling organ, electric guitars and more, much of it sounding as though it was processed through a Leslie cabinet. Maybe what Los Lobos would sound like if they were from southern Louisiana instead of East L.A.
What could they follow that with but some Cajun ska? "This is the Time for Change," Riley and a big chorus sing — in French of course. Accompanied by baritone sax, Hammond B3 organ and bongos, in addition to the Cajun standby accordion, fiddle and guitars.
They play it fairly straight with the venerable Camey Doucet's "It's Lonely" waltz, if you don't count guitarist Sam Broussard's wicked turn on the stylophone, an odd little synthesizer that comes out sounding something like a lap steel played by a frog on LSD. Then there's that Piaf song, "Non, je ne regrette rien," in a double-waltz tempo a bit faster than Edith's, backed by the usual instruments plus some viola and cello.
And so it continues. The title track is a Cajun honky-tonk two-step complete with pedal steel, chunking electric guitar and some swinging mandolin from guest Dirk Powell. Sam Broussard constructed the song "Pierre," which he sings in French Creole, from a bunch of old Creole proverbs including "Every monkey will think its children are pretty" and "Trimming the ears of a mule doesn't make a horse."
The songs on Grand Isle are a mix of vintage Cajun standards and those written by the Playboys. The arrangements and production are wildly creative, as is the playing. Steve Riley and the Mamou Playboys continue to set a very high bar for not just Cajun music but all kinds of American roots music.
[self-released, 2011]