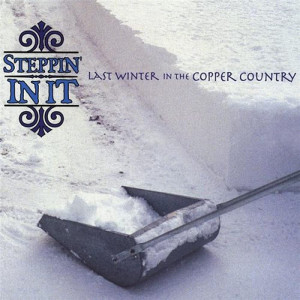 Chris White wrote this review.
An updated ol' timey string band, pickin' and a grinnin', grinnin' and a pickin', singin' too, Steppin' In It consists of Joshua Davis with 'les freres Wilson,' Andy and Joe. They're joined on this recording by Dominic Suchyta on upright bass (on all but three tracks); Bob Bryan adds a trap set to one track and washboard on another, while Jonathan Price contributes some fine fiddle on three numbers. Surfin' to their homey home page revealed that bassist Dominic Suchyta is now considered a full fledged member of the group.
Davis and the Wilson brothers certainly make great use of their ample talents. The signature sound of Steppin' In It comes in large part from the ample use of National resophonic guitar, harmonicas and Dobro by Davis, Andy and Joe respectively. Davis also contributes acoustic guitar, banjo, mandolin, triangle and short wave radio, but don't ask, give the disk a listen! Andy adds Cajun accordion, trumpet and Jew's harp to his harmonicas while Joe contents himself with steel and acoustic guitars. All three sing, and even if the liner notes don't reveal who sings lead on what, it doesn't matter much, as all the vocals are mighty fine. Joshua Davis is the chief songsmith with five full credits, and three shared with an "Allen" whose first name was just about the only thing I couldn't find, either in the liner notes or on their Web site.
From the opening traditional ballad, "The Butcher Boy," (with arrangement attributed to Joel Mabus from his album flatpick and clawhammer) to the Davis-penned closer "On Down the Line," this is an album filled with fine playing, lively arrangements and a pervasive sense of fun. I strongly suspect Last Winter in the Copper Country will spend more time either in the player or the "active" stacks nearby rather than carefully filed in the storage unit. Actually, my significant other (fellow GMR reviewer Barb Truex) already stole it out from under me to use on her WMPG radio program.
Last Winter in the Copper Country feels like a great live gig in some sitcom pub, minus the cigarette smoke and hangover. They do fine, distinctive versions of perennial pickin' faves "Red Haired Boy," "Trouble in Mind," and a conjoined "Over the Waterfall/Mississippi Sawyer." The originals are more than fine. They cover a range of moods with nicely varied arrangements and dynamics. I laughed out loud at "(Boom) Clank" which reminds me a bit of Little Feat back in Lowell George's heyday. The tune is notable for Andy Wilson's Jew's harp and harmonica, the guitars are cranked up, and, as the boys' liner note says, "folk 'em if they can't take a joke." The title track explores the less appealing aspects of country living in Northern Michigan. "Four Little Men" is, as they say, "just like old times, six fools, one washboard."
All and all, Steppin' In It has produced a real winner with Last Winter in the Copper Country.
(Hippo Coop Records, 2002)