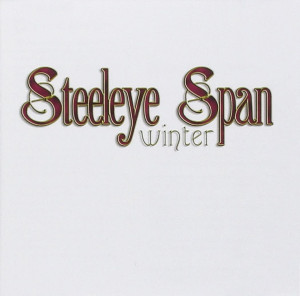 Folk rock and Christmas always seem to go well together. There is a long line of successful seasonal albums incorporating singers and musicians from that field. There have been three from different guises of the Albion Band, two from St Agnes Fountain, including Fairporter Chris Leslie, and one from Jethro Tull (although perhaps they must be considered being very much on the outskirts of folk rock).
So it should not come as a surprise to anyone to find Steeleye Span joining the Christmas album force. After all, they had their first hit with a song in Latin telling about the birth of Christ, Maddy Prior has already explored the territory with the Carnival Band, though with medieval instruments, and the newly recruited Ken Nicol played a crucial part on the Albion Christmas album of 1999. It has been a good year for Steeleye Span. They Called Her Babylon found them back in good form and also promised a lot for the future. Maybe that is why Winter is released so close in its footsteps. Let me take you on a track-by-track-journey of the album.
'The First Nowell' starts with some heavy guitar chords and swirling violin. It is just a short, powerful introduction before Maddy Prior grabs the reins with a pretty straight forward reading of the popular carol, with typical Steeleye harmonies on the chorus. It is a good starter. Nothing spectacular, just a well crafted track with enough in it to grab your attention and make you decide to go on listening. 'Down in Yon Forest' is lesser known. The sound is just a tiny bit more laid back, reminiscent of the songs on 'Now We Are Six'. It builds up well, with harmonies added on the way through, and Peter Knight's fiddle playing interludes and circling round Prior's voice on the verses. And I confess: two songs and I am hooked. My initial reaction is that this is going to be a very enjoyable Steeleye album.
Then comes a real surprise, the first Nicol song, 'Unconquered Sun', based on the celebrations after the Winter solstice, when the sun returns again. Nicol sings it himself, and gives it the same feeling you find on the Albion Christmas album he was on. It's an ace track, with many layers of guitar and some experimental fiddle. 'Chanticleer' starts off with Liam Genockey's percussion. It is a very soft track. You can almost feel the band holding back to save power for other tracks. Not one of my favourite tracks.
'Bright Morning Star' is sung a cappella with all the male singers giving it all the power they can master. Prior stays a bit more soft and this creates an exciting tension between the lead vocal and the harmonies. Good, but not quite in the same league as some of the classic Steeleye a cappella tracks like 'Rogues in a Nation', although if I had not heard those I might have reacted with more enthusiasm, because it is not bad by any standards.
'Winter' is the only instrumental on the album. It is divided into parts. The first gives you the main melody line, with author Knight's over-dubbed violins backed by a piano and some soft percussion. The second part gives Rick Kemp a chance for a bass solo, passing on to Nicol who uses a lot of flageolets in his solo. Knight finishes off this free section, before it is back to the third part, which is a repeat of the main theme. A mellow and quite lovely track. 'See Amid the Winter's Snow' starts with yet another powerful a cappella part, this time of the chorus. The instruments come in to smooth things, and the verses are performed very softly by Prior. Knight uses his mandolin to great effect in the background. All the way through the band creates interesting contrasts between the soft verses and the louder choruses.
Then another Nicol track, 'Mistletoe Bough'. It is almost two tracks, with a long introduction on solo acoustic guitar. And we know from 'Great Grandson of Morris On' that he is a fabulous guitarist. This time he provides a hardly distinguishable tune based on a long chord sequence. The intro to the song contains some heavy drumming, a guitar run and some violin. The band builds a wall of acoustic sounds to back Nicol's voice up, and on the second verse Prior adds a high harmony. Some medieval chanting ends it. A stand out track, at the same time both subtle and powerful.
In the sleeve notes Prior describes 'Sing we the Virgin Mary': 'Every word and every note is perfectly written.' I cannot argue with that description. And I can assure you that Steeleye Span does nothing to spoil it. It's the most atmospheric track on the album, just plain beautiful. 'Today in Bethlehem' is another subtle track, performed in a rhythmically quite tricky fashion. On another album it would shine, but here it is just one of many good songs well performed.
'Blow Your Trumpet Gabriel' is just Genockey on percussion and Prior on vocals. I get the feeling of 'Fighting from Strangers', one of the few decent tracks on Rocket Cottage. Then it is time for the finish, with three rather well known songs. 'Hark the Herald Angels Sing' starts with some syncopated chords from Nicol and Kemp. Once again you feel the band holding back a bit, but doing if very effectively. The rhythmic chord work is excellent, changing between the syncopated structures of the first part, over to some more straight patterns and a slice of the heavy chord sequences of songs like 'Long Lankin'. It does not hit you immediately, but steadily grows with every listening.
You will either love the treatment of 'Good King Wenceslas' or you will hate it. This is Steeleye Span the punk rock group, in a furious tempo and some screaming guitars, just playing the tune during the solo. I like it, but I am sure this is one of the tracks I will skip in the weeks to come.
Christina Rosetti's and Gustav Holst's' In the Bleak Midwinter' is the last track, containing just Prior's voice backed by some violin parts that could have been lifted from Antonio Vivaldi's' Winter'. A perfect closing track.
So there you have it, not only the Christmas album of the year, but also proof that Steeleye Span is once again to be considered a major force in music. And this album clearly shows what could be sensed on the last one, that Ken Nicol is a main asset to the group. Good singers, lovely songwriter and an ace guitar player. What more could a band want. And Steeleye Span surely makes good use of his many talents.
In the sleeve notes Peter Knight writes: 'I am so glad that Steeleye has at last recorded a Christmas album.' I share his joy, and I am sure you will too. If you are to buy a Christmas album this year this is the one. And even if you were not considering buying one, buy it anyway.
(Park Records, 2004)