It's hard to remember so long ago, but back in 1978, eight years must have seemed like a pretty decent lifetime for a band. Nowadays, it's becoming increasingly common for groups to have anniversaries marking several decades of existence; indeed Steeleye Span themselves recently celebrated their fortieth year. But in the late 70s, such a timeline wasn't possible for any sort of rock band and Steeleye had decided that after nearly a decade, they had achieved all they wanted to in the realm of folk rock and so called it quits.
Clearly, this was not a permanent arrangement but it did seem that way at the time. They finished this phase of their career with an intriguing line-up that saw them draw from their own past by bringing Martin Carthy back to the band to replace Bob Johnson, and to trade Peter Knight's fiddle work for the accordion of John Kirkpatrick. Stalwarts Maddy Prior, Tim Hart, Rick Kemp and Nigel Pegrum were from the 'hit years' version of Steeleye but on the one studio and one live album this later line-up recorded, there is little that can be compared to the jolly Mike Batt-produced albums of just a few years previously.
Storm Force Ten came out in 1977, the year preceding the 'final' split, and from the opening track "Awake Awake" it is apparent that Steeleye trademarks such as tuneful and memorable songs adorned with gorgeous harmony were still to the fore. Hart, Prior, Carthy and Kirkpatrick each have distinctive voices that work well en masse, and the swirling accordion sounds as much at home in the arrangement as the fiddle work of yore.
I remember contemporary reviews of the album lamenting that the production was a bit flat, and some thought the performance was also stilted in places. Remastering seems to have fixed the former issue and perhaps in some respects, tracks like "Sweep Chimney Sweep" can be accused of the latter – but it is what it is and still stands as part of a document of a specific time in the band's career.
In fact, it's probably unfair to see it as anything else. This Steeleye was very traditionally based and unrestricted by concerns such as commerciality, so lengthy songs such as "The Victory" and "The Black Freighter" were entirely appropriate choices at the time. The former is excellent folk rock in its own right – another tale of 'brave Lord Nelson' and ladies lamenting their lost sailor lad; the track builds and ebbs very nicely indeed and is one of several very memorable selections. A song from Waill and Brecht's Threepenny Opera is an unexpected inclusion but it too has a captivating arrangement, with Prior's voice sounding appropriately innocent until the true intent of the final verses becomes clear. The later live version is probably even more menacing in its effect, though.
"Some Rival" is classic Steeleye, with gentle melody and arrangement and everything in its proper place. I think 'enchanting' would be the right word here. "Treadmill Song" has lead vocals by Martin Carthy and is probably what those critics were referring to when they mentioned stilted performances. The playing is fine but the track just seems to plod along. Perhaps it's meant to be a musical representation of the depressing nature of the lyrics, but it's a little too effective if so!
On the other hand, the closing track "Seventeen Come Sunday," with vocals by John Kirkpatrick, is an accordion-led workout that shows how well this version of Steeleye could create its own style of traditional rock. Great arrangement and playing, and I had to stop writing to listen to the song properly, despite having heard it so many times before! It's certainly a rousing finish to what is overall a very fine album despite its relatively minor drawbacks on a song or two, and shows the band could easily adapt to quite major personnel changes, as it needed to do several times before and since.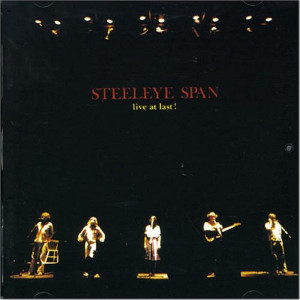 It's also interesting to note that at the time, an album comprising eight songs could be considered full length, though its playing time is a perfectly reasonable 41 minutes anyway. In fact, the following album, the self-described Live At Last! only has seven tracks but runs to just under 50 minutes.
Recorded at the Winter Gardens in Bournemouth just days before the final split in 1978, the live representation of this lineup shows further diversity in their repertoire, and the presence of an obviously enthusiastic audience helps prevent any perceived malaise in performance that some may see in the studio album. Kirkpatrick takes lead on the opening instrumental "Athol Highlanders / Walter Bulwer's Polka" and with Carthy's distinctive acoustic guitar adding its part, the integration of the two 'new' members is quite apparent by this stage, while still sounding like a band worthy of the name Steeleye Span.
It could have been problematic to choose material from their earlier career to fit this formulation of instruments, and one example we have to compare is "Saucy Sailor," which works differently but equally as well as the original version with violin, and still stands as a beautiful song with the entirely admirable line 'I don't give a single pin what the world thinks of me.' This leads straight into "The Black Freighter," as featured on Storm Force Ten; my assumption would be that it was included here too due to its even more ominous performance, rather than a lack of other material to choose from.
"The Maid and The Palmer" is another one of those cleverly arranged, memorable folk rock songs that Steeleye have always excelled in; Martin Carthy takes lead vocal and sounds comfortable enough playing electric guitar – actually, it's another one to become easily engrossed in as a song, and appreciate the fact that it was caught on tape in its comparatively brief time as part of the repertoire. The standard "Hunting The Wren" utilises everyone's voice but has an odd arrangement where the lead, in fact only, instrument is Rick Kemp's bass. Extra percussion adds some rhythmic pulse but the overall effect sounds lacking in some ways, though one must respect the band's right to arrange it as they wish. Equally odd was that it was the choice in Australia for a single from the album.
Starting what was side 2 of the vinyl is the epic in every way "Montrose." At over 15 minutes, it is the historical tale of Scottish figure James Graham, 1st Marquess of Montrose, and must have taken a lot of concentration from the band to navigate the various parts and recurring musical themes in such a long piece. It certainly sounds cohesive, though as with any live album, who knows how much touching up was done after the event? But even at such a length, it does not become a chore to listen all the way through and is a testament to the band's arrangement skills. Again, the odd decision was made to release a highly edited version as a single in Australia, which also appeared on the Recollections LP and A Rare Collection CD many years later.
"Bonnets So Blue" is a Morris tune that simply has Martin Carthy playing the music while John Kirkpatrick performs the dance, although of course all we hear are the jangling bells. Kirkpatrick also provides the only spoken portion of the album in his introduction, showing a penchant for bad puns and good humour. The final track is a rearranged version of "The False Knight On The Road" which again varies considerably from their original 1971 recording but remains thoroughly enjoyable, and the audience rightly shows loud appreciation as it draws to a close.
In fact, the last thing one hears on Live At Last! is the crowd chanting 'we want more!' Within a couple of years they got their wish when Steeleye Span reformed and continued into the 1980s and well beyond.
(Chrysalis 1977 / BGO 1996)
(Chrysalis 1978 / BGO 1997)