There are many similarities between Fairport Convention and Steeleye Span, the two bands that can claim to be the originators of British folk rock. Ashley Hutchings was a founder member of both and they both made a name for themselves playing electrified traditional music. Both have been a going concern for more than half a decade. And both can claim one original member, Simon Nicol in Fairport Convention and Maddy Prior in Steeleye Span, though none of them has been a member for their band's total life span.
But there are differences as well. Early Fairport was a unstable unit. Their seventh album, "Babbacombe Lee", was the first when they had not changed any members since the one before. Steeleye was more consistent. Between their fourth, "Below the Salt", and their nineth, "Rocket Cottage", the only change in the group was the addition of a drummer. In later days this has changed. Whereas Fairport has had the same line up for more than 20 years, Steeleye has constantly been changing members over the same period.
Musically they have developed in different directions. Fairport started out as a rock group, a British answer to Jefferson Airplane, which turned folky. Steeleye had a much softer approach in the beginning, with four of the five first album recorded without a drummer. Since then Fairport has turned softer and more acoustic, especially since Chris Leslie substituted Maartin Allcock in 1997, and Gerry Conway to over the drums in 1999. Steeleye has turned more and more electric and heavier, which can be heard on albums like "They Called her Babylon", "Dodgy Bastards" and "Wintersmith".
I remember hearing former bass player Rick Kemp a few years ago stating that his ambition was to "riffalize" the group. His legacy can clearly be heard on Steeyes output over the last years.
Both bands have fairly recently released new albums. Steeleye's "Est'd 1969" came in time for their 50th anniversary tour last autumn. Fairport's "Shuffle and Go" was released early this year, to be sold at the group's traditional British winter tour. These albums show to illustrate how the bands have moved in different directions.
On "Est'd 1969" Steeleye appear as a seven piece. Maddy Prior is joined by long lasting drummer Liam Genocky and Julian Littman, who has been a member for quite sometime. Jesse May Smart on violin och guitarist Andrew "Spud" Sinclair has joined recently and for Benji Kirkpatrick on various stringed instruments and bass player Roger Carey this is their first album appearance with SS. And yes, Benji is the son of John K, who was a member for two albums in the middle of the 1970s.
Steeleye Span base their repertoire on old folk songs. They love old ballads, though they rework both the lyrics and the music for them. There are four ballads here, all performed with the full power of drums, bass and electric guitars. "Old Matron" starts of with bouzouki and harmony vocals, but soon it turns heavy. Ian Anderson (Jethro Tull) guests with some wild flute playing. Listen to the interludes with flute and bass in unison.
On "The Boy and the Mantle" (one of two Child ballads) another guest, Sophie Yates, provides some lovely harpsichord which underline the songs mediaval origins. "Cruel Ship's Carpenter" gives "Spud" to let off steam and show his electric guitar expertise. "Mackerel of the Sea" is quite different with a more acoustic feel and some intriguing rythmic work in the backing.
A few other songs worth mentioning: Dave Goulder's "The January Man", a slow song about the turning of the seasons, also with an acoustic feel to it. Benji Kirkpatrick's banjo rings throughout. "Domestc" is my favourite on the album. It is a set of two songs about husbands. The first has been ornated with a riff worthy of any heavy metal band coupled with a bouzouki solo. It then turns into "My Husband's Got No Courage in Him", more pure rock with a screaming electric guitar in the background and taking solos.
All in all a very fine effort to show that 50 years is no age for a good group. Highly recommended.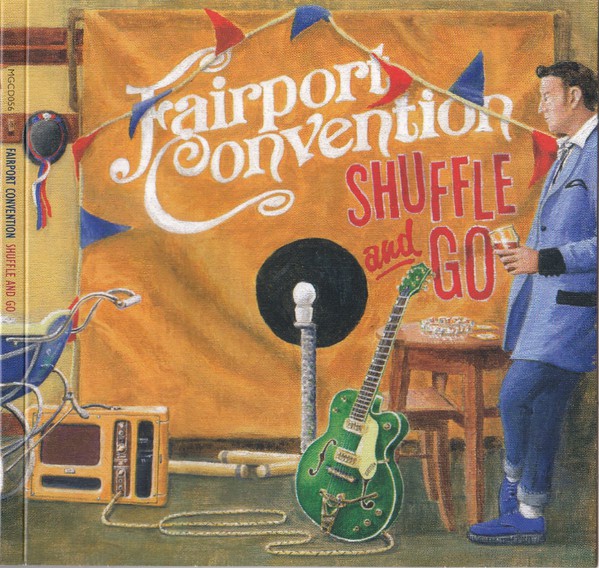 The first thing that strikes me with "Shuffle and Go" is the lyrics. It seems that a meaningful lyric is essential for a song to creep into the Fairport repertoire.
When Chris Leslie joined in 1997 Fairport got something they had been missing since Sandy Denny and Richard Thompson left, a song writer. Leslie has written a number of star songs for the band, and on this new album he lifts himself to new heights. The starter "Don't Reveal My Name" reminds me sound wise of "Mercy Bay", the opening tack on "Festival Bell". "Good Time for a Fiddle and Bow" is a fast tune inspired by Irish fiddler John Doherty, coupled with a quick reel. The title track has borrowed its opening riff from "Summertime Blues". As close to old time rock'n'roll Fairport gets. "The Year of Fifty Nine" is the story about a UFO-sighting. Another rocking number, complete with a riff. "Moondust and Solitude" is about Michael Collins, the man left in the capsule when his collegues walked the moon. Driven by Leslie's bouzouki it is written in a style we have become accustomed to.
Simon Nicol gets to take lead vocals on four songs. Two of them are my absolute favourites on the album. Both are written by Rob Beattie. "A Thousand Bars" is a celebration of the English pubs. On the surface a simple songs with few chords, but listen to the lyrics. For anyone who has ever visited a local pub in the English countryside they are spot on. Leslie's harmonica and some lovely bass lines from Dave Pegg lifts it even more.
"Moses Waits" is about about a servant at a Kenyan hotel. Again on the surface a simple song, but with a message about the difference between the tourists and the people who serve them. A magic song that I never get tired of. And Chris Leslie's Celtic harp is the perfect sound for the interludes.
As usual Ric Sanders gives us two instrumentals, one fast and one slow. "Steampunkery" is a rocky item which lets every member of the band shine as an instrumentalist. "Precious Time" is a perfect end to the album.
Dave Pegg revives "Linseed Memories", written by James Wood, from the album he made in 2002 with PJ Wright. His chance to show his love of the ukulele. PJ Wright turns up again as the author of "The Byfield Steeplechase", a song easy to take for a traditional one and given what I would say is a traditional Fairport treatment, a steady rythm, some lovely bass lines and interludes on the fiddle and the mandolin.
All in all to me Fairport's finest album for many years. I have been running it in my player for many months and I still enjoy it as mych as when I first heard it.
So two albums by two of my all time favourites, both showing that they are as good now as they ever were. Don't choose which one to buy, get both.
(Park Records, 2019)
(Matty Grooves, 2020)
You can visit the Steeleye site here, and you can visit the Fairport site here.