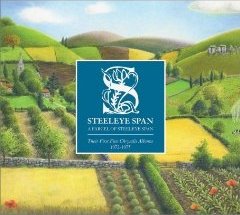 Are you looking for that perfect  gift for your lover of English folk rock? Oh, do I have a gift that's perfect! EMI has just served up A Parcel of Steeleye Span. This triple disc set contains the entirety of their first five albums for Chrysalis, from 1972's Below The Salt to 1975's All Around My Hat with Parcel of Rogues, Commoners Crown, and Now We Are Six being the recordings in between. This completely remastered collection has 46 tracks in all, including a number of very tasty bonus tracks.
Please note that their very first recording, Hark! The Village Wait, was released in 1970 on RCA and Ten Man Mop, or Mr. Reservoir Butler Rides Again, one of their more acoustic affairs, was originally released in 1971 on Pegasus Records and later released on Chrysalis. That is where EMI licensed these recording from so I'm not sure why A Parcel of Steeleye Span didn't include it.
This features Steeleye's most successful lineups — Tim Hart (vocals, guitar, banjo, dulcimer), Maddy Prior (vocals, spoons), Peter Knight (fiddle, banjo, mandolin), Bob Johnson (guitar) and Rick Kemp (bass), with Nigel Pegrum as the drummer since 1974.
Lars Nilsson asked a question in reviewing their They Called Her Babylon recording, to wit, 'So is it a classic Steeleye Span album? Well, it is too early to tell. Classic albums earn their status as time passes. Had this been released in the early 1970s it would have been a classic, but I would not put it above albums like Please to See the King, Below the Salt and Commoner's Crown, but history will certainly rank it higher than All Around My Hat, Rocket Cottage, Sails of Silver and a few others.' I think I've listened to pretty much everything they've released over almost forty years and I've certainly seen them live often enough to appreciate their ability to sound fresh after that much time. That said, I still think these early recordings are some of the finest work as they were younger and less polished than they would be later on.
Most of the material here is quite splendid indeed and deserves to be called classic by any reasonable standard — I'll single out such brilliant works as 'John Barleycorn' done absolutely brilliantly off of Below the Salt, 'Robbery With Violins' from  Parcel of Rogues for the sheer joy of hearing Peter Knight playing his violin at his very best, 'Long Lankin' off of Commoners Crown, the amazing singing on 'Black Jack Davy' from All Around My Hat, 'Cam Ye O'er Frae France' for its Jacobite leanings from the Parcel of Rogues album, and the over the top 'Seven Hundred Elves ' from Now We Are Six. That always leaves me grinning.
Oh, there are some real clunkers here — need I mention 'Twinkle, Twinkle, Little Star', from Now We Are Six, or 'Bach Goes to Limerick' off of Commoners Crown? Or perhaps my least favourite song of theirs bar none — 'To Know Him Is to Love Him,' from the same album that gave us 'Twinkle, Twinkle, Little Star'.
So the bottom line is that this is a near perfect introduction to one of the finest folk rock groups ever to grace Albion. Hell, you even get to hear the original recording of the song which they end nearly every concert with — 'All Around My Hat' off (obviously) of the album of the same name.
 (EMI, 2009)