Solomon Burke is enjoying a renaissance, with two highly acclaimed recent albums and a live DVD. Eddie Hinton (who passed away in 1995) is also being rediscovered; a new CD of unreleased material was just advertised in British rock magazines. But the albums under review today are both from the wonderful antipodean archival label Raven Records, which seeks to re-issue some of the great lost music of our time. They've done it again!
Mr. Burke was a big man when he recorded a trio af albums for MGM Records in a three-year period in the early '70s. He's even bigger now, but Raven knew what they were doing when they titled this collection That's Heavy Baby. Not only does it serve as the subtitle for the lead-off track, but it serves to describe the singer's size and style of music. Listen to this funky slab of '70s soul and try to remain untouched! You can't do it.
Burke had released a bevy of hits for Atlantic and Bell Records, covering genres from gospel to R&B, soul, pop and even a touch of country (before Ray Charles did it). Songs like "Everybody Needs Somebody To Love" and "Cry To Me" influenced the Rolling Stones and the Pretty Things. But by 1970, disagreements with his record company led Burke to sign with MGM Records, and to produce the Electronic Magnetism album. It updated his sound, adding strings and horns to frame Burke's potent soul voice. The selection of songs, half originals and half covers (of CCR, Elton John and Sly Stone) showcased his abilities as a song-seller, whether whispering or shouting. There are eight tracks from this album included here, and Solomon Burke rules over whatever material he touches.
Burke's single of The Band's "The Night They Drove Old Dixie Down" just flat out rocks, a walking bass-line and a solo trumpet over a solid backbeat giving a radical new look to Robbie Robertson's classic.
The next four songs come from a movie soundtrack, Cool Breeze. They are all originals (written by Burke and his son) and they sit firmly beside Isaac Hayes' Shaft score from '71, or Curtis Mayfield's Superfly which came out in 1972 (as did Cool Breeze). Funky stuff.
We're Almost Home was released in '72 and showed Burke in a rich orchestral setting, his smooth but authoritative vocals being the focus. Next a little blues, "Drown In My Own Tears" features just Burke and a couple of guitars, for a swampy stew! Then he turns Don Gibson's "I Can't Stop Loving You" into a testifying session! Whew! Add a funkified "Misty" and you have an album unlike anything else . . . except maybe Solomon Burke's new recordings. This one's a keeper.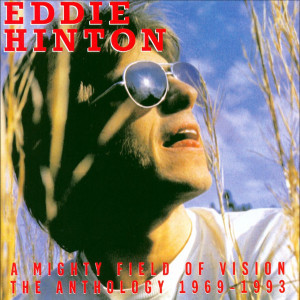 But the big surprise is Raven's Eddie Hinton Anthology. Who is Eddie Hinton? You might well ask.
From the first few seconds of the very first track he captured my attention and he hasn't let go in the month since this CD arrived. He's a white Otis Redding! His voice is a throaty growl, the backing music solid R&B from Muscle Shoals pros. The band hits a groove, and Eddie riffs on top. What a band it is. Barry Beckett, Jimmy Johnson, David Hood, Roger Hawkins, Johnny Sandlin and Dan Penn are just a few of the names who play behind Hinton. Hinton plays guitar, piano, harmonica, percussion, drums, bass, keyboards and sings. Together they created some stirring soul music.
Most of the songs are Hinton originals, although he covers a couple of Redding classics along the way. He only released four albums during his lifetime, but a variety of demos, alternate takes and abandoned sessions have doubled that number since his death. One of my favourite tracks comes from a session originally recorded in 1970 but not released until 1995, as The Coleman-Hinton Project. "Just Like the Fool That I Was" features raw electric guitar, harmonica and harmony vocals. It's simple yet powerful. The acoustic "Heavy Makes You Happy" strips down the sound to unplugged guitar, bongos and tambourine, and says more than dozens of overproduced tracks that were the standard in 1970.
Nine different albums are represented on A Mighty Field of Vision and the 21 songs hold together because of the mighty vision of Eddie Hinton. There's not a bad track.
Both of these releases have excellent and informative liner notes, and fine remastered sound. Highly recommended.
(Raven, 2005)
(Raven, 2005)