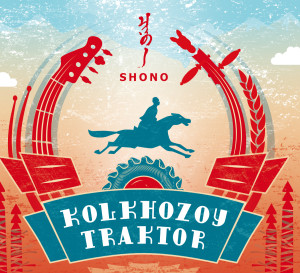 In this globalized world is there anything as common as a band that blends the traditional folk songs of its culture with modern rock? Or as wonderful when it's done right, which is what Shono does. Shono, which means Wolf, is from the far-eastern Russian republic of Buryatia, bordering Mongolia and the eastern shore of Lake Baikal. After facing persecution and genocide under Stalin's Soviet Union, there are now fewer than a million Buryats living in the "autonomous republic."
Shono was founded by Alexander Arkhincheev of Irkutsk in 2014. Arkhincheev is an expert on Buryat legends and epics, master of the Buryatian style of throat singing, teacher, and player of many Buryat traditional instruments. On Kolkhozoy Traktor he sings and plays the moriin khuur (a two-stringed bowed lute called "horsehead fiddle"), a three-stringed lute called sukha huur, and the tsoor (panpipe flute). He's joined by Evguenia Tomitova on yataga, a traditional long rectangular zither; Vladimir Sidorov, vocals, bass guitar, and vargan (Jew's harp); and Konstantin Tokarsky on the drum kit.
It's tempting to call the title track "Kolkhozoy Traktor" (which means "the collective farm's tractor") the best song here, with its infectious rock beat and catchy melody, which Arkhincheev absolutely sells with a mix of non-throat and throat singing, and a rousing sing-along chorus by the whole band. Plus some great fiddling that ranges from very deep droning on the intro, to percussive bowing a la Darrol Anger, to straight fiddling that's hard to tell from music played on a standard western violin, and a couple of brief solos on the yataga. It has a charming video, too.
But there's a lot to like on the rest of the program, too. There's a driving beat and Fairport-type arrangement on "Arban khoer zhel" ("Praising of the 12 animals of the zodiac"); a tune out of the early rock 'n' roll ballad songbook on "Buyan" complete with lovely duet and trio vocals; and the plodding, somber prog ballad "The mountain road." Tokarsky's galloping rhythm on the trap set drives both "Horse," with Sidorov sharing lead vocals with Arkhincheev; and "Bridle Ringing," which has some very modern-sounding, rock-like playing on the lutes. As does "Nayolag," which features Tomitova on lead vocals and an impressive performance on the yataga.
The final track "Yokhor" is an excellent way to end the album, with its double-time rhythm and lightning fast picking and vocals. But the real standout is the penultimate song "The Mountain Road." It at least belongs right up there with the title song. This one's almost all atmosphere, with a steady four-beat rhythm and instrumental flourishes that evoke a long climb up a mountainside. Tomitova gives a regular clinic on how to combine traditinal and rock styles on the yataga and Arkhincheev's pan flute sets the mood throughout, at times borrowing from the style of play you'll hear on Andean panpipes. It and indeed the entire album is a fine example of how to evoke atmosphere without descending into "World music" or New Age clichés. Shono's Kolkhozoy Traktor is one of the most accessible albums of Siberian/Mongolian style music I've encountered.
(CPL-Music, 2023)