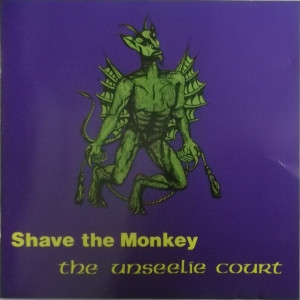 Shave the Monkey is a six-member English group. They started out in 1988 as a five-piece, but added a drummer after their first CD. Since that time they've kept up a surprisingly stable membership consisting of Bryan Causton on various string instruments; Steve Collins on melodeons; Duncan Moss on the hurdy-gurdy, bombarde, and bagpipes; Kevin Neaves on percussion and guitar; Guido Rincon on keyboards, guitar and bouzouki; and Carolyn Sheppard on guitar, bass, and lead vocals.
Shave the Monkey has a broad repertoire with traditional music from the 11th century and forward as well as their own songs, mixing instrumental music with songs.
Their debut CD The Unseelie Court was released in 1992. It is a fine debut album by anyone's standard, although it may be criticized for aiming for too much at once. The feel and sound of the CD changes considerably between the tracks. Sometimes they sound like Pyewackett (a British group about a decade ago that never really made it), sometimes like Silly Wizard in their softer moments. Carolyn Sheppard's voice has a strong resemblance to Cathy LeSurf of Oyster Band and Albion Band fame.
Six out of the ten tracks are instrumentals. They can be divided into two categories, those with a strong medieval sound, using bagpipes and hurdy-gurdy with good effect, and those who sound more traditionally English with melodeon and guitars, mandolins, or bouzouki. The only time that the two sounds mix is in "Theme Vanietais," a theme for a French soap opera. Overall, the instrumentals are very strong rythmically and can surely be used for dancing.
The songs show a softer side of the group. There is a frequent — and good — use of the flute to underline the sentiments of the songs. Stand-out songs are "Witch Finder General," a song by Causton and Sheppard about a witch hunter in 16th century England, and a moving version of the traditional "Bonny Light Horseman." The latter is also the best example of Sheppard's singing, one where she manages (with mixed results) to shake off the LeSurf influence.
The second album, Dragonfly from 1994, is a natural step from the first one. The band are a little more adventurous this time around. There is a drummer on board and they also use the electric guitar successfully a couple of times, especially on the instrumental "Halley V."
Unfortunately, the listener gets the impression that they have really not decided on how best to use their new member. Neaves is non-present on quite a few tracks; and the best drum sound on the album — on "My Friend/The Emperoro/Androld" — is supplied by a synth, according to the sleeve notes. Neaves is at his best in the instrumental "Branle des Rois/Washerwoman´s Brawl," where he adds a weight to the band that was not present on the first album.
The instrumentals are more melodeon-based on this album, giving it a more traditional sound. The exception is the above mentioned "My Friend" set, in which the bagpipes get six minutes to showcase what they can be used for.
As for the songs, the album is similar to the first one. "Sad Marie" is an ambitious song that starts of with a chant in Latin and adds a flute solo, strongly influenced by Ian Anderson of Jethro Tull, in the middle. Sheppard's voice is at its best in "The Swallow," a smooth and gentle song with lots of flute.
And the band bring on a few surprises. In "The Candlelight Fisherman," Collins takes the lead vocals; and suddenly they are a different band, sounding like an Irish group from the Sixties or the Seventies except with an added hurdy-gurdy solo. On the last track, they make a not entirely successful attempt at adding cajun music to their repertoire.
On the whole, the band is still trying hard and stepping forward.
The third album is always a crucial one, and Shave the Monkey succeeds quite well with theirs, Mad Arthur, from 1996. This time, everything is in place, and the album shows a confident band that has developed and matured over the years. The drums are now an integral part of the band, and there is much more of a Shave the Monkey sound instead of a hodgepodge of sounds as in the first two records. You notice it straight away in the opening track "Mad Arthur," a very short instrumental that gives you all you have been hoping for: heavy drums, nice tune and strong rhythm. They move into "Gloryflower," another instrumental, where a hypnotic synth drone gets you hooked.
Everything that was good about the first two albums is still there with some new strong points. Bryan Causton plays some very good acoustic guitar in "Nimbus" and delivers some excellent mandolin on "DDD." Carolyn Sheppard's voice has matured considerably, and she takes care of all the vocals on the album. Her delivery of the traditional "The Shearing" is superb.
One of the standout tracks is the long "Chameleon/Rambling Sailor/La Sansonette." Starting off with a smooth instrumental by Causton that changes tempo and speed halfway through, it moves into a very slow two-verse excerpt from the traditional "Rambling Sailor" with synth sounds circling all around Sheppard's voice. This is then transformed into a medieval-sounding instrumental that Blowzabella would have been proud of.
All together, a very good album that will appeal to many, not just hardcore Shave the Monkey aficionados.
Based on what I hear on these CDs, I believe that Shave the Monkey would be a terrific live band, especially when it comes to delivering instrumentals to get the audience going. Their first two albums were both very promising. The third album clearly shows a mature band with a direction of their own and is recommended listening to everyone.
(Percheron Music, 1994)
(Percheron Music, 1996)
(Percheron Music, 1992)
[Update: Shave the Monkey has a limited presence on streaming services, including Spotify, where you'll find Dragonfly and Mad Arthur.]