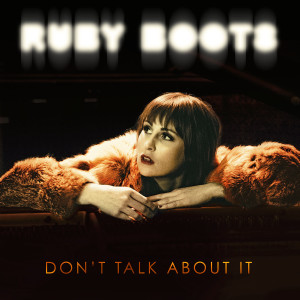 Don't Talk About It is the second album released by Ruby Boots, her first since the Australian landed in Nashville and signed with the Chicago label Bloodshot. It's a self-assured, swaggering sophomore release, hardly surprising for this musician who's been living on her own since she was 16 and traveling the world for much of the 20-some years since then.
Actually, it kicks you-know-what; again, not surprising, since that's pretty much the only kind of record Bloodshot puts out. This is hard-rocking country, rooted in tradition but not afraid to sound modern. For outlaw country fans who may not have followed label-mate Lydia Loveless in her more pop-oriented direction, this might be just what they're looking for.
Take the catchy-as-hell title track, which is the third of 10. It's got a strong, backbeat-fueled southern soul feel, courtesy of her backing band The Texas Gentlemen and her own mad guitar skills. But amidst the twangy baritone guitar there's what sounds like chimes in the chorus and some kind of analog synth doing its best to put you in mind of a pedal steel. But man, that ear-worm of a chorus will make you stop wondering if it's a Theremin or an Arp or something else entirely!
I didn't twig to the fact that Rebecca "Bex" Chilcott (stage name Ruby Boots) was Australian until I got to the fifth track "Break My Heart Twice" and thought, "that sounds a bit like Kacey Chambers." This one is the kind of sadly hopeful love song that Chambers specializes in, with an interesting keyboard arrangement that includes a tic-tac piano for a real old-time sound paired with that high-lonesome synthesizer again. And some ooooohhhs from a backing chorus, too.
Before we got there, I was ready to compare her vocals to, believe it or not, Exene Cervenka, circa Hey Zeus!. Similar production, too, with lots of big guitars and drums and some arena-style reverb, all of which you'll find on most of these songs. Ruby's one for big gestures to go with big emotions. Like the sardonic, ironic look at an adulterous relationship in the ripping opening track "It's So Cruel."
Or the huge two-guitar attack on … well, most of these songs, but especially the kind of post-punk tones she gets on the soaring "Somebody Else." That one, the seventh track, is the album's climactic point, and Ruby pulls it back a just a little bit after that, for the denouement. She harmonizes with herself to grand effect on the Appalachian-influenced gospel-tinged "I Am A Woman," backed by little else but quietly droning keyboard atmospherics. OK, sure, there's a punk-rock-like boom-boom-chick beat and another soaring chorus on the penultimate "Infatuation," but it's largely driven by a sweet Hammond organ instead of that wall of guitars. And the closer "Don't Give A Damn" starts out like a livingroom demo tape, Ruby singing the empowered lyrics about how little she cares about her ex, over a bluesy, snakey groove set by her acoustic guitar plus piano and organ with some twangy electric guitar fills. Of course, by the time she sings that chorus for the last time, well, the whole band has kicked in for one rousing wind-up.
Ruby Boots is sure to rattle some cages and get a lot of folks talking about her with the quality of songs on Don't Talk About It.
(Bloodshot, 2018)