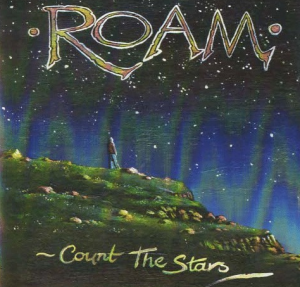 Judith Gennett wrote this review.
Roam is an acoustic folk band from Yorkshire. They've released a later album called Songs of J.R.R. Tolkien, having on occasion performed dressed as elves and dwarves. Only one Tolkien song appears on Count the Stars but the sense of fantasy is yet there, wrapped in pretty arrangements. Rachel Anne Davies' lush vocals lead most of the songs, with the background often saturated in viola and harp.
Many of the tracks on the album were written by guitarist Colin Rudd. The most memorable is a long song, "When I Was A Child," which he sings backed by his guitar. Adults take away the tooth fairy and Santa as useless make-believe. "By night I replied with my magical dreams, strengthened by moonlight," he sings and sets out to look at the "real" world of adults. Amongst other discoveries he finds that:
"They poisoned the sea and the land and the air And they said that they'd clean it with make believe care." And so he returns to his own make believe land, where he can live "gentle and wild." If you can't change the way the world deceives itself, perhaps you can at least look past to them at the beauty that is beyond.
Tolkien's enchanted poem set to music, "Shadow Bride," is another highlight.
"Then came a lady clad in gray into the twilight shining / A moment she would stand and stay her hair with flowers entwining / He woke as had he sprung of stone and broke the spell that bound him / He clasped her fast both flesh and bone and wrapped her shadow round him."
"When you were Young" is more bound to reality and is done in a gentle American backwoods style. Here is a common problem when a partner or friend through the years becomes stodgy, selfish, and boring. "How can I drink when you're so sober? How can I dance, your feet are still?"
There are a few love songs on Count the Stars (one a poem by Oscar Wilde), one slow air for Chris Knowles' harp ( "Spailspin's Lament"), a song about King Arthur, a cover of Peter Paul and Mary's "Man Come Into Egypt," and an environmental song. In general the musical road is a switchback that veers between fantasy and contemporary reality — or what seems to be reality. There is no solid tie to English traditional music, but more to folk or even pop music, and Davies' vocals could be from England or Canada or the States. Rather than invoking tradition and history, the emphasis is on magic and beauty. Though an album from a regional English band, it is surprisingly effective and professional, a surprisingly good album.
(self released, undated)