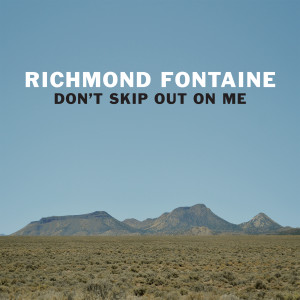 I didn't see this one coming! One more album from Portland's beloved Americana rockers Richmond Fontaine. Frontman Willy Vlautin has turned mostly to the life of an author and away from life on the road with one or the other of his critically acclaimed but commercially under-the-radar bands, Richmond Fontaine and The Delines. To be sure, he has had more success as an author, commercially and critically in the U.S. and Europe. Two of his books so far, The Motel Life and Lean on Pete, have been made into independent films.
Vlautin has a fifth novel lined up and ready for release. When Don't Skip Out On Me comes out Feb. 13 on Harper Collins, it will include its own soundtrack. Vlautin was able to wrangle his Richmond Fontaine bandmates into the studio one more time since they called it quits in 2017, to create an album of instrumental music to accompany the book. A digital download will come with each book, but Portland's Fluff & Gravy label, RF's home for the past few years, will also press 500 LPs for the U.S. market: 100 in blue vinyl, 400 in black. (Decor Records will press the LP in Europe.)
Vlautin is a native of Nevada, and his esthetic seems to have been shaped in large part by that desert state before he washed ashore in the verdant environs of Portland in the '90s. If Calexico has a lock on the sound of the Sonoran Desert of Arizona, Richmond Fontaine to me captures the sound of the Great Basin, from Boise down through Winnemucca and Elko and on to the Hoover Dam south of Vegas. And that's precisely the landscape that this Don't Skip Out On Me album sounds like to me.
The book is about Horace Hopper, a half-Paiute and half-white farm hand in Nevada who leaves the farm to become the Mexican boxer Hector Hidalgo. The song appear to follow the story, if not chapter by chapter, then by actions and reactions.
Vlautin has done something similar to this album before, but the CD that accompanied his second novel Northline was just him on acoustic guitar with pedal steel guitarist Paul Brainard. This new album features the full band: Vlautin on acoustic, Dan Eccles on electric lead guitar, Sean Oldham on drums, Freddy Trujillo on bass and Brainard on pedal steel and trumpet.
One of the singles off the album is "Horace And The Trophy," and it's a classic Richmond Fontaine song, with the pedal steel singing what would be Willy's vocal line if it had lyrics. There's just no mistaking this for anybody else.
Likewise "Mr. Reese's Place In La Jolla," a shuffling waltz that's cinematic in scope, painting a western landscape in sound. I love this pretty waltz and the melody that seems to exude a love of place or the quiet delight of finding a refuge. The final single is "Dream Of The City And The City Itself," a loping horserace of a double-fast shuffle, with Brainard going toe to toe with Eccles on Telecaster, the whole thing driven by Oldham's propulsive drumming, until it drops into a languid desert dream of a waltz.
The faster part of "Dream Of The City And The City Itself" finds a counterpart in the country punk of another song called "Hector Hidalgo." It's a double-fast Tex-Mex country shuffle with Eccles doing his best Buck Owens homage on that Tele. The whole song just kicks ass. Eccles gets a wholly different guitar tone on another fast shuffle, "Night Out With Diego," and his guitar is doubled by Paul's trumpet on the choruses in something like electrified mariachi style.
A couple of my favorites come right at the end of this generous 15-track album. "Finding Horace" is a long song that just sighs with sadness and something like resignation – a fully developed piece. Not that they all aren't, but this one has a real arc to it. And the last track, "Back Of The Pickup," sounds like riding off into the sunset on Highway 50 somewhere in Nevada. Look up Highway 50; it's called the loneliest road in America, and that's what this song sounds like.
Shorter atmospheric pieces are sprinkled throughout, which make liberal use of guest Joe Powers's harmonica. John Morgan Askew's baritone guitar contributes some colorful western touches, and Cory Gray's keyboards do likewise – plus Gray doubles on trumpet for a cool mariachi sound in a place or two, notably "Night Out With Diego."
Fans of Richmond Fontaine and of Willy Vlautin have a real treat in store with this book and its accompanying soundtrack. Here's hoping Willy continues to come up with excuses to write songs in addition to prose.
(Fluff & Gravy, 2018)