Rhonda Vincent was born in 1962 and first performed on stage as part of her family's band, the Sally Mountain Show, when she was 5 years old. She has 18 albums to her credit, but these latest two, made for Rounder Records, present Rhonda at her best. She has a mysterious, naive but almost haunted look as she gazes out from the covers of these two albums. Her beautiful, clear grey eyes focus off in the distance, as she considers the whole history of bluegrass which led her to the present.
Back Home Again begins strongly with "Lonesome Wind Blues," which sets a high benchmark for the music to follow. Marc Pruett sets the tempo on banjo and is joined by Ron Stewart's fiddling and Rhonda's own superlative mandolin work. Guitarist Bryan Sutton (who impressed this reviewer so much on the Dolly Parton bluegrass albums) is a feature performer on these albums and is just as impressive here as he was with Dolly. Rhonda sang backup on The Grass Is Blue so Back Home Again has a sense of deja vu to it.
Rhonda's brother Darrin joins on bass and backing vocals. Family harmonies are one of the defining marks of bluegrass, from the Stanley Brothers through the Osbournes and the Vincents. Rhonda's father Johnny appears here for harmonies on Ira Louvin's classic "Out of Hand." Dobro master Jerry Douglas adds his touch to the ballad "When I Close My Eyes." Rhonda pays tribute to her friend Dolly Parton with a rollicking bluegrass take on "Jolene."
Rhonda's voice is a little lower than Dolly's but it has the crystal clear sound of a rippling mountain stream. Combined with the virtuosity of the band and the excellence of the harmony singers, it makes Back Home Again an excellent example of modern bluegrass. It honours the past and bodes well for the future.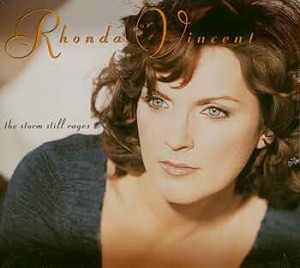 The sequel to Back Home Again has recently been released. The Storm Still Rages features another lovely photo on the cover, and its title suggests that musically it is a step forward. Rhonda has called her touring band The Rage, and while they only make sporadic appearances on this album, Ms. Vincent's Web site suggests that they are a hot band. The band presented on this recording is hot too. Bryan Sutton again leads the band with his subtle, yet ever-so-exciting guitar-picking. Fiddles are played by Stuart Duncan, Aubrey Haynie and Rage member Mike Cleveland. All three of them are gifted players. Brother Darrin and father Johnny Vincent both make return appearances. Alison Krause, who cites Rhonda as an influence guests on one cut.
The Storm Still Rages has cover versions of tunes by Carl Jackson, Bobby Osbourne, Hank Williams and Jack Clement but also sees Rhonda's name in the list of songwriters. According to the notes she was having trouble finding a strong lead-off song (like "Lonesome Wind Blues" from Back Home Again) so she took up the challenge and wrote one of her own. "Cry of the Whippoorwill" has the sound of a traditional song and may just become a classic! Tight group singing and a virtuoso string band highlight Rhonda's gutsy lead vocals. It's a winner.
If you haven't yet succumbed to the lure of bluegrass; if O Brother Where Art Thou whetted your appetite; if you're a fan of great acoustic music, strong melodies and note-perfect group singing; wherever you come from give Rhonda Vincent a few minutes on your playlist. You'll be glad you did.
(Rounder Records, 2000)
(Rounder Records, 2001)