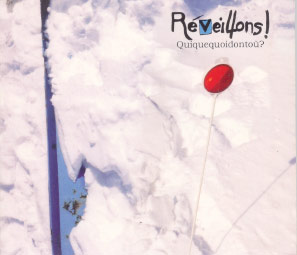 Quebecois traditional music combines the jigs and reels of Celtic music with some French folksong elements, plus its own particular style of foot percussion, nearly always done by someone seated in a chair and tapping their feet on a resonant board. Instrumentation varies but almost always includes violin and guitar, usually accordion, some other stringed instruments like mandolin, bouzouki or banjo, sometimes an acoustic or electric bass, and often some other percussion such as bodhran or bones. The hurdy-gurdy sometimes shows up, generally on versions of traditional French folksongs. Besides the foot percussion, the other distinguishing characteristic of Quebecois music is the common use of call and response vocals.
I encountered Reveillons! and Belzébuth on a recent trip to Quebec; the former at a three-day festival that showcased Celtic, Cajun and Quebecois music, and the latter playing a free concert in a park for the Fete nationale de Quebec. Both were kind enough to provide CDs for Greenman to review.
Reveillons! is a quartet consisting of Jan-Francois Berthiaume on lead vocals and foot percussion, Richard Forest on violin, Marc Maziade on guitar and vocals and David Berthiaume on percussion and backing vocals. On Quiquequoidontou? in 14 tracks they present jig and reel sets, a waltz or two, a little swing and some chansons and traditional ballads. Berthiaume has a sturdy baritone and decisive rhythm, and his bandmates provide strong backing vocals. "Lisette" opens the album with a slow, mournful double-stopped fiddle, then solo voice, before it kicks into a mid-tempo reel and finishes with a flourish of a capella mouth music.
Highlights are many. There's some skillful jews harp on a couple of tracks, including the "Freres Pigeon" set of trad tunes; "La Noire," a humorous song about a nervous bridegroom on the night before the wedding, questioning his bride-to-be about all the details for the celebration; and the mournful "Le Carillon," a traditional ballad in which a religious man looks on helplessly as a little girl is beaten by her mother. Also notable is "Nervous Breakdown," a square dance for four or eight couples, complete with diagrams and instructions, all in French of course.
The group calls on some guest musicians to fill in the sound a bit, adding accordion, acoustic bass and other instruments on several tracks.
Belzébuth is a sextet of energetic young musicians who cover similar territory with great verve and wit. The 12 tracks on their debut album Les Péchés du Diable mix traditional tunes and songs with their own material to great effect. They also occasionally add some rhythms and textures borrowed from other cultures, including eastern Europe and the Middle East. Five of the six play multiple instruments, and all sing, for a rich, warm vocal mix.
Jean-Benoit Landry, who sings lead and plays second violin comes from a musical family, and provided many of the traditional tunes and songs. Guitarist Patrice Lane provides many of the arrangements of traditional songs, and several of his own compositions as well. Philippe Jetté, a dancer, plays accordion and provides foot percussion; Francis Marion plays mandolin, Marie Maxime Piché-Richer plays fiddle, and Jean-Michel Roch electric bass. Marie Maxime's harmony vocals especially add depth and color.
The album literally kicks off with "Palais du roy," a very upbeat reel, featuring sweet accordion fills and a lovely dual-violin break. Its dozen tracks include plenty of jigs, reels, waltzes and a ballad or two, including "Je n'serai pas religieuse," in which a nun sings "I'm not religious, I just wear the habit." In "Confesse," three young women confess their sins in a slow and stately traditional song, paiared with "André a Toto," a sprightly fiddle-driven tune. The traditional "La fille soldat," is paired with Lane's composition "Feuille d'arabe," a slow levantine tune. "Corsaires" joins a pirate song with two traditional French folksongs, the first a jig and the second a fast reel. The CD wraps up with the rousing "Suite a Zébuth," another energetic jig-reel set.
This album includes contributions from three guest musicians, including Nicolas Boulierice of Le Vent du Nord.
Both of these albums are superb and highly entertaining examples of contemporary Quebecois folk music. Both include lyrics and more information (in French) in the liner notes. Though self-produced and released, both are solidly professional products.
(Roues et archets, 2004)
(Belzébuth, 2004)