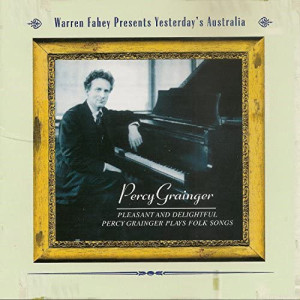 Born in Victoria, Australia in 1882, Percy Grainger was a very influential folk song collector, whose classical arrangements of the songs he found are still used and admired today. Though an accomplished pianist by the age of 12, it was not until his family relocated to London and his friendship with composers such as Grieg and Delius developed, that he began to seriously investigate the traditional music of the UK and Europe. Following the path of Cecil Sharp, Maud Karpeles et al, he travelled widely, collecting tunes from the older singers in various communities. Where Grainger differed from other collectors was in his rearrangements of the songs for orchestra rather than more "humble" arrangements. "English Country Garden" is probably his best known piece and the one most associated with his name.
Although he died in 1961, his influence still continues today – English band Home Service recorded their own arrangement of Grainger's "A Lincolnshire Posy" suite on their classic 1986 album "Alright Jack," and Ric Sanders of Fairport Convention is a confirmed fan of his work. And now director Peter Duncan has just released a film on (at least part of) Grainger's life, "Passion." This CD is not a direct tie-in to the movie but is an interesting adjunct to it.
While his collecting and performing work is well documented, it may be not so well known that Grainger also made a number of recordings during his life. A large number of these were piano rolls. Of late, this has become an excellent method of acquiring examples of artists from the early twentieth century, such as "Jelly Roll" Morton and George Gershwin, playing their music before the phonograph became widely available to the public. The selections on this CD are all taken from Grainger's Duo-Art rolls between 1915 and 1933.
The well-researched and illustrated booklet takes pains to point out that the system used here was superior to that of the customary pianola and able to catch the nuances of the reproducing piano to a higher degree. It is certainly difficult to believe that it is not a studio recording, in terms of both the expression of the instrument and the sound quality itself. There is no discernible surface noise, of course, and the digital enhancement of the sound makes it, if not close to a recent recording, then more than acceptable for performances up to 85 years old!
Then, of course, there is the aspect of "Hey, that's Percy Grainger actually playing the tunes he collected!" His style is very good, perhaps not in a classical sense and maybe with a few too many flourishes in places. But it is individual and obviously in accord with the music being performed. The melodies range from well-known pieces like "Turkey In The Straw" (from Cowboy's And Old Fiddler's Breakdown) and "Irish Tune From County Derry" (better known as "Danny Boy") to Danish and Norwegian folk songs. "Brigg Fair: An English Rhapsody" is an important inclusion; at the age of 72, singer Joseph Taylor provided Grainger with a number of near-forgotten Lincolnshire songs in 1905, and was in fact recorded singing this tune around that time. The resulting re-arranged piece is here in its 15+ minute glory, which makes me wonder how long piano rolls were capable of playing for!
I've never been quite sure about classical rearrangements of traditional songs, as it seems to take them out of the hands of the people they were written for. However, there is no doubting Grainger's affinity for the music and the importance of his collecting them in the first place. The story is also told in the booklet about Joseph Taylor's impromptu singing in the audience when he recognised the orchestral version of "Brigg Fair." So, if it's OK by him, I guess no one else should complain. This CD overall is more than just a curio, it is an important and topical release by one of Australia's most important musicians of the 20th century.
This CD was supplied by dB Magazine, Adelaide's free fortnightly music and arts newspaper.
(Larrikin, 1999)