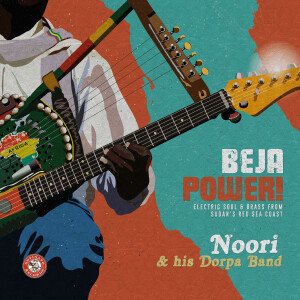 The album begins with a guitar line reminiscent of the great Ali Farka Touré, and with its simple tabla-like percussion hints you could be listening to another Malian desert blues band. But then the horn kicks in, a saxophone blowing soul jazz licks, and the rhythm shifts subtly, a dub style bass guitar adds lots of bottom, and a chunking rhythm guitar hints at reggae, and you know this is something all its own.
It's Noori & His Dorpa Band's Beja Power! an album whose subtitle is "Electric Soul & Brass from Sudan's Red Sea Coast." It's marvelously warm, soothing music, and apparently it's also something of a revolution in a country wracked by resistance to a military coup.
Noori, whose full name is Noureddine Atta Al-Mawla Jabar, plays a unique instrument (no, really, it's truly unique) – he calls it a tambo-guitar. It's a homemade hybrid of the traditional Sudanese lyre called variously tambour, tanbūra or kissar, onto which he has welded the neck of an electric guitar he found at a scrap yard in the early 1990s when he was still a teenager. Even at a young age he was passionate about keeping the culture and music of this Red Sea coastal region of Beja (pronounced Bee-Jah) alive. According to the liner notes: "Beja culture is little known — for very deliberate reasons. Their land in eastern Sudan by the Red Sea is blessed and cursed with vast deposits of gold, largely sold off to foreign companies. Successive Sudanese governments have turned a blind eye to Beja calls for recognition and access to the mined wealth of their own soil."
He formed his Dorpa Band in 2006 to make instrumental Beja music that interprets the region's ancient music in a modern way, blending electric soul, blues, jazz, rock, surf, even hints of country, in an idiom that blends styles and idioms from around the world but remains grounded in its home region.
That first track really showcases Noori's hypnotic guitar style and the airily soulful tenor sax of Naji Mahmoud Dean Jabar, as the two trade lead from chorus to chorus. Rhythm guitarist Tariq Adam Ahmed Yaghoub leads the rhythm section on this gently loping desert blues, locked in with bassist Halim Adam Ahmad Yaghoub, and percussionists Mohamed Abdel Razek Ballal and Ahmed Hamed Al-Sheikh Danash.
That shortest of these six tracks, in about four minutes introduces the sound. The rest give the band more room to stretch out, most at around six minutes or so. "Qwal" is a bit darker and very hypnotic, with mesmerizing solos from Naji, and some cool unison work by Noor and Naji on the haunting melody. "Jabana" is even more mysterious and atmospheric. "Al Amal" ("hope") really cooks along, its catchy, danceable melody based on a repeated four-note downward sixteenth note run that the sax and tambo-guitar toss back and forth with alacrity. "Wandeeb" is most notable for its lurching rhythmic scheme that mimics a camel's gait, and the hypnotic melody line, as well as any Malian tune, only with that smooth sax instead of vocals.
The album wraps with an amazing 12 minutes of music titled "Daleb" that opens with the tambour part of Noori's instrument, a lovely warm but electric sound plucking a hypnotic circular tune backed by a reggae-like pulse from the rhythm section. Noori stretches it into an extended improv that reminds me of the Dead at their spaced-out but intuitive best.
Beja Power! is beautiful and powerful instrumental music of cross-cultural appeal. I love that the catchiest tune here is called "Hope," because sometimes music like this is one of the few rays of hope I can see. A big thanks to Ostinato for bringing this music to the world, and to Noori & His Dorpa Band for making it.
(Ostinato Records, 2022)