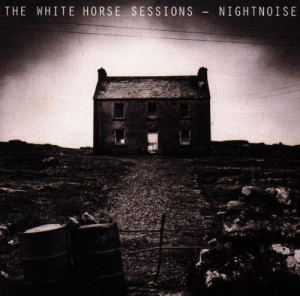 I see a strange man running silently
He never looks behind himself
He has no time to see
He makes no sound, he has no voice
The ground he doesn't feel
But he's always on the run
And I wonder if he's real …
~Nightnoise, 'Shadow of Time'
I spent years looking for this album after Reynard, a bandmate of mine in Mouse in the Cupboard, said it was an album that I should hear. (He heard it on some late-night Celtic radio programme, but couldn't find a copy either! Nor could he remember who the DJ was.) But literally nowhere was there a copy to be had at any price or in any format. We both began to suspect that perhaps this was one of those fey albums that only existed across the Border, but a copy showed up in the post here a few months ago at Green Man with a scribbled unsigned note and a smudged postmark that might have said 'Bordertown', but I can't be sure. It simply said that the sender had heard that I was looking for The White Horse Sessions, and here was a copy of the CD! Whoever you are, thank you!
Nightnoise started as a collaboration between Irish traditional musician Mícheál Ó'Dómhnaill and American violinist Billy Oskay in 1983 after Mícheál moved to Portland, Oregon. A demo tape recorded by Oskay was turned into their first album, which was simply called Nightnoise. The success of this album led to the formation of the band, with the addition of Mícheál's sister Tríona and flutist Brian Dunning. Oskay left the group after their fourth album and was replaced by Johnny Cunningham.
Irish brother and sister Mícheál and Tríona Ó'Dómhnaill are veterans of the legendary group the Bothy Band, as well as Skara Brae and Relativity, the latter one of my favourite bands. Both have had many, many other projects: Tríona with Touchstone, Mícheál with Kevin Burke. Billy Oskay is a classically-trained violinist and son of a violin-maker. Fiddler Johnny Cunningham, who has collaborated with fiddler Aly Bain, has been a major player on the Scottish traditional music scene – as founding member of Silly Wizard, in collaboration with his brother Phil and with Phil and the Ó'Dómhnaills in Relativity. Brian Dunning has played classical and jazz flute in Ireland, moving into traditional music in Puck Fair, a collaboration with bodhran player Tommy Hayes, and then to Nightnoise.
The White Horse Sessions was the seventh Nightnoise album for Windham Hill. This is what the label describes as 'a semi-live compilation album' with which means that three tracks ('Shuan', 'Night in That Land' and 'At the Races') were recorded live in Málaga, Spain, in late 1995. The other tracks were recorded in the White Horse Studio in Portland, (the group's home base for over ten years) before an audience of forty close friends. The group moved back to Ireland following this recording, and apparently ceased recording as I find no record of any albums after this one. They recorded a single track a few years back called 'New Trees at Knockaun' on Windham Hill's Simple Gifts album. The track was composed by Brian Dunning while staying at a friend's house in Knockaun, Waterford, Ireland where that friend was planting trees, thus the title.
Their music is a fusion of jazz, traditional Irish, and impressionistic post-classical music, mostly written by the group's members, with the exception of 'Moondance' by Van 'the Man' Morrison In most pieces, the Celtic influences are somewhat subtle, with some traditional tunes standing out. The overall impression is of graceful, polished playing as the instruments here are fiddle, piano, flute, and whistle. Now, I can hear grumbling from the more traditionally inclined musicians out there who think this sounds like New Age twee. Maybe it is, maybe it isn't. But I'll wager you a case of Dragon Breath XXXX Stout that you can't find anywhere a definition of what instruments and which tunes comprise proper Irish trad? Surely not Simon Jeffe's 'Music for a Found Harmonium'? Ahhh, what about 'The Philadelphia Reel'? It's trad, isn't it? (No, it was written by Phillipe Varlet.) And accordions? Are they a traditional trad instrument? I think not. My point is, more or less, that what Nightnoise is doing will someday be considered trad. And bleedin' fine trad at that!
(I know an online Irish music review zine run by a person who thinks he can say definitively what 'true' recorded Irish traditional music is. Now there's an overflowing load of shite!)
'Shadow of Time' by pianist and vocalist Triona Ni Dhomhnaill is a ballad that will puzzle the frell out of you, but sounds great; her other song, 'Heartwood,' is a roaring anthem to ancient trees that would not be out of place as part of Robert Holdstock's Ryhope Wood series. The more traditionally inclined among you will find much to like: 'Jig of Sorts,' 'Do We,' 'Moondance,' and 'At the Races.' I should note that while Nightnoise was a performing group, it was not one that did group compositions. Not a single cut here has more than a single person credited as composer. This is not a weakness as all involved are terrific composers, but it is an oddity. Why no group compositions? Even Fleetwood Mac, the exemplar of overbearing egos in a group, managed to write material together!
I was impressed enough by The White Horse Sessions to seek out other recordings by Nightnoise. I expect those recordings to be every bit as enjoyable as this disc was, and I do hope that they will be easier to find.
(Windham Hill, 1997)