Narechie's A Iz Pod Goroda (From the Town)
From the Town is the second album from Narechie, a folk rock group from Belgorod in the far west of Russia near the border with Ukraine. They specialize in the Russian style of polyphonic singing by male and female voices, accompanied by musical backing that ranges from gentle lilting folk rock to heavy, bluesy prog.
Their influences run from rock and folk to New Age and jazz, and From the Town is truly a fusion of styles.
Key to their sound are the polyphonic vocals from three singers, Allа Fomkina, Alexey Nichiporuk and Viktoriya Kosareva. They're backed by an ensemble with a lot of depth and ability to pay in several styles: Andrey Levsha on guitar and keys, Sergey Vizgalnikov on acoustic and electric bass, Roman Shaternikov on drums and percussion, and Gennadiy Chukhlov on clarinet. There's also a lot of flute, so maybe it's Gennadiy on that as well. Those two instruments add a jazz or New Age touch to several tracks, and a bit of a "Summer of Love" feel to others.
The title track "Kupalskaya" (From The Town) bookends the disc in two different versions, the opener more heavy with rock guitar and Alexey's bass-baritone vocals, the closer a little lighter and sung by Alla and Viktoriya.
There's a lot of exciting variety here. The verses of "In the upper room" for example have a strong country and even Cajun feel to them with their folksy, rapid-fire vocals by Alexey and one of the women, intercut with fluttery folk-jazz flute between the verses. "Porushka Paranya" (Superstar) is something like a re-harmonizing of the main theme of "Jesus Christ, Superstar," duet vocals, and an unusual blend of distorted electric guitar and clarinet among the instrumental touches. For fans of unaccompanied singing there's "On The Jordan," as thrilling in its polyphony as anything by the California-based ensemble Kitka. The centerpiece is the dramatic "Poppies," which opens with a bowed bass obligato and proceeds into five minutes of powerfully driving mid-tempo folk rock: call-and-response verses, polyphonic choruses, tempo changes, wah-wah guitar and flute … they throw in the kitchen sink and somehow it works.
This is one you should definitely check out. Purchase or stream on the label's website.
(Sketis Music, 2023)
| Bandcamp | iTunes | Spotify | Deezer |
---
Аratseya's Galki
Аratseya plays Belarusian folk songs in a setting that combines traditional and modern elements, and also mixes traditional songs with modern rock and pop hits. They call it "folk-dyskateka," and it definitely comes off as danceable. "These are Belarusian folk songs that we have rethought in our own way, adding our own vision, original music and timbres of ethnic instruments to traditional folk songs," says Elvira Baranouskaya, who sings lead vocals and also plays hurdy-gurdy and flutes. They seem to play as either a trio or quartet, on Irish bouzouki and other lyres, percussion, and synthesizer. Some tracks sound like they have some actual violins and such, but these days it's hard to tell.
The opening and title track "Galki" sets the template. Elvira's clear, sturdy vocals are intoned over an accompaniment of strummed bouzouki and light percussion, punctuated by instrumental choruses of heavy electric guitars and synth keyboards. Her hurdy-gurdy, accompanied by amplified lutes and lyres, introduces the melody of the second track, the galloping tune "A u tsemnym lese" (And in the dark forest), which has engaging group vocals and a rock beat on a full trap set. This one accelerates at the end like the Slavic dance it stems from. The third track "Kola Mala" has catchy call-and-response vocals and a steady thumping beat. "A Na Ivana" sounds more Balkan than Slavic, the hurdy-gurdy laying down a secondary melody that imitates an uneven beat. This one's definitely of the hard-fast-loud variety. The combination of a riff on the bass bouzouki strings with swooping synth riff gives the prog-bluesy "Galota" a lot of appeal; the chorus that pairs Elvira's stentorian soprano with a deep male voice is a nice touch that echoes the instrumental arrangement. The second half of the nine-track program leans a bit more toward modern rock and pop sounds, but even so there's something appealingly folky about every song. "Moshachki-kamaryki" (Mosquitoes) has a pretty heavy dance beat and synthesized claps but the precision picking of lyre and bouzouki throughout is very nice. The final track, called simply "Dance," is maybe the most overtly folk-based of all (even with the synth-string track), with Elvira's flute laying down improvised licks on the choruses and carrying the tune on the verses.
Here's a live version of "Mosquitoes."
Galki overall is appealing Eurasian folk rock music from a talented group. The cover is the most eye-catching of this lot of discs, and is a good reflection of the music's mood; very colorful but with a bit of a dark edge to it.
Aratseya doesn't have much of an English-language presence online, but they're on Soundcloud and Spotify.
(Gravity music lab, 2023)
---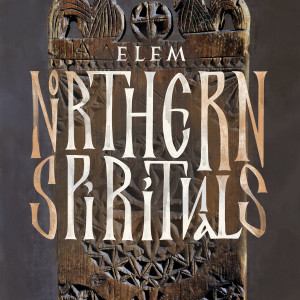 Elem's Northern Spirituals
The Saint Petersburg based band Elem (pronounced 'yélem') makes what I can only call Gothic Russian folk rock music, the Russian equivalent of David Eugene Edwards' bands 16 Horsepower and Wovenhand. Founders Ekaterina Molodykh and Svetoslav Rodionov are experts in old Russian sacred music, as well as folklore and music researchers, church regents and vocal teachers. In fact they list Wovenhand among their influences, along with Swans, PJ Harvey, Pink Floyd and Neil Young, particularly his soundtrack to the art house film Dead Man by Jim Jarmusch.
They sing mostly in Russian but also in English, including a melodramatic version of the Appalachian folk song "O Death," featuring guest musician Ashot Karapetyan on the haunting Armenian duduk.
Throughout the recording Ekaterina plays hurdy-gurdy, electric organ, synthesizers and sings lead vocals, and Svetoslav plays electric and guitars, bass, electric organ, Wurlitzer, and percussion plus vocals; Tatiana Shumakher provides vocals and percussion. If you're familiar with Neil Young's work on Dead Man you'll have some idea of the preponderance of Svetoslav's electric guitar sounds; grimy and distorted. He sings lead in a dramatic baritone on a couple of songs including "Jordan River," a droning, minimalist, one-chord affair. The two duet as well, on "O Death" and a funereal, deconstructed version of "I'll Fly Away," here titled simply "Fly Away." Ekaterina and Tatiana do a chilling duet on the droning shanty "Morushko" (The Sea).
Recorded at their home studio in St. Petersburg, Northern Spirituals is an impressive debut album with their own very personal yet universal version of darkly spiritual folk songs. RIYL 16 Horsepower, etc., etc.
(Elem, 2023)
| Instagram | Bandcamp | Facebook |
---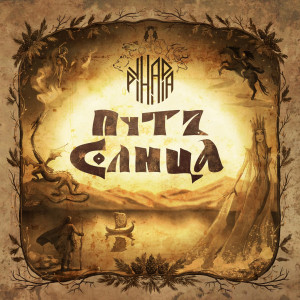 Runara's Way of the Sun
Heavy folk, art rock, and world music is the way their label Sketis Music describes the music of Runara on their first album, Way of the Sun. It's a pretty accurate description of the sound of this quartet led by singer and songwriter Alevtina Batalova. The dozen songs on the album are a mix of acoustic folk and folk rock, built around themes and stories from folklore, fantasy, and the like. They're based in the city of Barnaul in the Altai region of Siberia.
Batalova, who mostly plays flutes but also harp, didgeridoo and guitar, is joined by Vladimir Krom on guitar and hurdy-gurdy, Evgeny Kulik on drums and other percussion, and Dmitry Vorotnikov on the electric bass guitar. The second track, "Eternal Wanderer," is a good example because it features lovely interludes on the hurdy-gurdy, and a charming LOTR-style video.
Other tracks throw in more of a rock sound and feel, including "To The Edge," which has a metal-adjacent middle section with distorted electric guitar and some very punk flute from Batalova, multi-part harmony vocals, and non-stop power drumming from Kulik behind the trap set. Many of the songs follow a similar trajectory with a soft, folky beginning that rises to a harder rocking crescendo, either gradually or abruptly. The title track is a good example of the former, plus it has some otherworldly drone from Batalova's didge. The fantasy element of this fantasy folk never crosses into twee territory, but retains a physical muscularity throughout, largely thanks to the rhythm section, Krom's cliché-free guitar playing, and Batalova's powerful alto vocals.
I don't know much English language fantasy folk to compare Runara to, but fans of Tull and Moody Blues might like this.
(Sketis Music, 2023)
| Bandcamp | YouTube | Instagram | Facebook |
---
Balakir's The Same Thing
Balakir is an electro-folk project of Andrey Kiryakov, Anastasia Popova and Evgeny Osipov, combining vocals, electronics and looped play on Kiryakov's three balalaikas on "modern fairy tales" of their own devising, drawing on traditional themes for modern situations. To give you an idea of the band's spirit, "balakir" is an old Russian word for itinerant jokers and storytellers. These musicians are based in the city of Perm near the Ural Mountains. They've only been together since sometime in 2021, but in September 2023 they were part of the Russian World Music Chart's first Russian Folk and Ethnic Music conference in Tula, along with some acts we've reviewed including the very trad Vedan Kolod, techno-folk ShooDJa-ChooDJa, and others from throughout Russia.
This is dramatic, soulful music, energetically performed.
"Balakir is an attempt to create modern folklore based on oral folk art," Kiryakov says. "We don't re-sing, we don't arrange folk songs, we create new ones. We are building a bridge between folk heritage and modern man." What kind of new folk tales are they telling? My favorite track is "Three Bears," a peppy but not quite manic song that centers the sounds of the balalaikas, about MMM, the financial pyramid scheme that rocked Russia in the early 1990s. "Ether," about cryptocurrency, mixes New Wave sounds and rhythms with sung-spoken lyrics, and a killer looped balalaika solo in the middle. "Tik-tok" has a stuttery B-52s vibe interspersed with anthemic choruses and carnival-barker spoken sections and maniacal laughter; it's billed as "a fairy tale about how time flies in social networks."
It closes with the very prog-rock flavored "Search And You Won't Find It," a tale of theft and impunity. Sections of soloing on all three of the high, middle and bass balalaikas are interspersed with rapid-fire vocals and bombastic synth passages. I can't find any videos or audio cuts of Balakir online, so I'm going to link this one to an MP3 file you can listen to.
Balakir – Search And You Won't Find It
Not my favorite type of music but this group obviously brims with creativity, the music is superbly played and performed, the vocals passionate, and it maintains a sense of its folk roots through Kiryakov's virtuosic balalaika picking and looping.
(Balakir, 2023)
---
Aina's Northstar
Aina is a singer from Tura, the capital city of Evenkia, an administrative region of Russian Siberia. Northstar appears to be her first album, or at least the first made available outside of Russia. According to the press release that came with this album, she comes from a long line of reindeer herders who enjoyed singing and round dancing; she has learned the region's traditional style of throat singing and playing the jaw harp.
The album combines traditional songs and themes with modern production. She and her fellow musicians, most of whom are not named, sang and played the jaw harp, elk hoof rattles, and a shamanic drum during the recording in a forest somewhere outside of Tura. Artemy Novoselov, who also mixed and mastered the files, apparently produced many of the synthesized sounds that were added to these traditional instruments and vocals provided by Aina, Ksenia Kruchinina, and Polina Shuntikova.
Aina sings in a high soprano with what sounds to me like a mix of traditional and European pop affectations. The combination of a strong dance beat with the synthesized sounds and heavy reverb on her vocals gives it a strong pop feel. The music is billed as "neofolk."
One especially moving song is "Tunguska," which I assume has something to do with the Tunguska Event in 1908, in which a meteorite explosion leveled 830 square miles of forest in the Krasnoyarsk region. According to Wikipedia, the explosion was witnessed by the Evenk people many hundreds of miles away. The song seems to be the least synth-heavy of the album's nine tracks, with insistent, driving beat from the shamanic drum and other percussion, and incredible singing in throat- and non-throat styles by Aina.
Here's a video of a live performance of another of the songs, "Begakan." Aina tells the story behind the song in an introduction, with helpful English subtitles.
The album cover art is an encryption of the singer's name, and depicts the crossed feet of a loon, a sacred symbol of the Evenk people.
(ddbd, 2023)