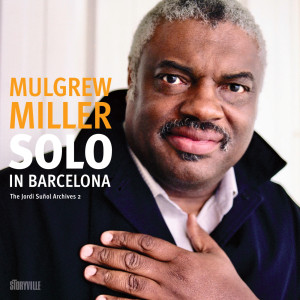 I have a fairly short list of pianists I care to listen to as solo artists. I prefer Brubeck with his quartet and even prefer my favorite, Bill Evans, in a trio or quartet setting. My short list for soloists includes Art Tatum and Oscar Peterson – now I'm adding Mulgrew Miller, who idolized both of them. This is entirely on the strength of this new release, Solo In Barcelona. from Miller, who died much too young in 2013. I was a bit reluctant to dive into this one, but a few words from Ron Carter about how much he loved and missed his friend Mulgrew Miller, on the recent documentary Finding the Right Notes, persuaded me to give it a try. I'm glad.
Miller was one of the most important jazz pianists of the modern era. In an illustrious career of four decades, he worked with the likes of Miles Davis, Betty Carter, Woody Shaw, Art Blakey, Ron Carter, Dave Holland, and Niels-Henning Ørsted Pedersen, Joe Lovano, Tom Harrell … the list goes on … as well as his own trio. He was revered and respected for his technical mastery, but also his pure musicality and improvizational genius. On this album he amply demonstrates all of those qualities. There's astounding technical playing, hallmarked by both speed and crispness, as well as a lot of emotional depth and soul. And swing. Always swing, which isn't easy to pull off on solo piano, unless you have a left hand as deft as Miller's.
This is only the second official release of a Mulgrew Miller solo record. It was recorded February 2, 2004, at Teatre Lliure in Barcelona. On most cuts the applause has been edited out, leaving a beautifully recorded program.
That program includes classics and standards from various eras, including the Jobim song "O Grande Amor," John Lewis's "Milestones," Errol Garner's "Misty," Dizzy Gillespie's "Woody'n You" and "Tour De Force," and the Rodgers & Hart "It Never Entered My Mind." My favorites so far are Cole Porter's "I Love You," which is so tuneful and swinging and inventive, and the closing track, Ellington's "Just Squeeze Me (But Please Don't Tease Me)." Of special note is Miller's own tour de force, his deep examination of the blues, "Excursions In Blue." It's a master class in 14 minutes.
Solo in Barcelona is a superb tribute to this legendary and still beloved musician.
(Storyville, 2023)