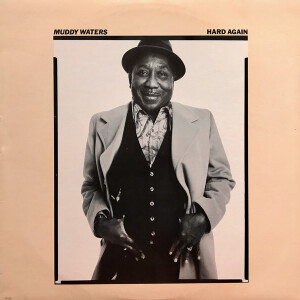 In the late '70s Muddy Waters was just coming out of a slump. Chess Records had given up on him, after trying everything to sell the older bluesmen. The Woodstock Album in 1976 was his best album in years (and featured the sympathetic backing of Levon Helm, Garth Hudson, Paul Butterfield and others) but it faded quickly. The Chess family had mixed Muddy's essential Mississippi and Chicago blues sound with wah-wah guitars, phasing and effects, but it just didn't work.
At about that time Johnny Winter, the albino blues guitarist from Texas, was peaking. He brought Muddy and his band to Columbia and Blue Sky records for a series of albums that would bring Muddy back where he belonged: the top of the heap. These albums were rereleased in 2004 on Sony's Legacy label, with bonus tracks and re-constituted packages. And they're fine!
Winter knew just what to do. Rather than try to fit Muddy into a preconceived box, he let Muddy be Muddy and the magic grew from that marvelous personality. He used Waters' own band and a few key guests to recreate the raw sound of Muddy's early Chess recordings, and the new technology simply worked to record what was going on.
Hard Again was the first and probably the best of this series of albums. It's essentially the sound the Muddy Waters Band put out on bandstands, in bars and in concert halls around the world. Muddy was out front, his ever-tough vocals and his "only when needed" guitar playing were the centre. Johnny Winter provided the sizzling guitar solos, but Bob Margolin was present (as on stage) with some fine fretwork of his own. Charles Calmese took care of the bottom end, the great Pinetop Perkins tickled the ivories, and Willie "Big Eyes" Smith played drums. Somehow that phrase doesn't capture all that Mr. Smith brought to these recordings; he owned the drums. He provided a solid groove over which the other musicians laid their instruments and built a blues foundation second to none. And the star did the rest.
Classic tunes like "Mannish Boy" take on new meaning. The 65-year-old Muddy declares his manhood, and who would argue?
"Bus Driver" features his signature slide guitar. "I Can't Be Satisfied" is recreated with Winter's National bottleneck. "The Blues Had A Baby And They Named It Rock'n'Roll" showcases the howling harp of James Cotton, and Pinetop's piano. "Deep Down in Florida" is a slow burning walk in the swamp. And the album concludes with a bonus track of Muddy's chestnut (from the Chess days) "Walking Through the Park."
The title, Hard Again? Well, it comes from a quote from Mr. Waters himself. He said the music was so good it "made my little pee-pee hard again."
(Legacy, 2004, originally released Blue Sky, 1977)
The same group collaborated on four albums over the next few years. They worked together on Johnny Winter's contemporary album Nothin' But the Blues (which is my favourite of Johnny's recordings) they toured together and they produced I'm Ready a year after Hard Again. Rolling Stone's reviewer didn't like the second attempt as well as the first, saying, "You know Muddy, it's always tougher to get hard, again!" Tough maybe, but not impossible. There is some great stuff on I'm Ready, too!
Bob Margolin describes his boss's playing and his impact on the Muddy Waters website, "Muddy Waters is not more widely credited with being a great slide guitar player only because his singing, his legendary position in the Blues World, and his charisma are pretty distracting. But his slide guitar playing was so powerful that he could never be upstaged, even by other guitar players whom we consider to be great. Muddy's early Delta Blues mostly open-tuning slide guitar was influenced by Son House and Robert Johnson. He took Chicago by storm in the late '40s when he played it on the 'modern' innovation, the electric guitar, with a small band. Using a small amplifier turned up to where the notes would distort in vocal-like ways, sometimes smooth, sometimes raucous, Muddy's slide guitar provided solid rhythm, answered his singing, and took slashing powerful solos. In the '50s, Muddy began to play his guitar more often in conventional tuning, but continued to play slide, much in the guitar styles of Tampa Red and Robert Nighthawk. As with his voice, Muddy would slide up and down to notes, and use a range of wide or narrow vibrato, to make his slide notes sing. The trademark electric slide solo that he played on many of his slow blues songs was guaranteed to drive his audiences crazy. You could spend the rest of your life digging the subtleties and emotion and rhythm and surprises in Muddy Waters' slide guitar playing, and you'd never get to the bottom."
You could, and you should spend that kind of time delving into the work of this magnificent musician. He sounds ready on this album. The leadoff track is "I'm Ready" and to my ears there's no doubt what Muddy's ready for. Anything! The Waters' slide technique is up front on "33 Years," and on "Who Do You Trust" a sensational harp is blown by Big Walter Horton. This band cooks.
I've had on-going arguments with other blues fans who insist that these late recordings are but a shadow of Muddy's classic '50s material on Chess. And, maybe there's a point to be made for the early stuff, but "Hoochie Coochie Man," and "Rock Me," "Screaming & Crying," and "Good Morning Little Schoolgirl" are positively scary as played but this hot band. Again Bob Margolin and Johnny Winter work their magic on the fretboards. Jerry Portnoy also adds harp to the mix. This time there are three bonus tracks, which are definitely worth having.
I saw this band (minus Winter) live one cold winter night. And they warmed everybody in the hall with their trademark blues and Muddy's singular stage presence. If you never got a chance to see the Muddy Waters Band, or if you are unfamiliar with the works of this uniquely American artist, you could do worse than start here.
(Legacy, 2004, originally released Blue Sky, 1978)