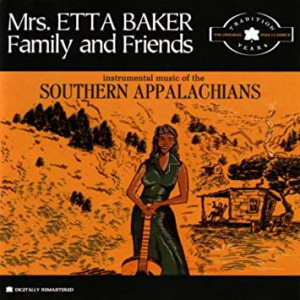 Christopher Conder submitted this review.
Another fine re-release from the Tradition Years series, these field recordings were made by Diane Hamilton, Liam Clancy and Paul Clayton in the summer of 1956. Recorded in Virginia and North Carolina, each of these pieces is a solo instrumental performance on banjo, guitar, fiddle, dulcimer or harmonica. Etta Baker herself plays guitar on five of the 20 tracks, whilst other spots are given to her banjo-playing father Boone Reid and her brother-in-law Lacey Phillips, as well as other local luminaries. Of these, only fiddler and banjo player Hobart Smith was recorded before this collection, and the implication is that they were well-respected amateur musicians in their community.
The informative contemporary notes by Paul Clayton are fascinating in their own right and as an insight into the time. The tendency to refer to everyone with their title ("Mrs. Etta Brown") seems quaint, but the respect with which he clearly holds the performers is gratifying. His prose is academic rather than poetic but a feel for the excitement of discovering this music seeps through, and he also provides informative notes on the playing techniques and the tunes' backgrounds.
I would have been interested to read some updated notes about the impact the album had first time round and find out what effect it had on the lives of the performers. There would be a certain romance if they had remained nonchalant to it all and continued with their lives, but their combined talent is impressive and they probably deserved to tour to a wider audience.
The most surprising thing about the music is how modern it all sounds. The recording quality is exceptionally good considering how roughly and how long ago the tunes were taped, and it is worth reflecting on how the trend in much of today's folk music has reverted back to the raw, driving style found in these recordings. The standard of performance is very high, the tunes a good selection of dances and song melodies. Although several titles are familiar to me – "Amazing Grace," "Soldier"s Joy," "John Henry" – nothing catches my ear as being familiar, except for snatches of "For he's a jolly good fellow" and "The Birds on the Tree" in "Molly Brooks." They must either be different tunes or have been transmuted out of recognition from the versions I know.
I confess to being more of a songs person than a tunes one, and I fear I may not return to this album as much as I should, but I would not hesitate to recommend this not just as a period piece but as a collection of superbly played, characterful tunes in their own right.
(Empire Musicwerks, 2006)