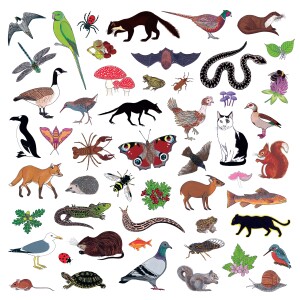 This fascinating and engaging disc is part of an impressive box set created by Modern Nature's Jack Cooper as inspired by a re-reading of Shakespeare's "The Tempest" and its relevance to our current moment.
Be not afeard, the isle is full of noises
When Cooper wrote that quote from "The Tempest" on the wall of his studio in 2019, it sparked an intense period of creativity that culminated in this album. The short quote, part of a longer passage spoken by Caliban, "summed up what I was thinking about at the time, from the nature of music, noise and silence, to the chaos and confusion that seemed impossible to navigate." says Cooper.
Cooper is a composer, songwriter and guitarist born in Blackpool. Now living in Manchester, he's been recording and releasing music through a number of projects since the early 2000s. I greatly enjoyed his 2017 solo project Sandgrown, which featured his hushed vocals and personal lyrics inspired by growing up in a working class seaside tourist town. I also enjoyed much of Modern Nature's full-length release How to Live, which featured more oblique lyrics that also revolved around a fairly high concept, set to jazz-adjacent arrangements that included some inspired freestyle tenor sax from bandmember Jeff Tobias.
Island of Noise is something quite different but it also features those hushed vocals and jazz-inspired arrangements. But the lyrics explore the reactions of outsiders to the shores of Prospero's mystic and mythical island. Cooper's songs become a metaphor for the experience of immigrants – especially people of color – England.
"I imagined the island's landscape and how it would change and shift through the record," Cooper says. "My guitar, Jim Wallis' drums and John Edwards' bass would represent a slowly evolving landscape that would provide the bedrock for the other instruments to colour. The forests, the valleys and the life would be represented by an orchestra of improvisers and classical musicians, working around certain modes and composed melodies." Rounding out the music along with the core band is an ensemble of string and horn players including Tobias on alto sax and bass clarinet, and notable jazz musician Evan Parker on tenor and soprano.
The album was completed while pandemic restrictions were relaxed a bit. The feeling of freedom that created allowed the musicians to improvise and experiment, which resulted in a second disc, an instrumental interpretation of the album called Island Of Silence. Rounding out the package is a book featuring the work of mostly non-musical artists who reinterpret, deconstruct or take inspiration from the record's 10 tracks. They include Booker-nominated poet Robin Robertson, mycologist Merlin Sheldrake, illustrator Sophy Hollington, polymath Eugene Chadbourne and The Lark Ascending author Richard King.
The album itself, Island of Noise, is deeply engrossing, stunningly arranged and richly poetic. The 10 tracks – two tune and eight songs – all have one word titles. The album works on various levels. It's possible to enjoy it solely for its sound: Cooper's stark electric guitar and quiet, foggy vocals overlaying sonic layers of piano and strings (violin, viola, cello) Wallis and Edwards' insistent rhythm on drums and double bass, and added colors from trumpets and Parker's and Tobias's reeds.
But if you're into lyrics, Cooper's songs deftly sketch an entire world. After a brief somber instrumental introduced by Parker's fluttering freeform soprano saxophone solo, "Dunes" begins on the shore, with references to the storm that brought our outsiders to the island: "Some brave new morning / The curtain rises again / An overture plays out." Next is "Performance," a loping march tune, which lyrically juxtaposes the chaos of construction in the city and the deceptively calm chaos of nature: "Starlings rise to block the star / The black sun flaring breaks apart / Illuminates the wild performance." In a lovely understated instrumental bridge, Cooper's clean electric guitar melody provokes responses from saxes, bass clarinet and trumpets. "Ariel" is an impressionistic art song, a midnight meditation on the island and its inhabitants, followed by a sad lilting ballad called "Bluster," meditating on the end of empire: "The smoke is clearing / And te spell begins to break / The island's silent / It's too late."
In the second half, after another instrumental opener sets the mood, the ticking ride cymbal and rumbling bass line set the scene for Cooper's beat poetry in "Masque."
Meadow, grove and stream
Darkness from an old dream
Faces in the glass; looking on
Warming hands on burning flats.
"Brigade," a discordant song about blaming the immigrants and refugees for the troubles of the island juxtaposes a jazzy beat the indie rock sound of electric guitar and piano, with a six-beat rhythm that's made to sound like five. "Spell" is an exhausted denoument of a song, followed by "Build," the aftermath. A stark drumbeat seems to call the people back to their place, to retake control of their lives from those who would sow chaos and strife. "Flags hanging limp and frayed / Crows on the plain / Ravens take flight again / The tower decays / Crowds cheer the vain crusade." And the cycle begins again, as signaled by the wild freeform spree from Evan Parker on soprano that echoes the album opener.
As ambitious a project as this was for the musicians, it requires nearly as much commitment from the listener to get the whole experience. This is the kind of project that you used to find on bombastic albums from prog rock bands, but Cooper and his collaborators always keep it down to earth, emphasizing subtlety over flair. Island of Noise and, no doubt, its companion disc Island of Silence offers great rewards for the adventurous listener.
(Bella Union, 2021)