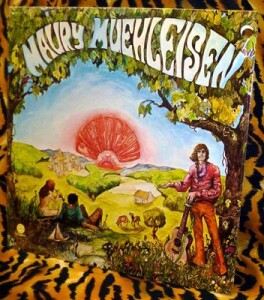 Maury Muehleisen? Who he? He was Jim Croce's guitar-playing accompanist, and the guy who made Big Bad Jim sound the way he did. He was killed in the same plane crash that killed Croce, on September 20, 1973. His music lives on. Until just recently though, his music did not live on. Capitol had let his one solo album, made in 1970, rest in oblivion. Only worn copies of tired vinyl or a small run of CDs issued in 1997 that sold out quickly might be found in flea markets. Maury's sister Mary worked tirelessly to obtain the rights to reissue Gingerbreadd and finally in 2006 Capitol allowed her to do so.
Gingerbreadd was recorded before Maury teamed up with Jim Croce. He was a guitar-picking student at New Jersey's Glassboro State College when professor Joe Salviuolo requested a tape of his music. Joe was friends with record producer Tommy West, who heard the tape and signed Maury to Capitol Records. When he was ready to tour the album, West asked him if another friend could back him up. The friend was Jim Croce. Maury and Jim hit it off and Maury became Jim's lead guitarist in 1971.
Sister Mary decided to release Before the Ever Since when it looked as though Capitol might not release the rights to Gingerbreadd. The two albums are almost identical except for two additional songs on the demo disc. Same songs, same sequence. So why would you want both?
The official release is considerably sweetened with strings and things that add depth to the fine fingerpicked guitar and Maury's sweet tenor voice. His voice, sweet and pure, is a highlight of the recordings. If you're only familiar with Croce's novelty songs, the style of Muehleisen's work will be a revelation to you. But if you recall Jim's ballads, his tender side, you'll catch a glimpse of that here. You'll see the influence Muehleisen brought to the act. And his guitar picking is brilliant and crystalline. There's a Gordon Lightfoot feel to it, especially on a track like "Free to Love You."
On Before the Ever Since it's just guitar and voice, with maybe a touch of harmonica. Do I prefer one over the other? Not really. It depends on the mood I'm in. Sometimes I find the production a bit heavy on Gingerbreadd so I'll put on the demo version. Other times, that will be a bit thin, so Gingerbreadd it is.
Why "Gingerbreadd" you might well ask? Mary explains:
Gingerbreadd was a term brought into being by folklorist/folksinger Paul Clayton (Paul Clayton Worthington – 1931-1967). [It] represented Clayton's philosophy, a belief he hoped would be embraced by the artistic world. The goal … was to combine artists who could easily entertain an audience of one or an audience of many, artists who would do their best to make this world a better place. [He] hoped to one day create a legitimate corporation, a 'Gingerbreadd' record label, adding an extra 'd' simply to distinguish the word for copyright purposes. And, although his ambition was not fulfilled during his short and gifted lifetime, two in his wide circle of friends, Henry Glassie and Joe Savioulo would always remember Paul and his dream.
The two bonus tracks on Before the Ever Since are Maury's version of his own "Salon & Saloon" that was recorded by Jim Croce with piano accompaniment and "I Remember Mary," both in acoustic guitar renditions that are quite lovely. So that's it then, a sweet short life summed up in two recordings. His voice and guitar and his lyrics and music are haunting. And of course, there are always the Croce recordings to listen to. But this … this is Maury Muehleisen on his own terms. And that's something.
(The Ever Since LLC, 2006; originally released 1970)
(The Ever Since LLC, 2006)