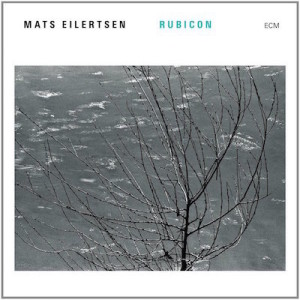 The tune "March" on Mats Eilertsen's Rubicon is one of the most delicious bits of atmospheric noir jazz I've heard in some time. It's unexpected coming from this Norwegian bassist's septet, on an album that draws on various styles and shades of contemporary jazz, starting with the klezmer-influenced "Canto." But the frisson I get when vibraphonist Rob Waring and guitarist Thomas Dahl interrupt Harmen Fraanje's arpeggiated piano intro with a cool, dark chord is a thrilling moment, and it gets even better when Trygve Seim and Eirik Hegdal join in with their woodsy, guttural tenor and bari saxophones.
Mats Eilertsen has been a fixture of the Euro jazz scene for several years now, playing bass and electronics on projects that have included the Tord Gustavsen Ensemble and the Nils Økland band. In the early 2000s he recorded an album or two with the experimental ensemble Food. Rubicon highlights his own compositions, and they show an impressive range.
This suite originated as a commission for the VossaJazz Festival, and premiered there in 2014. After playing it on the road for nearly a year, Eilertsen went into an Oslo studio and recorded it with this septet:
Trygve Seim: tenor and soprano saxophones
Eirik Hegdal: soprano and baritone saxophones, clarinet and bass clarinet
Thomas Dahl: guitar
Rob Waring: marimba and vibraphone
Harmen Fraanje: piano, Fender Rhodes
Mats Eilertsen: double bass
Olavi Louhivuori: drums
As you can tell, I'm enamored of "March," which at eight minutes gives lots of time for development. Seim really stretches out on tenor, with Dahl, Waring and particularly Eilertsen himself providing rhythmic and colorful harmonic support.
But there's much more to like here. The lengthy "Lago" is contemplative and a little mysterious, with Fraanje exploring the melody and Waring setting the rhythm in the introductory section on marimba. Hegdal plays some subtle clarinet in unison with the vibes that's so close it's easy to miss. Don't miss the lovely klezmer-like setting of "Canto," which opens with a lovely clarinet-soprano sax duet backed by Eilertsen on subtle arco bass. Even more beguiling is the lovely "September," a more mainstream jazz exploration with Waring and Dahl doubling on the complex melody, which is at times taken over by the piano and one of the saxophonists before Dahl takes a lengthy guitar solo.
Here's a live performance of "September":
Eilertsen is generous with the solo time for his players, and he takes his own turn on "Balky" playing the tune's noirish melodic rhythmic figure in unison with the piano, as the others take turns improvising.
Rubicon is full of moody, dynamic music played by a large ensemble whose members listen to each other as skillfully as they play their own instruments. That kind of generosity, coupled with Eilertsen's intriguing compositions, makes for an unusual listening experience.
(ECM, 2016)