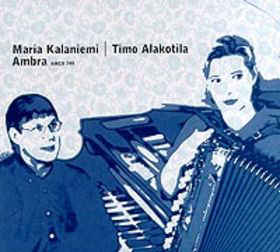 Maria Kalaniemi is perhaps the best known and certainly one of the most prolific of the new school of Finnish folk musicians who are pushing the boundaries of their music. The accordionist, a graduate of the prestigious Sebelius Academy, combines folk, classical and jazz from Europe and the New World into a concoction that is at once cosmopolitan and recognizably Nordic.
On this album she duets with pianist Timo Alakotila, with whom she has worked and played for more than a decade, particularly in a contemporary music group called Aldargaz. It's a delightful match, as the two take turns as soloist and accompanist. The tunes range from traditional polskas and marches, to minuets and polkas, some tango-influenced excursions, and some unadulterated bal musette. Mostly cover tunes or arrangements of traditional pieces, Ambra also has several originals by one or the other, or both of the artists.
The album opens with a series of cold, crystalline piano arpeggios that build in tempo into the jazzy Nordic take on musette of "Blauer Pavilion," a delightfully melancholic air, a musical picture of the memory of a carnival. On "Indifference," a fast bal musette waltz, both musicians' control of their instruments' dynamics is impressive, transforming what could be just a flurry of notes into a controlled cavalcade of sound that is at once bright and still blue.
After a short break for "Lappfjard," a stately and delicate traditional wedding march based on a fiddle tune, here featuring mostly Kalaniemi's accordion, we're back in warmer territory with Kalaniemi's composition, "Oradea." Reminiscent of a tarantella, this multi-tempo piece sees the two instruments repeatedly switching from lead to accompaniment through the alternating fast and slow sections.
The title track, written by Alakotila, is a contemporary piece of light jazz, in which the musicians again take turns, this time embellishing on the simple fugue-like melody as they toss it back and forth. Two short and fast polkas representing different Finnish regions lead into Alakotila's tango, "Kuujarvi." It's a piece of many moods, as befits a tango, starting slow and building in intensity.
The swirling musette waltz of "Soir de Paris," leads into a traditional set, with a lovely and lilting minuet leading into a rhythmic polska, titled "Haudanmaa." For a finale, the musicians are joined by a string quintet of two violins, viola, cello and bass on a striking arrangement of Reino Helismaa's suite, "On Yo Ja Tahdet Taivahalla." It's a dramatic, cinematic piece of more than seven minutes that travels through a variety of moods, at turns tender, pensive and expansively romantic.
Ambra is another exquisite listening experience from Maria Kalaniemi and friends.
(Amigo, 2001)