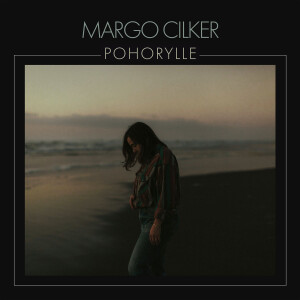 Margo Cilker is the latest country musician from the far northeastern corner of Oregon to toss a debut album of songs into the world. There's apparently quite a little music scene up there in Enterprise and Joseph and environs, churning out the likes of Forrest Van Tuyl (An American Forrest), and Kai Welch (Abigail Washburn), and now Margo Cilker. Her debut album Pohorylle is deeply country, deeply personal, and deeply Pacific Northwest.
Cilker sings with a sharp twang that recalls early Lucinda Williams, with a melancholy that also points toward Lu as well as the likes of Townes Van Zandt. She's had a lot of extremely capable help in the making of this album, not least the production from Seattle folk and country singer (and drummer) Sera Cahoone and engineer John Morgan Askew, who's worked with Neko Case and Laura Gibson and who also plays an array of instruments. Standout players who add a ton of soul to Pohorylle include the fabulous Australian fiddler Mirabai Peart (who now lives in Portland); Jenny Conlee (The Decemberists, Norway Rats, Black Prairie) on keys; Jason Kardong (Sera Cahoone, Son Volt) on pedal steel; and Rebecca Young on bass. Margo's sister and touring partner Sarah Cilker adds tight harmony vocals.
Cilker writes and sings most potently about the joys, sorrows and dangers of a life on the road as a traveling musician – particularly for a woman. I have a hard time getting past her song "Broken Arm In Oregon," which is all about those hazards that face women out in the world, and how much energy and time and thought they have to waste just to try to stay safe. Peart's lovely plaintive fiddling and Conlee's soaring Hammond organ give this song added heft, but it'd be just as powerful as a solo acoustic number.
Several other songs home in on what it's like to be Margo Cilker, always either on the verge of leaving or coming home. "Fortune favors the bold and the far away from home" could be Cilker's motto. It crops up as a line in the opening track "That River," an impressionistic tour through Oregon's Basque country on the treacherous eastern reach of Interstate 84.
"If you're stayin, stay / If you're goin, go / Just remember that I am home," goes the refrain of "Flood Plain," a killer of a sad love song that starts out solo acoustic and eventually ropes in the whole band, complete with moaning pedal steel from Kardong and that fiddle – Peart always knows just what touch a song needs. Conlee's accordion adds a perfect touch to "Chester's," a heartbreaking slow waltz about the loneliness of the life on the road.
The road songs aren't all sad, though. "Tehachapi" is fairly described as actually bouncy, with Kelly Pratt (of the indie rock band Beirut) playing a whole bunch of horns on this honky-tonk shuffle, a litany of lovers left behind.
"Brother, Taxman, Preacher" is a slyly humorous exploration of the world of privileged men, starting with a dig at her brother. And "Barbed Wire (Belly Crawl)" is a soaring country rocker using the barbed wire fence a metaphor for this prickly musician and the dangers of a relationship with her:
If you knew what it was like to be
On both sides of me
I'm going farther this time.
The album wraps with "Wine In The World," a stately statement of her modus and methods of coping with the losses that come with time, with a fine little pedal steel turn from Kardong. "I'm a woman drinks deeply / It's my rosy coping mechanism / And it keeps my heart safe."
Cilker has split the past seven years between singing on the road and hanging out in varied outposts like Enterprise, up there in Northeastern Oregon, and Spain's Basque country – the album's title is a Basque place name of some sort, I think. NPR has rightly listed her as one of "11 Oregon Artists to Watch in 2021." She's making music with heart and grit and punch-in-the-gut honesty. Pohorylle is one of my favorite Americana albums of the year.
(Fluff & Gravy, 2021)