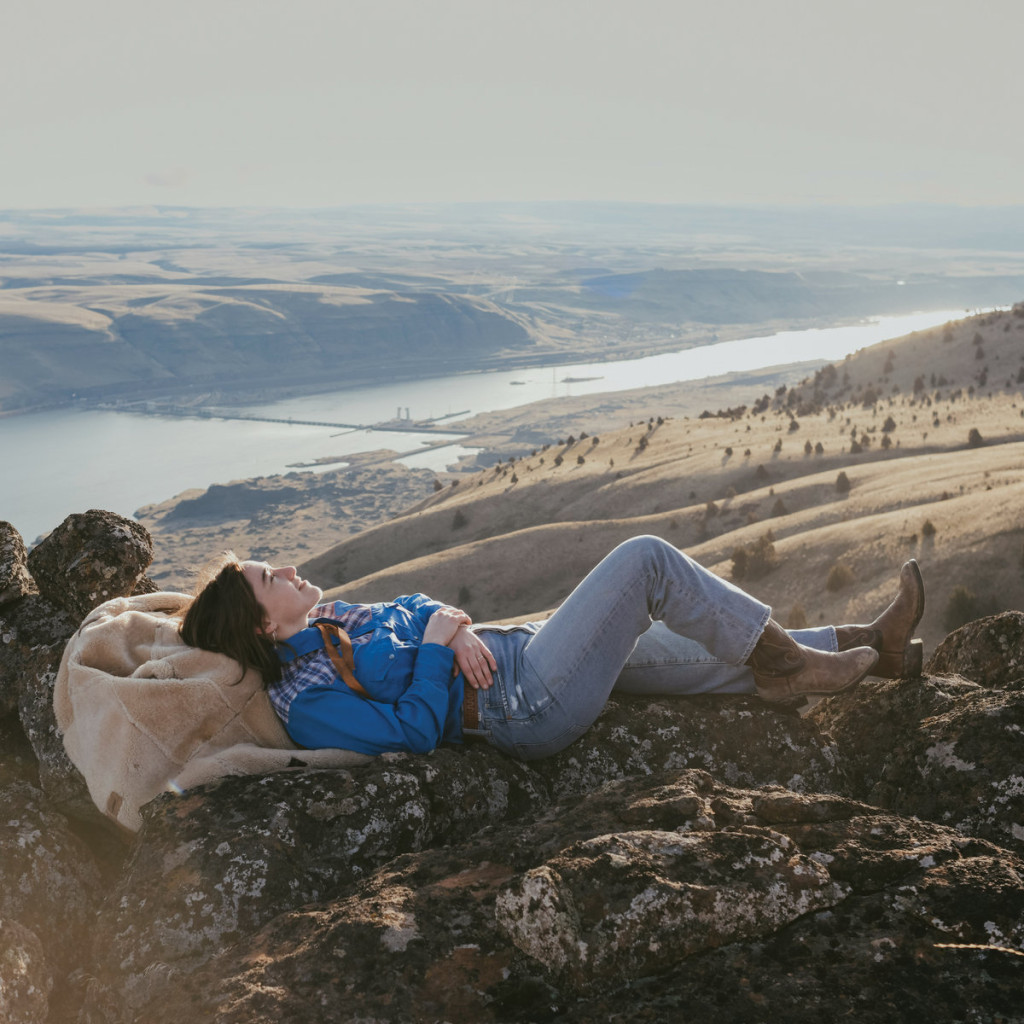 I was among the reviewers and critics who fell head over heels for Margo Cilker's 2021 debut Pohorylle. No sophomore slump here as Valley of Heart's Delight marks a big step in fulfilling her early promise as a country folk songwriter and singer.
Even if I wasn't already inclined to love this one, the presence of a stellar cast of Oregon's backing musicians (many of whom also played on her debut) would've sealed the deal. I'm not sure where else you're going to get keyboard maven Jenny Conlee-Drizos, pedal steel whiz Baul Brainard, and the iconic mandolinist and harmonizer Caleb Klauder all on one album. It's a measure of the respect this young musician from the dry side of the Pacific Northwest has among her mentors and peers. She's also re-enlisted much of the stellar ensemble from Pohorylle including Sera Cahoone producing and drumming, Rebecca Young on bass, Kelly Pratt (Beirut) on horns, sister Sarah Cilker on harmony vocals, and John Morgan Askew engineering.
It's been nearly a decade on the road building a musical career for Cilker, and many of the songs here reflect lessons learned along the way. A major theme is the tension between family ties and finding your own way, keeping sight of your roots while striking out for your own place in the sun. She represents the fifth generation of her family in California's Santa Clara Valley (the Valley of Heart's Delight of the album's title), now better known as Silicon Valley. Previously part of the thriving Americana scene in Enterprise, Oregon, she and her singing cowboy husband Forrest VanTuyl live across the Columbia River in Goldendale, Washington with horses and a dog.
Both of the first two tracks (which were the first singles) address that tension. The country rocker "Lowland Trail" employs buckaroo imagery in the search for love and identity, and the slow burning New Orleans soul of "Keep It On A Burner" is a litany of the good and the bad in her life these days.
"Mother Told Her Mother Told Me" mines the tension between family and finding your own way, between hometown and heart's desire. And the third single, the plaintive folksy ballad "With The Middle," uses imagery of learning to navigate that part of the day between when the coffee wears off and you can't start on the wine yet, for the even harder process of finding your way through the middle years of a life once you've got it going but you're not there yet.
Some of these songs are just plain fun, though. "I Remember Carolina" is an absolute killer of a country song, an upbeat Tex-Mex shuffle in which she recounts the adventures and misadventures of her life as a touring musician. I love the way the band shifts gears in the final verse for a bit of a back-handed tribute to Texas, tacked on as if it's an after-thought. There's a rollicking cover (only one on the album) of "Steelhead Trout," Ben Walden's perfect party hoe-down, and a tip of the hat to a cafe in New Mexico, "Santa Rosa," named for the crossroads town on old Route 66. And "Crazy Or Died" is a shambling waltz in tribute to heroes and friends who've passed on.
But Cilker really excels at neatly treading troubling emotional ground, which she does on the soulful slow romp of "Sound And Fury," which draws on a bit of a Shakespeare quote to explicate lessons learned – both personal and as a country. Along the way she gives respectful nods to the likes of Woody Guthrie (who also wrote a lot of songs about the Columbia River), Black banjo exponent Rhiannon Giddens, and others who've paved the way for a modern country folk singer. And then she ties it all together with the pensive All Tied Together, which asks a lot of unanswered questions about the meaning of family in the biggest definition of the word: "If it's all tied together are we better unwound?"
I hope Margo Cilker keeps asking these questions, and I hope to be along for the ride, at least vicariously.
(Fluff & Gravy / Proper, 2023)