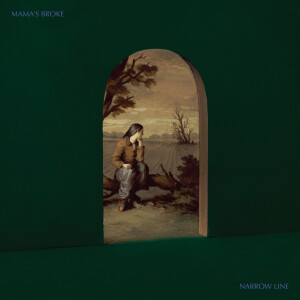 When it comes to Americana music, I'm pretty definite about what I prefer. Simple acoustic instrumentation – say, a fiddle plus a banjo or a guitar or sometimes a mandolin. Playing music that combines Appalachian styles with influences from all over, like Irish reels and Quebecois rhythms and Nova Scotian fiddle flourishes. Lyrics that tell emotion-packed stories with personal touches but in a literary manner that lets the listener fill in the blanks themselves. Melodies that are sturdy and catchy but never trite, sung by two or more singers with intricately arranged harmonies.
If that's the sort of music that appeals to you, you're in luck, because I just described the music of the Canadian duo called Mama's Broke, on their latest album Narrow Line. Though they have strong Canadian roots, their promotional copy says, "Lisa and Amy are based out of nowhere and everywhere." That'd be Lisa Maria and Amy Lou Keeler. They both sing, both in earthy, throaty timbres, Keeler's voice a bit deeper and rougher. Lisa plays fiddle, mandolin, and banjo, plus some guitar and even a cello on one track. Amy sings most of the lead vocals and plays guitar and banjo. They're accompanied by some guests on upright bass and dobro on a few songs but mostly it's just them, their instruments and their voices, which intertwine beautifully.
One of my favorites is a song and tune set, the second track. It opens with an a capella rendition of their song "Oh Sun," one of many written during the pandemic, a prayer of sorts for a way to live with memories of some bad times and perhaps bad choices. It's a brief lyric but they make the most of its opportunities for contrapuntal intertwining of their voices and swapping leads, before breaking into a fiddle and banjo tune called "Forgetting Reel."
There's one other instrumental track here, and it's a doozy, the delightfully titled "Pick The Raisins From The Paska," (Paska being a Ukrainian Easter bread), which they apparently learned from an old LP in Lisa's grandfather's collection. It's a swirling Slavic style fiddle tune on which Keeler plays the fiddlestrings with sticks while Lisa bows the strings. That's a neat trick that I first heard almost a quarter-century ago on Cordelia's Dad's album Spine and it always strikes me as delightful and creative.
And frankly, you're going to relish moments of delight like that, because Narrow Line deals in a lot of serious matters, at times even dark. It opens with portentous minor chords that begin "Just Pick One" on guitar and mandolin, and unfolds with even more portentous lyrics. Lisa and Amy sing a true duet on this one with achingly sinuous harmonies and a full sound that includes dobro and fiddle.
"Between The Briar And The Rose" is a dark Irish style ballad of the twisted relationship between forbidden love and the battle of the sexes – an even darker retelling of the old Barbara Allen ballad from her point of view at his too late love. I love the Nova Scotia-style fiddling on this one! "How It Ends" is a bitter pointed song pitched at a former lover, a country folk ballad with a strong Appalachian flavor played on fiddle, banjo and bass. Like many of the best songs it has a deceptively upbeat tune that belies the narrator's sour outlook on this love gone bad that was never very good to begin with: "Now I know how it ends / But I should have known then."
Likewise perky in rhythm is "God's Little Boy," but the vinegary harmonies and dissonant chords on frailed banjo and strummed guitar add impact to a tale of blazing toxic masculinity that could have been ripped from any day's headlines.
The title song "Narrow Line," on the other hand, sounds as somber as its subject is. It's a devastating song in which the difficulties of love pale next to impending climate disaster, border wars and soaring income inequality. This video is an ink on glass animation painstakingly created by visual artist Arash Akhgari.
This duo's vocal harmonies are further emphasize on two – well, one and a half – a capella songs. "October's Lament" starts with a solo banjo intro before Lisa and Amy intone this chilling Celtic style death ballad with some Eastern European type harmonies. And the penultimate track "The Ones That I Love" is a lovely and loving encomium to their fellow musicians all around the world, who "… make our money and we throw it away."
Pretty much every song and tune on this album contains at least one startling surprise, be it lyrical or musical or both, and you'd be hard pressed to find anything that's rote or clichéd. Their unique blend of styles that includes Celtic, Appalachian and Eastern European arises organically from their experiences and enthusiasms rather than sounding cobbled together. Mama's Broke's Narrow Line is testimony that, if there is hope in these dark times, it's through community and song.
(Free Dirt, 2022)