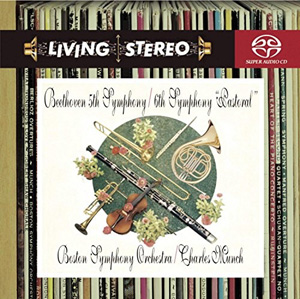 There isn't much to be said about Beethoven: there he is, take it or leave it. It is doubtful that anyone had more influence on the music of the 19th century than he did — even the archenemies Brahms and Wagner both claimed Beethoven as their artistic forebear.
OK — I take it back. I'm sitting here listening to the second movement of the 5th Symphony in the recording by Charles Munch and the Boston Symphony, and it's just wonderful. Subtlety and delicacy are not something we usually think of in relation to Beethoven, but there are passages here that are sheer gossamer, juxtaposed with the more characteristic "Sturm und Drang" in a seamless tapestry both majestic and poignant. The Fifth is heroic music, but it becomes a very human heroism in the second movement, after the threat of the first movement, the famous "Fate Knocking at the Door." The fourth movement pulls it all together: it is defiance and triumph, all in one thundering package. The Sixth Symphony, almost an anomaly in Beethoven's oeuvre, is truly a "pastorale," a musical counterpart to the paintings of Constable or the poetry of Wordsworth. In the history of the portrayal of Nature in the works of Man, Beethoven's Sixth Symphony occupies a place of its own.
Perhaps this delicacy and subtlety is due in part to the treatment by Charles Munch and the Boston Symphony. Orchestras have their characteristic sounds, and many have become identified at various points in their histories with particular composers — Chicago was for most of its history the orchestra of Wagner, Bruckner, and Strauss (and later, under Sir George Solti, Mahler), while Cleveland under George Szell was all about Haydn, Mozart, and Beethoven. Boston has often been considered to have a more "French" sound, particularly under the leadership of Charles Munch, its long-time Musical Director. In this case, aside from pulling some delicacy from the Fifth, Munch and the Boston Symphony produce a Sixth that is by turns lively, peaceful, thunderous, and thoroughly engaging — it's like being on a picnic on a perfect summer day, and even if you get rained on, wasn't the lightning spectacular?
This is another in Sony's series of re-releases of RCA Red Seal classics. It's a slightly different reading of Beethoven than I'm used to — my collection tends to center around those interpretations by von Karajan, Szell, and Klemperer — but it is a thoroughly enjoyable one. And I'm certainly not one to say that anyone must be satisfied with one rendition of Beethoven.
(Sony BMG Music Entertainment (originally released on RCA Red Seal), 2005)