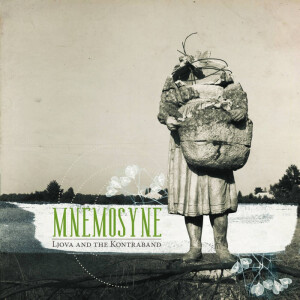 The violist Ljova first came to my attention when he joined the superb Brooklyn-based gypsy band Romashka a few years ago. Although I know him from folk circles, Ljova's musical background is extremely diverse; the list of performers he's worked with includes both Yo-Yo Ma and Jay-Z. Ljova's debut CD Vjola: World on Four Strings featured him almost exclusively, multi-tracking several different viola parts for each tune. On his new album Mnemosyne, though, Ljova works with a backing group called the Kontraband, featuring Patrick Farrell on accordion, Mike Savino on bass, and Matthias Kunzli on percussion. A couple of tracks also feature vocals from his wife, Romashka's singer Inna Barmash.
As with his first album, Ljova composed all the music himself. The tunes on Vjola: World on Four Strings alternated between folk music of a mostly eastern European feel and darker, more impressionistic pieces. The tunes on Mnemosyne are generally more consistently structured, although a few of them include a breakdown in the rhythm and melody to allow for Ljova and Farrell to do some heavy experimentation. Ljova displays some serious skill as both a composer and player throughout the disc, but he definitely has a playful side as well. Often this side manifests itself in the tune titles — my two favorite instrumentals on the disc are called "Love Potion, Expired" and "Crutchahoy Nign"– but the music itself often unpredictably bounces off on some fun tangents.
Inna Barmash is comfortable singing in a number of different languages, to the extent that it was a bit surprising at first to hear her sing in English on two of her three songs. But she does a particularly good job on the title song "Mnemosyne," a poem by Trumbull Stickney that Ljova set to music. She sings in Yiddish on the traditional Yiddish song called "Koyl." Her last song, the very tongue-in-cheek love song "Gone Crazy," was written for her by Ljova and done in the style of an American mid-1900's standard.
Ljova is a unique and intriguing performer, and Mnemosyne is another broad exploration of the many facets of his personality in general and his musical tastes in particular. As was the case with his first offering, the new album is so diverse that it may be hard for one person to like everything on it. But any music fan will probably find at least a few tracks that pique their interest.
(Kapustnik, 2008)