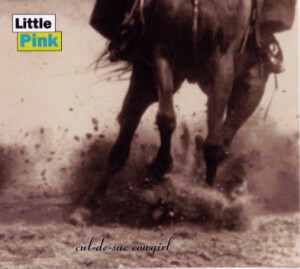 Little Pink is yet another band out of the Washington, D.C., alternative country scene, and my favorite so far. Little Pink — basically singer-songwriter Mary Battiata and a somewhat shifting cast of backup musicians — had the most intriguing track on 2001's Americana Motel compilation, so I was pleased to get my hands on Battiata's debut full-length CD.
Cul-de-Sac Cowgirl highlights Battiata's literate and passionate songwriting in a range of styles from folk to hard country-rock. The best, like opening track "Rocking Horse," float her vocals atop a shimmery wall of jangly Byrdsian guitars put together by Karl Straub, another standout from the Americana Motel sessions.
"Rocking Horse" has the makings of an instant country-folk-rock classic, a song of longing tempered by experience. The singer, alone and missing her distant love, wants her metaphoric rocking horse to take her away, even though she knows "you're as fickle as the wind and twice as careless/but I'll never see the stars if I stay inside."
The album is full of wonderful lyrical moments married to smart music, like the vivid imagery out of Homer's Odyssey in "Ceiling Rain," the menacing, minor-key "Shadow," the driving Tom Verlaine-meets-Harry Nilsson rocker "Cry All Night," and the sunny country shuffle of "All right, OK."
Battiata has a gift for punchy lyrics that roll around in your head long after the song is over: "Headlights, long nights, last rights" in "Neon Postcard," "Angel face, how did we/ever fall so far from grace?" in "All Right, OK," and the Cohenesque "That's what you said, when you spoke at all/the purpose of love is just to fall," in "Fall, Fall, Fall." In "Indigo," the singer is so devastated by lost love that it seems the whole world must see her sorrow as a stain: "How long will it take you to fade/cuz I know I'll go crazy this way."
The first eight tracks and the final four have a sharply different sound to them, having been made with different bands and different producers. The latter part has more spare instrumentation and low-fi production, but loses none of Battiata's lyrical power. Especially strong are the Anglo-Celtic folk rocker "Seven Years," all dark chords, droning fiddle and fairytale imagery, and the last cut, "Big Top," a waltz-time song of circus imagery, reminiscent of Sandy Denny-era Fairport Convention.
Cul-de-Sac Cowgirl is a hugely impressive debut. I look forward to future offerings from Little Pink.
(Adult Swim, 2001)