We made all the hot spots. My money flowed like wine
Then that low down Southern whiskey began to fog my mind
And I don't remember church bells or the money I put down
On the white picket fence and boardwalk or the house at the end of town
But boy do I remember the strain of her refrain
The nights we spent together, and the way she called my name …
~ Little Feat, "Dixie Chicken"
Little Feat originally comprised the late, great Lowell George (guitar, vocals), Roy Estrada (bass), Bill Payne (keyboards, vocals), and Richie Hayward (drums). They released their self-titled first album in 1970 but didn't achieve popular recognition until their 1974 album Feats Don't Fail Me Now, which featured a revised lineup including Paul Barrere (guitar, vocals), Kenny Gradney (bass), and Sam Clayton (percussion, vocals). Their combination of Southern-fried rock, Delta blues, country rhythms, and really weird lyrics thrilled crowds everywhere, and their live shows indeed became the stuff of legend, as can be experienced on the Rockpalast Live DVD. The band released three more successful albums until they broke up for a decade in 1978. Lowell George cut a solo album, but tragically died of a heart attack on June 29, 1979 at the age of 34. Like so many of the rockers of his time such as Jim Morrison, Janis Joplin and Jimi Hendrix, he lived fast and died very, very young. More's the pity!
I like Little Feat because they were one of the few southern roots groups that was truly upbeat and didn't have a lot of tragic history wrapped around it. You just know that the band was fun to party with, unlike the Allman Brothers and Lynyrd Skynyrd which had death as their constant companion for what seemed like their entire careers. The Allman Brothers through a series of deaths and Lynyrd Skynyrd in a sudden, devastating plane crash in a Mississippi swamp and more deaths later, are cursed in a way that Little Feat wasn't by the death of Lowell George. Death stalked and consumed those two bands in a way that it didn't with Little Feat.
(Ten years later, the band reformed and has since continued to thrive. Unfortunately, I think they suck. For some reason, the vocals done by Little Feat after Lowell George passed on are, in my opinion, truly awful. Now you may well like the present-day Feat – their instrumentals are still fantastic. Just don't play them when I'm around!)
Both the CD and the DVD have the same version of Little Feat: Lowell George (guitar/lead vocals), Paul Barrere (guitar/lead vocals), Bill Payne (keyboards/vocals), Kenny Gradney (bass), Sam Clayton (percussion/vocals), and Richie Hayward (drums/vocals). The DVD has thirteen of the seventeen cuts that are on the two CD set that, for the first time on CD is the complete original album. Given that the concert on the DVD is from 1977, a year before the album was released, it would be a good guess that it was recorded on the tour that happened around the recording of the album.
The 1978 album came on four discs with this order:
Side 1 –"Join the Band," "Fat Man in the Bathtub,""All that You Dream," "Oh Atlanta," "Old Folks' Boogie"
Side 2 –"Time Loves a Hero," "Day or Night," "Mercenary Territory," "Spanish Moon"
Side 3 –"Dixie Chicken," "Tripe Face Boogie," "Rocket in My Pocket"
Side 4 –"Willin," "Don't Bogart That Joint," "Apolitical Blues," "Sailin' Shoes," "Feats Don't Fail Me Now"
Rhino rearranged the order of the cuts, so be prepared to use that list to play them in their original order. Why Rhino rearranged them is something I'll not speculate on as they certainly could've fit on the two CDs in the original order! I don't remember who said never trust a joker, but the same applies to producers at music companies as they like to muck around where they shouldn't. Rhino, to its credit, adds cuts ("One Love Stand," "Rock And Roll Doctor," "Skin It Back," "On Your Way Down," "Walking All Night," "Cold, Cold, Cold," "Day At The Dog Races," "Red Streamliner," "Teenage Nervous Breakdown") to their release giving us a generous two hours and twenty minutes of great Little Feat music.
Okay, after twenty years I could have skipped reliving "Don't Bogart That Joint" as it sounded a lot better when I was, errr, "in a purple haze." But otherwise, this is simply the best live CD I've ever heard. (Well, there may be a better one. There's a two CD radio promo of a Feat concert called Late Night Truck Stop: Live '73. It's rare, it's costly, and it's reputed to be very, very good. I haven't found a copy yet. I may just have to join Robert Johnson at the crossroads soon if I don't find it.) Everything is crystal clear with none of the usual muddy vocals and badly miked instruments, the band's loose and obviously in the groove, and the crowd certainly was making its own purple haze on the nights that it was recorded at the Lisner Auditorium in Washington, DC and the Rainbow Theatre in London, U.K. The engineering is so good that I couldn't even tell on "Dixie Chicken" that the horn break was from a different night than the rest of the song!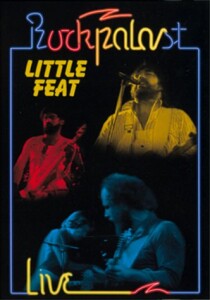 Buy it, play it, boogie your heart out. But whatever you do, buy the DVD after you listen to the Rhino release as you'll find it more interesting that way. Why so, you ask? Because you'll discover that what you hear is not what's really going on! One online reviewer I read thought that all the main vocals were by Lowell. Ahhh, but Little Feat: Rockpalast Live shows you that Lowell was but one of many primary vocalists in the group. (I know – this adds to mystery of why the latter Feat sucked when it came to their singing talents.) I won't spoil your fun by saying who sings on what cut, but I will note that the only one where I wasn't surprised at the identity of the vocalist was on "Dixie Chicken" as I'd seen a video of that cut which had Lowell singing the lead.
Be warned though – if you're looking for a showcase for technical state of the art in DVD production, this isn't it, as the video sucks and even the audio could be better in places. But if you're in for a look at one of the coolest bands performing in concert ever, Little Feat: Rockpalast Live more than earns its chops. The band you see was at the height of its considerable skills on this tour with every member clearly having fun. The tracks here are and in this order: "Skin It Back," "Fat Man In The Bathtub," "Oh Atlanta," "Day At The Dog Races," "All That You Dream," "Old Folks Boogie," "Dixie Chicken," "Tripe Face Boogie," "Feats Don't Fail Me Now," "Willin'," "Rocket In My Pocket," and "Cold, Cold, Cold." There's a brief track titled "Welcome" but it's meaningless. And "Cold, Cold, Cold" is a bonus track from a stateside concert. The red stage lights are horrible on the German video.
But is is a wonderful look at a band that would soon cease to exist in this form; Lowell would, as I've noted before, die in little over two years. (He looks like he's not doing very well here either.) Rockpalast was a live television showcase broadcast from either an outdoor stage at the Lorely on the Rhine (as it I think is the case here – yes, the video's that bad!) or from what is said to be one of Germany's largest indoor concert halls. As it is, outside of a single video of "Dixie Chicken" that aired on the American station VH1 Classics, this is the only known commercial video of Little Feat, so you'll have to forgive the oddities of the German production company.
(Warner, 1978; Rhino/Warner, 2002)
(broadcast July 1977; Encore Music DVD, 2000)
[Jack Merry]