Linn Barnes and Allison Hampton's The Gael
Linn Barnes, Allison Hampton, Wendy Morrison, and Myron Bretholz's The Celtic Consort
Linn Barnes and Allison Hampton's The Dark Island
Linn Barnes and Allison Hampton's The Spiral Castle
Linn Barnes and Allison Hampton's The Sylvan Court
Linn Barnes and Allison Hampton's Moonlight
Linn Barnes and Allison Hampton's Yule
Linn Barnes and Allison Hampton's Ireland
Linn Barnes and Allison Hampton's Wassail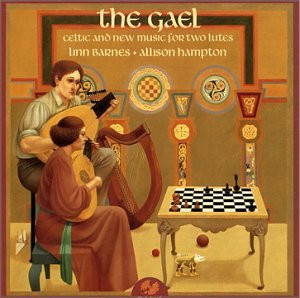 It is easy to watch the evolution of a duo if you listen to these nine recorded offerings by the instrumental pair Linn Barnes and Allison Hampton. Beginning as a pair of lutenists specializing in Renaissance court music, Barnes and Hampton's interests have expanded instrumentally and musically over the years. In the meantime, their musicianship and cohesiveness as a duo has blossomed into something well worth the time for listening.
On the first of these recordings The Gael Barnes and Hampton both specialize in playing lute. The CD is dominated by lute duets, sounding very courtly and regal in tone and presentation. Allison Hampton plays the Celtic harp as an accompanying instrument on a couple of the tracks, and Linn Barnes provides a drone from uillean pipes as a background on "Gavotte" from Brittany. Guests Myron Bretholz on bodhran and Wendy Morrison on tinwhistle and concertina add a bit of variety on three of the tunes. Seven O'Carolan tunes are featured, including "Planxty Fanny Power," "Lady Athenry," "Young Catherine," and "Planxty Hugh O'Donnell." There is also the traditional Irish "The Wind that Shakes the Barley," with bodhran and tinwhistle, and Nathaniel Gow's elegant "Coilsfield House." The recording is rounded out by two original tunes: "Cerridwen's Dream," for lute and harp, and "The Gael: a suite for two lutes." The recording is short – only 40 minutes, but anyone interested in hearing what can be done with two lutes should check this one out.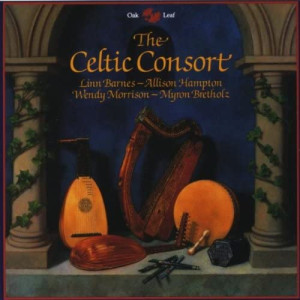 The Celtic Consort finds Barnes and Hampton again joined by Wendy Morrison on concertina and tinwhistles and Myron Bretholz on bodhran. This is more of a collaborative effort than on the previous recording, giving more of a "consort" sound to the music, which fits the title of the collection. Barnes has added guitar to his instruments, while Hampton spends more time playing the Celtic harp. Continuing in the courtly tradition of music, this collection includes six O'Carolan pieces (including "Planxty O'Rourke," "Planxty Burke," and "Princess Royale") and seven English country dance tunes (including "Daphne," "Drive the Cold Winter Away," and "Scotch Cap.") There is also one tune of Italian composer Tielman Susato, "Ronde and Tripla," one Breton tune, "Ev Chistr LAOU," and one Irish tune, "The Snowy Breasted Pearl." Standouts on this collection include a sprightly version of "Hewlett," featuring excellent concertina playing by Wendy Morrison, and a contemplative late 16th century set "Vaghe Belleze et Bionde Treccie d'Oro Vedi Che Per Ti Moro/Bianco Fiore."
The Dark Island is subtitled "Music for Lutes, Celtic Harp, and Steel-String Guitar." This is clearly a new direction for the duo, both because the Celtic harp and guitar become more prominent features of the group, and because there are no guest musicians. The Celtic harp is central to this recording, present on all but two of the tracks. Linn Barnes has added bowed psaltery to his list of musical instruments on this recording, and plays a great deal more of his guitar. The result is a wide variety of pairings: lute and harp, guitar and harp, lute and guitar, and two lutes. One of the tracks, an original titled "Innisfree," features an overdub of uillean pipes to add depth to the sound. The selection of music is equally diverse, including traditional Celtic (Irish, Scottish, Welsh, and Breton) tunes, French country dances, Italian and English Renaissance music, and an American tune. Despite a fiery guitar and harp rendition of "The Road to Lisdoonvarna," the overall feel of this recording is one of contemplative study. The pieces are serenely and lovingly presented by the duo, with fine touches adding to the overall effect of each tune. The unusual French harmonies on the guitar are especially nice on the "French Suite," and the duo utilizes more ornamentation and nuance to create the scenery in their musical pictures through this recording. Tunes include "Fantasia" by Francesco da Milano, "Down By the Salley Gardens," "Morgan Magan/O'Flinn," "The Ash Grove," and "Miss Murphy."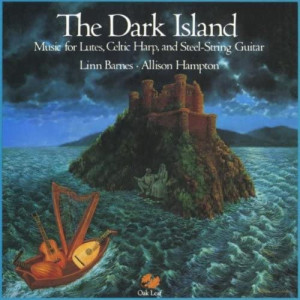 Barnes and Hampton enter the 1990s with The Spiral Castle, a recording with more depth and a higher level of recording quality. The sounds are crisper and clearer, enhancing the subtleties of the music. The duo's instrumentation continues to diversify, this time with Hampton adding synthesizer, Barnes adding goose calls, and guest Tony Ames providing a variety of light percussion and synthesizer sounds, although these are somewhat lost due to the choice of mix. The title and tune choices of this recording revolve around the recurring mythological idea of rebirth, in story, music, and art. Tunes include "Cerrickfergus," "Sheebeg and Sheemore," "I Lost My Love," "Silkie," "Tarleton's Resurrection," "The Welsh Dance," "The Blarney Pilgrim/Merrily Kissed the Quaker," and the hymn tune "In Christ There is No East or West." Linn Barnes' guitar is prominent throughout this recording, especially shining on his original tune, "Dawn Lover," which has a Spanish feel in melody and ornamentation.
By the time the duo recorded The Sylvan Court it was clear that the harp had become the central focus of their instrumentation. Every track on this recording has harp on it, and it features prominently on most. Barnes adds mandolin to his instruments, using it to good effect, especially on "The Star of County Down," where the ornaments from the mandolin give this sometimes too familiar Irish tune a bit of a Spanish feel, which adds pizzazz. Both Barnes and Hampton add the cittern to their instrumental line-up as well. Tony Ames joins them again with some excellent percussion, which on this recording is better balanced with the string instruments, allowing the percussion to be more clearly heard. The tune selection is quite varied, including favorites like "Morrison's Jig," "The Fairy Queen," and "Woodicock." There are several very regal court dances, including "All in a Garden Green" and "Galliard." One unusual aspect of this recording is instrumental versions of well-known and often-heard songs, which are seldom heard as instrumentals. "Tam Lin" and "Black Jack Davy" take on totally different personalities without the lyrics. This is also the first recording where the liner notes give information on each of the tunes, which is a nice addition.
Perhaps the standout of the duo's offerings is an unusual recording, Moonlight, which offers up a selection of tunes seldom heard on the pair's instruments. Instead of offering Celtic and Renaissance fare, as on most of their previous recordings, this CD features more contemporary tunes, mostly in the form of blues and rags. Selections include Jelly Roll Morton's "Buddy Bolden's Blues," Mississippi John Hurt's "Richlands Woman Blues," Coley Jones' "Dallas Rag," Willie Brown's "Mississippi Blues," Fats Waller's "Ain't Misbehavin'," and Pete Seeger's "Living in the Country." There are several traditional tunes including "The Western Wind" (or "South Wind") and O'Carolan's "Eleanor Plunkett," but these are treated with a bit of a blues style to match the other tunes on the recording. It is surprising how well these selections work on harp and guitar, with a sedate but clearly bluesy feel. Barnes and Hampton work alone on this one, without guest musicians. They've also limited their instruments to only four: harp, guitar, lute, and a seldom-seen instrument called the harp-guitar. This last instrument is shaped like a guitar, only larger, with a series of strings that are fretted against the neck, as on a guitar, while another set of strings are tuned to be played unfretted, as on a harp.
Yule offers an excellent collection of older carols, many of which don't get played as often as they should. The carols come from a wide array of origins; Welsh, French, German, English, Irish, American, Spanish, and Catalan tunes are all included. Among the selections are "Merrily on High," "The Castle Keep/Masters in this Hall," "Canarios," "Lo, How a Rose is Blooming," "People Look East," "Villancico de Navidad," "The Wexford Carol," "Green Grow'th the Holly," and "Blessed Be That Maid Marie." This recording returns the duo to a distinctly courtly feel to their music, giving a touch of elegance to their selections. Hampton's harp plays melody and accompaniment to Barnes' guitars and lute, while guests Tony Ames on percussion and Joseph Cunliffe on flute and recorder add depth to the sound. This would be a nice addition to any Christmas CD collection.
On Ireland, the duo explores a variety of Irish tunes, with a couple of original tunes thrown in for good measure. This may be the weakest of the recordings represented here, only because the duo's courtly style doesn't quite capture the lilt of the Irish music, and a whole recording of this nature can fall a bit flat when one is looking for Irish music. The uillean pipes on this one also sound weak and uncertain. Despite these shortcomings, the tune selection is delightful, including "The Kid on the Mountain," "Blind Mary," "The Parting Glass," "O'Farrell's Welcome to Limerick," "The Devil's Dream," "March of the High King of Laois," "The Dublin Reel," "Lady Dillon," and "Banish Misfortune." Particularly nice on this recording are the lute and harp duet on "O'Carolan's Concerto," and the two original tunes, "Starbuck's Hornpipe" and "The Lute Reel." The hornpipe is a nice, lively dance tune, while the reel effectively uses the lute and harp to accent the lute's character.
The final offering is another holiday collection, Wassail, which features a few more of the familiar Christmas tunes. These include "Angels We Have Heard on High," "Greensleeves," and "God Rest Ye Merry Gentlemen." This CD features a bit of a fuller sound than Yule, adding Joseph Cunliffe on flute, recorder, and soprano sax, Steve Bloom on a wide variety of percussion instruments, and Tim Anderson on cello. The uillean pipes sound better on this recording. The selection of less-familiar carols is again good, including "Gloucestershire Wassail," "Sussex Carol," "The Cuckoo," "The Christ Child's Lullaby," "Down in Yon Forest," and "Past Three O'Clock." There is an unusual version of "Silent Night," with a very busy harp and guitar part walking underneath a very slow and airy flute melody. My favorite track is the lively German "Personent Hodie," which is given character with Steve Bloom's inventive percussion.
Overall, the duo's character and ambitions clearly change over the years, as evidenced by their musical selections and instrumental choices in their recordings. Growing from a couple of Renaissance lute players with limited appeal into a highly-varied pair of musicians who can play almost any style of music must have been a long and arduous path, but it has produced enjoyable results.
(OakLeaf, 1987-1998)