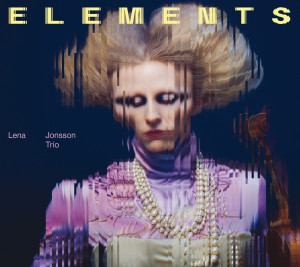 If you're like me you can't get enough of the neo-traditional Swedish folk sound represented by Väsen, and you're always ready for more along that line. Well, we're in luck, because Lena Jonsson has a new release. I know it's gauche to introduce a music review with a reference to a different artist, but although Jonsson is one of the best known folk musicians in Sweden today, she doesn't seem to have received much notice in the U.S. With the Lena Jonsson Trio's Elements that could very well change.
Jonsson, a virtuoso violinist and native of Sweden, comes from a musical family and studied folk music at the Swedish Royal Academy and jazz and American roots at Berklee. She has an extensive discography including three albums in a duo with accordionist Martin Coudroy and one with fellow Berklee alum Brittany Haas (Playing With Music, 2015). This time out she's playing in a trio with Erik Ronström on guitar and Kristofer "Krydda" Sundström on bass, on a dozen of her own compositions. Based around the Swedish folk tradition but with lots of influences from jazz to world music, they range from humorous Scottish folk dances to melancholic waltzes and nimble polkas.
The opener "Regnig dag" (rainy day) is a great place to start, combining the jazzy riff of Sundström's double bass with the lilting lilting melody that is alternatly doubled on guitar and fiddle and the source of jazzy improvisations on fiddle and guitar. Almost immediately after that with "Schack" (chess) we're in electro-acoustic folk mode something like a Swedish version of Steeleye Span. Jonsson's fiddle tune is marvelous and definitely Swedish, but the backing provided by Krydda's electric bass guitar and Ronström's choppy, rhythmic acoustic guitar give it a modern air that's augmented by Robin Cochrane on the percussive gourd called calebass and Staffan Jonsson's nearly psychedelic electric guitar solo.
And so it goes throughout the album with Jonsson's folk-based original tunes, and her nimble and expressive fiddling, with a variety of sounds and rhythms provided by the trio members and guests. The heart-racing "Allt är kärlek" (everything is love) is driven by Arvid Svenungsson's piano, giving it a sound something like a Cape Breton reel but a lot faster! Ronström very effectively doubles the fiddle melody in many places, nowhere more impressively than on theh slyly syncopated "Singelschottis." He doubletracks guitar and mandola for a lovely mellow acoustic sound on "Mammas mage" (mom's belly), which also features Cochrane on mbira and some effects pedals on Jonsson's fiddle. The relaxed journey of "Night Train" and "Gamla sigar" (old paths) in the first half of the program are set off against the sprightly dance "Simon" paired with "Nya Stigar" or new trails polska, both of which feature Kristine West on the Swedish recorder known as härjedalspipa.
My favorites are the back to back uptempo tunes "Nordanvinden" (north wind) and "Happy Two Step." The former starts slow, gets fast and then faster with just the trio playing, Krydda on double bass again; the latter is basically a Swedish Cajun two-step with Coudroy tossing in some nice accordion. The program finishes as it should with "Röda valsen," a delicate romantic waltz that ends with a string quartet joining in for an even more romantic sound.
I was actually introduced to Swedish style folk music way back in the '90s by Andrew Bird, who included a lovely wedding march on Thrills, his debut album with his band Bowl of Fire. I'm always thrilled to find more, and Elements is a great introduction to Lena Jonsson. You can bet I'll be digging into her back catalog.
(Nordic Notes, 2023)