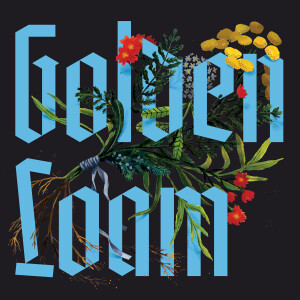 Solo guitar albums can be daunting to listen to and even moreso to review. Especially if you're not a guitar player yourself and don't have the knowledge to pick out what's unique about the guitarist's style, or the vocabulary to describe it. Michigan-based guitarist Laurel Premo takes care of that pretty well on her second solo album Golden Loam. It's not entirely what you think of as a solo guitar album, for one thing.
Premo sings on a couple of these tracks, she plays in several different styles and with different instruments including a lap steel, and she's accompanied by a couple of unique percussionists on three tracks as well. Golden Loam is a highly personal album but it's also very listener friendly and welcoming.
The album is in part a celebration of the musical legacy of the Hammons family of West Virginia, nine members of which were inducted into the West Virginia Music Hall of Fame in 2020.  The very first track here, the jaunty "Calloway," is from Lee Hammons (1883-1980), who was a clawhammer banjo player of renown. Playing a ringing electric guitar with a certain level of distortion, Premo adapts that banjo style to her modified Travis-style fingerpicking, but it's still recognizably a banjo tune.
Two other tunes, both delightfully named, "On My Way To See Nancy" and "Jake's Got The Bellyache," are traditional tune from Edden Hammons. He was known as the best fiddler in this extended family of superb musicians. The former finds Premo playing what sounds like a resonator with slide, on a tune that sounds like it has its origins in highland piping, perhaps a pibroch. It's a short and rich tune that commands your attention. The latter of the two she handles in similar fashion but on a straight electric guitar. After a languid introduction, she adroitly picks what is obviously a fiddle tune with Celtic origins.
Premo is joined by percussive dancer Nic Gareiss on two pieces, both traditional: "Hop High" and "Poor Little Mary Sitting in the Corner." Premo also sings on "Hop High," slowing down this old song to match the dark tones from her guitar and Gareiss' ghostly foot percussion. "Poor Little Mary" is more upbeat, a jaunty tune that also makes full use of droning low strings and long sustains on the dramatic chords at the end of phrases.
A nice touch here is the stately Norwegian wedding march "Torbjørn Bjellands Bruremarsj," sandwiched between the dark tones of "Jericho" and "Hop High."
The real centerpiece is Premo's ultra slow arrangement of the traditional "I Am A Pilgrim," the second track on which she sings. She works in bits of other Appalachan ballads, including the traditional "Poor Wayfaring Stranger" and the Carter Family's "No Depression in Heaven." It's a courageous and moving performance.
The album includes three originals by Premo. On the powerful "Jericho" she plays what sounds like an electrified acoustic guitar and is joined on bones by Quebec percussionist Eric Breton. He's actually playing a Rajasthani version of bones called khartals.
The elegiac "Ma's Maw" is a lovely, thoughtful piece with languid sections that give way to some more insistent, distorted, even "crunchy" picking. She recently released a beautiful, haunting video of this tune featuring dancer Ådne Geicke Kolbjørnshus, with choreography drawn from the traditional Halling dance, the national dance of Norway.
And the final, "Father Made of River Mud," is another one on slide resonator, a pensive way to wrap up the album.
Premo is best known for her work in Red Tail Ring, in which she plays fiddle and sings in duet with Michael Beauchamp-Cohen. Golden Loam seems highly personal and original in its approach to this material. Let's just say she's made me a fan.
(Laurel Premo, 2021)