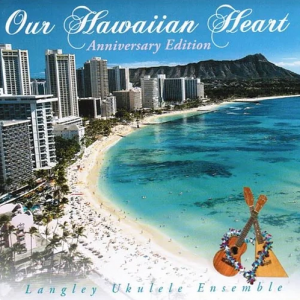 Arthur Godfrey and George Formby are not names that come up as major inspirations to musicians anymore. People hardly remember them at all. But George Harrison was a big fan. It is said that George Harrison had a ukulele in virtually every room of his home so when he moved from room to room he could simply pick up a uke and start playing. He'd play old favorites, standards with that plink-a-plunk sound that is the signature of the ukulele. He gave ukuleles to his friends as gifts, and even inspired old bandmate Paul McCartney to include a uke portion in his 2002 world tour. George's brilliant album Brainwashed features ukulele backing on almost every track. Yep, the "jumping flea" is making a comeback and it is turning into one of the most sought after instruments in the world. Wherever you go, though, you will not hear anything like the ukulele sounds that appear on any of these CDs up for consideration today!
Langley Ukulele Ensemble was formed in 1980, the brainchild of music teacher Peter Luongo (now principal), at the Langley Fundamental Middle School in British Columbia, Canada. Langley had been on the cutting edge of music education before this. In 2002 they released a CD collection of choral versions of 60s and 70s rock songs (Innocence & Despair, Bar None), which received great acclaim. The Ukulele Ensemble goes even farther.
The ukulele first arrived in Hawaii on the afternoon of August 23, 1879, when the Ravenscrag arrived in Honolulu with 419 Portuguese immigrants coming to work in the sugar cane fields. After a four month sea voyage of 15,000 miles, João Fernandes borrowed his friend's braguinha and started playing folk songs from home on the wharf. This impressed the Hawaiians who watched and as they stared amazed at the speed with which his fingers danced on the fretboard they called the instrument "ukulele" or "jumping flea." Portuguese luthiers crafted Hawaiian copies and adopted the name, and the rest is history.
You too will be amazed at the speed and dexterity of the young musicians who play in the Langley Ukulele Ensemble. Not content with the plink-a-plunk rhythm of the burlesque show players (and I in no way intend to denigrate Formby's or Godfrey's skill with the instrument), Peter Luongo teaches his students to use the instrument to its fullest advantage. Hawaiian slack-key legend Ledward Kaapana can pull rich tone out of his uke, and these young Canadians aim for precision, speed and virtuosity and tone. Sheer musicality is their goal.
Truthfully, the albums are interchangeable. Classical themes are mixed with pop songs, and the odd Hawaiian standard is dropped in for good measure, but the sheer musicality attained by these youngsters is extraordinary. Our Hawaiian Heart, as you might guess from the title, is more focused on Hawaiian music and includes favorites like "On the Beach at Waikiki," "Hilo March," "Guava Jam," and "Hawaii Aloha." You'll be surprised at how many of these melodies are familiar to you even if you don't recognize the titles. Hawaiian music is a relaxed, guitar-based genre, and the multi-string attack of the little "jumping fleas" all playing en masse fits the melodies like a grass skirt!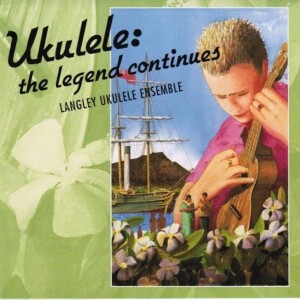 The ensemble does not just play their ukes! They also sing. They are just as precise and "on" vocally as they are instrumentally, but that vocal precision sometimes does not suit the relaxed tone of the selected songs. The Enchanted Ukulele has versions of "Johnny B. Goode" and "I Can See Clearly Now" (amongst others) which feel a bit forced due to the limitations of choral singing. Don't get me wrong, the group vocals are great, it's just that sometimes the "feel" needed to sell a rock'n'roll song is lost in the precision needed to maintain the unity of a choir. This album also features outstanding renditions of the "William Tell Overture," and Liszt's "2nd Hungarian Rhapsody."
Ukulele Family Album is subtitled 20th Anniversary Commemorative Edition and acts as a sort of greatest hits album. It starts with an amazing version of "Sabre Dance" and works through the whole history of 20th century music to include "76 Trombones," "The Entertainer," a little Sousa, a Spanish medley, some Ellington, and "Watermelon Man." It is amazing the breadth of material Luongo has adapted for his charges to play. On Ukulele: the Legend Continues the group do exactly what the title suggests, it just continues on. "Proud Mary," "King of the Road," "City of New Orleans," and more good singing, as well as good playing.
(LUE, 1999, 2000, 2001, 2002)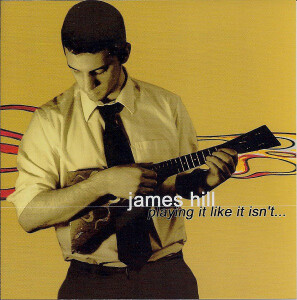 Featured on all of the Langley discs is some amazing solo work by Mr. Luongo's pride and joy, the incredible James Hill. James has just released his first solo album, and while he continues thematically with where the Ensemble was going, playing it like it isn't finds him reaching to a whole new level. He begins with a fiery version of "Flight of the Bumblebee" which sees the "dancing flea" wearing a yellowjacket. James overdubs the rhythm tracks on his custom, flame decorated uke but it is the solo that burns!
Then the gentle Brazilian rythm of Jobim's "One Note Samba" in a perfect rendition. Hill provides his own vocalizing, and sounds relaxed and confident. He bends notes, slurs, and works the whole fretboard in his solos, unafraid of the limitations of the instrument. In fact, in his hands, it's hard to see just what those limitations might be. Some sympathetic bass and percussion are added where needed by unnamed accomplices.
A rousing "Orange Blossom Special" brings a smile to this Johnny Cash fan's lips! I can recall watching Cash play these changes with a different harmonica in each hand, singing, playing the turnaround, "I don't care if I do die, do die, do…" Somehow Hill still manages to capture the feel of a train! A little Massenet, some Gershwin, the theme from the "Super Mario Brothers," Bizet's "Habanera," it's a luxury banquet of compositions and flashy ukulele playing. Beautiful, humorous, and virtuosic. Whatever the instrument is … it's fabulous music.
(self-released, 2002)
When I go to Hawaii in July one of my first stops will be a local music shop to pick up a uke for myself. And maybe tour around the islands looking for Led Kaapana or another local master; but for now I don't even have to leave the Great White North. We have our own uke masters. The two dozen students in the Langley Ukulele Ensemble and the amazing James Hill are playing it like it wasn't, but boy, it is now.